Vinci New Capital Compound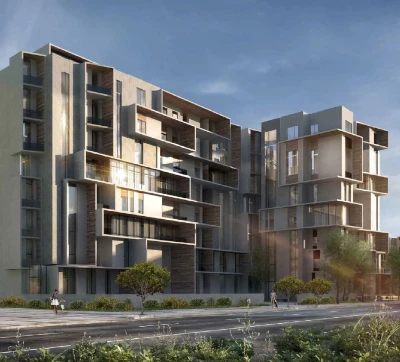 Compound Vinci New Capital (كمبوند فينشي العاصمة الإدارية الجديدة) is one of the latest projects that Misr Italia Properties provides for its clients. In this compound, it offers villas, apartments, twin houses, and townhouses, with fascinating designs and unique finishes befitting what clients seek, as well as it provides integrated services and a pack of entertainment activities at competitive prices.
Where is Vinci Compound located?
Vinci Compound has ideally located in the New Capital, as Misr Italia has chosen this site with a great care to suit the aspirations of its clients. You can find Vinci Compound in one of the finest residential neighborhoods and the least densely populated R7, in the Diplomatic District.
The way Misr Italia has chosen the location of Vinci project makes it close to vital areas and famous landmarks, and thus the residents of Vinci project can access any place within minutes, as we will show in the next paragraph.
Landmarks Near Vinci Compound New Capital
Vinci Compound New Capital is minutes away from Al Safarat and the Egypt International Exhibition Center – EIEC.
Compound Vinci New Capital is 5 minutes away from the Park Green River.
It's easy to reach Vinci Misr Italia from the Bin Zayed Southern Axis.
Vinci New Capital is very close to the New Capital Presidential Palace.
The distance between Vinci project, Al Masa Hotel, and the British University is a few minutes away.
Compound Vinci adjoins Al-Fattah Al-Alim Mosque.
The project is close to Rhodes Compound and Boardwalk New Capital.
Compound Vinci Design
Misr Italia is one of the entities that offers impressive designs in its projects that combine the Egyptian and Italian styles, which give its units a different touch. It also relies on the most skilled consultants & architects with great experts who perfectly exploit the different spaces. Vinci's project designs are as follows:
The total area of​ Compound Vinci New Capital is about 110 acres.
Vinci Misr Italia offers different units, including villas, apartments, townhouses, and twin houses.
Allocating 20% ​​of the area for buildings, and 80% for greenery, landscapes, and packing plenty of amusements and entertainment.
Register your details to enjoy a 3D virtual tour inside the project units
The Area of Vinci New Capital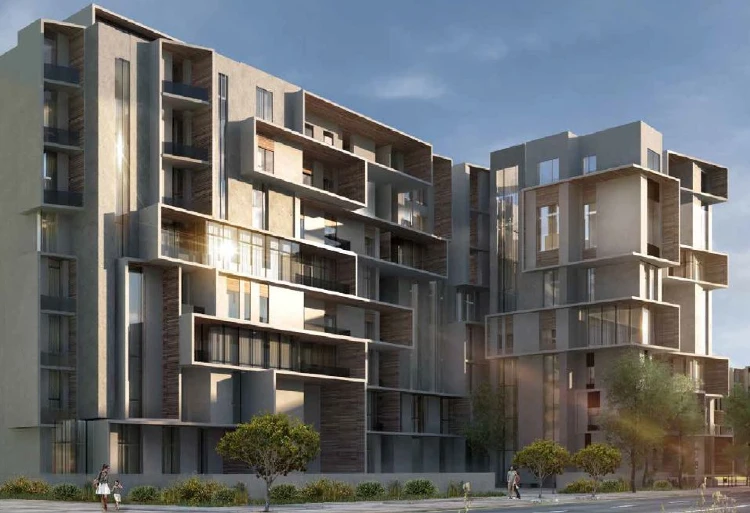 Misr Italia fulfills the aspirations of all clients in Vinci project, as it provides all types of housing units, whether they are apartments, villas, townhouses, or twin houses. So, everyone has the opportunity to be in a fully serviced residential community, in which clients find all the atmospheres of modern life, that add fun to the units.
The total area has played a major role in the diversification of the units of the Vinci Lagoons, therefore all clients will find the opportunity to get the units of their dreams, from limited spaces to large ones, all of which have charming views, and the space of Vinci New Capital units is as follows:
Standard Apartments: The apartments in Vinci New Capital start from 133 to 187 m2.
Apartments with a Garden: Vinci New Capital apartments space starts from 177 m2.
Distinctive Apartments: The apartments in Vinci Lagoons start from 162 to 190 m2.
Townhouse Units: The space of townhouses in Vinci Misr Italia starts from 157 up to 340 m2.
Twin House Units: The space of twin house units in Vinci project starts from 309 m2.
Small Villas: The space of villas in Compound Vinci starts from 357 to 465 m2.
Medium Villas: The space of Compound Vinci New Capital villas starts from 392 to 446 m2.
Large Villas: Vinci villas' space starts from 484 to 541 m2.
Sky Villas: The space of villas in Vinci New Capital, starts from 299 to 339 m2.
Villas with a Garden

: The spaces of the villas in Compound Vinci range from

214 to 241 m2.
For more about the divisions of the interior spaces available in Compound Vinci New Capital
Click Here
Compound Vinci New Capital Prices 2023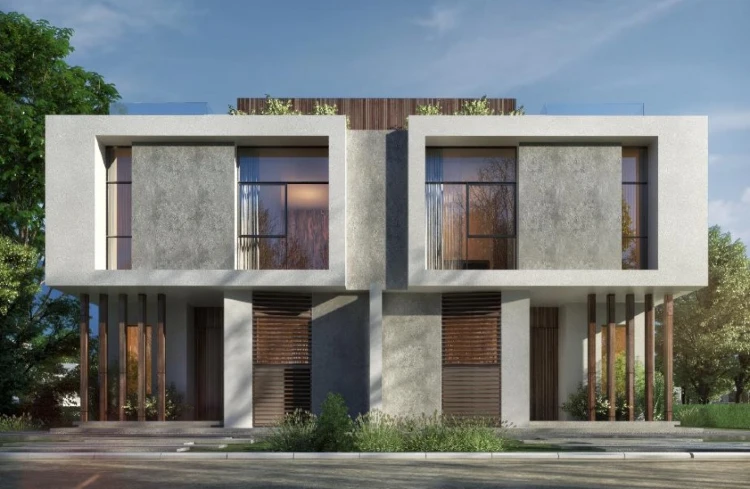 With these various spaces, Misr Italia has provided competitive prices in Vinci Compound to suit clients who want to buy a dream house in the New Capital, where the price per meter in the semi-finished units starts at 10,500 EGP, while the fully finished units start from 14,500 EGP per square meter, as follows:
Standard Apartments: The apartments in Vinci prices start from 2,056,771 up to 3,035,496 EGP.
Apartments with a Garden: Vinci prices start from 3,036,335 EGP.
Townhouse Units: The prices of townhouses in Vinci Misr Italia range from 6,867,563 to 7,514,879 EGP.
Villas: The prices of villas in Compound Vinci start from 3,749,533 to 4,680,332 EGP.
Double Houses: The prices of double houses in Vinci Lagoon start from 4,100,000 EGP.
Vinci Compound Reservation & Installment System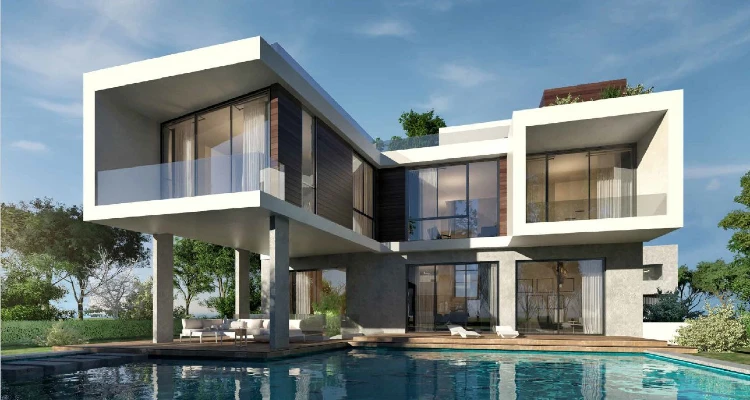 Misr Italia is trying to make it as easy as possible for clients when they buy units for sale, so it provides them with a special program for booking and payment, to avoid any financial obstacles that might prevent them from getting their units, as Compound Vinci installments have multiple systems for its clients to choose from, as follows:
0% Down payment and the rest is paid in 4 years.
5% Down payment, and the rest is paid in a period of 6 to 8 years.
10% Down payment and the rest is paid in 9 years.
5% Down payment and installments up to 9 years for Vinci Lagoons Compound.
Vinci Street Mall New Capital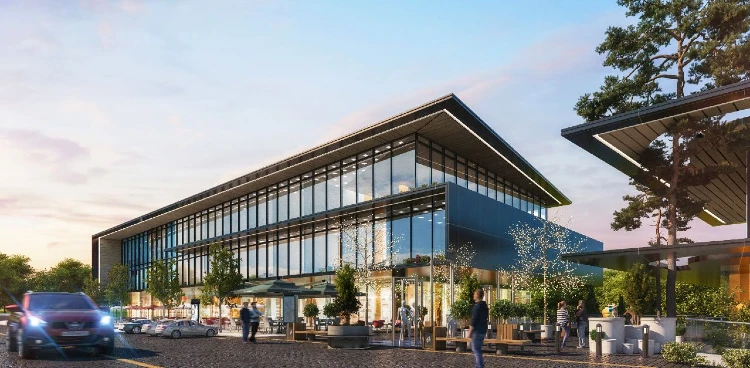 Vinci Mall New Capital is the first mall established by Misr Italia in the New Capital, as it is located at R7 on the Capital Axis Road, which comes across both Al-Massa Hotel and the Cathedral. The investment activities are commercial, administrative, and medical, and the mall is built in a large area.
The space of the commercial units in Vinci Mall starts from 31 to 127 m2, while the administrative units start from 59 to 165 m2. Misr Italia provides competitive prices, as the prices per meter in Vinci commercial units start at 56,000 EGP.
On the other hand, we can find that Vinci unit price per meter starts from 35,000 EGP, and Vinci down payment starts from 5%, then you have to pay 10% after three months, and the rest is paid in installments over 5 years.
Compound Vinci Video
Compound Vinci New Capital Facilities and Services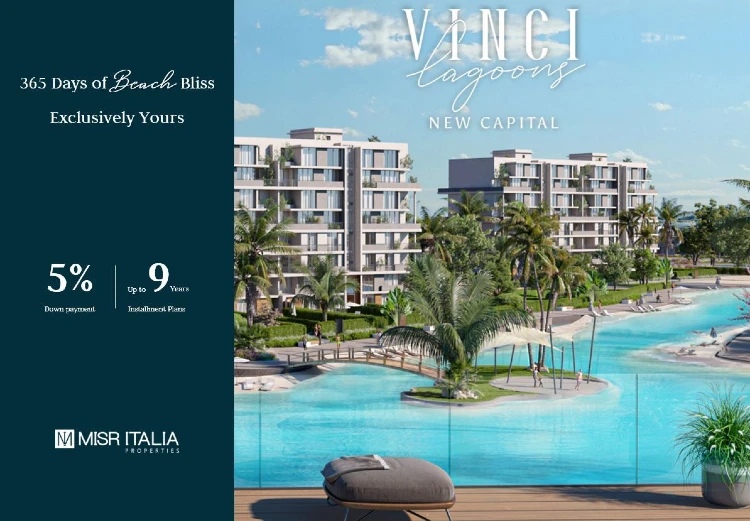 The residents of Vinci New Capital will find themselves surrounded by all the facilities and services they need, in addition to a pack of entertainment activities that provide them with recreation and joy, as they can get them for free at any time. The facilities, services, and entertainment activities are as follows:
In Compound Vinci New Capital, there are Green Spaces and Health Parks, which help the residents to relax at any time.
There are Swimming Pools of various sizes in Compound Vinci New Capital, to be suitable for all age groups that wish to practice this enjoyable hobby.
Residents can get more enjoyable moments through the Full Health Club, which is established at a high level of efficiency in Vinci Misr Italia.
Residents of Vinci New Capital have a Large Parking Garage available, so that they can easily park their cars at any time near their units.
Vinci Compound includes Sports Fields at the highest standard, in which all sports that the residents want to practice are available.
Artificial Lakes are spread in Vinci Compound, which give an aesthetic view of the units.
Compound Vinci project contains Security and Guarding Services, which work 24 hours a day, to provide safety for the residents.
Residents can get delicious food and dishes through Cafes and Restaurants located in Vinci project.
There are Shops and Commercial Centers in Vinci project, from which residents can get everything they need and shop at any time.
Maintenance and Cleaning Services are available seven days a week, so that the units appear in a decent shape.
Advantages of Vinci Compound New Capital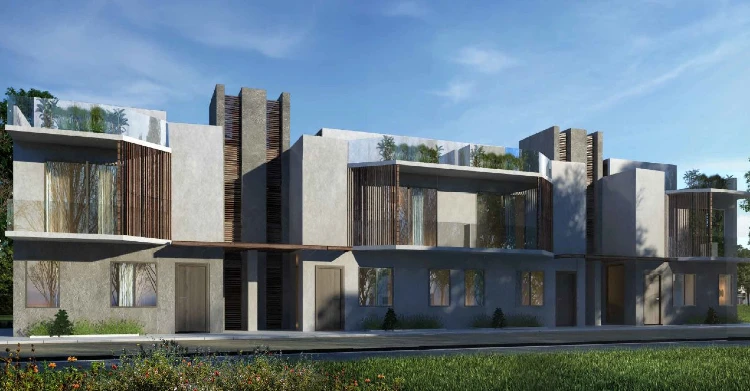 Vinci Compound New Capital is the ideal place you are looking for, as it is located in the most strategic location in the New Capital, which makes it close to vital places and famous landmarks, therefore it would be the best choice for you if you're looking for the luxury and prestige.
Also, the units in Vinci Compound are in different spaces, at competitive prices, and Misr Italia has provided convenient installment systems to make it easier for clients, as well as a large number of services and facilities, are available.
Compound Vinci Project Disadvantages
Although Compound Vinci project has advantages, some believe that the New Capital is far away from Cairo, but through the road network provided by the government, it is no longer difficult, as it is possible to reach the center of Cairo within half an hour, also the monorail will make it easier to travel long distances in a short time.
 

Brochure of Vinci
Please fill the form below to show the full brochure of Vinci New Capital.
Register to view the project brochure
Misr Italia Properties is one of the leading real estate companies, as all of its projects are distinguished by luxury, because they rely on the latest designs that simulate international buildings, to provide clients with a distinctive experience in all aspects.
Misr Italia provides its clients with livable communities and retail premises in addition to furniture and wooden floors, which makes it one of the best real estate companies in Egypt. And, if you want to check out their previous projects, you can come across the following paragraph.
Previous Projects of Misr Italia Properties:
Compound La Nuova Vista New Cairo.

Compound Sila New Cairo.

Mousa Coast Ras Sedr Resort.

Village Kai Ain Al Sokhna.

Mall Cairo Business Park New Cairo.

Mall Italian Square 6 October.
FAQ about Vinci New Capital project