Cattleya Compound New Cairo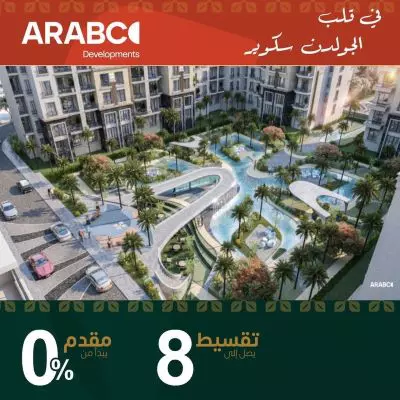 Arabco Developments offers a chance to create splendid memories in its latest spectacular project, Cattleya Compound New Cairo كمبوند كتاليا التجمع الخامس, presenting cozy homes in a sophisticated community with affordable prices. Comfortable installment plans are provided as well. Additionally, the strategic location of Compound Cattleya in the heart of the Fifth Settlement offers ideal investment opportunities.
Location of Cattleya Arabco
With over 30 years of extensive experience in real estate development in Egypt and the UAE, Arabco Developments is well-versed in identifying prime and significant locations. This expertise has made its projects landmarks in their respective areas. Consequently, Arabco has chosen the Golden Square in New Cairo for the construction of Cattleya Compound, offering various advantages to its residents.
Landmarks Close to Cattleya New Cairo Compound
Cattleya Compound New Cairo is only 5 minutes away from Suez Road.
It also takes 5 minutes to reach the American University from Cattleya Arabco.
Compound Cattleya is extremely close to the New Capital.
Reaching Cairo International Airport takes only 15 minutes' drive from Cattleya Compound.
Cattleya New Cairo Compound is proximate to the famous compounds in the Fifth Settlement such as Hyde Park New Cairo, Mountain View New Cairo and Zed East New Cairo.
Design of Cattleya Fifth Settlement
Arabco uses a luxurious classical style for the façades of the buildings in Cattleya Compound New Cairo, aiming to recapture the grandeur of European city architecture and central Cairo areas. The modern touch is provided by artificial lakes and landscaped areas, offering residents of Cattleya Compound a magnificent view. Buildings consist of a ground floor and 4 upper floors.
Area of Compound Cattleya
Cattleya New Cairo Compound extends over 8 acres, with 70% dedicated to green spaces. This provides the residents with a natural retreat that aids in relaxation and tranquility. Besides, Cattleya Compound New Cairo introduces residential apartments for sale in various spaces, ranging from 80 to 200 m2, allowing clients to buy the perfect match to their needs.
For more about the divisions of the interior spaces available in Cattleya Compound New Cairo
Click Here
Cattleya Compound New Cairo Prices 2023
Compound Cattleya New Cairo presents apartments at optimal prices in the Fifth Settlement, based on an ideal price per meter of units starting from 45,000 EGP. The total prices of apartments for sale in Cattleya Compound, starting from 3,600,000 EGP, are also consistent with the luxurious living standards and elevated lifestyle offered in Cattleya Compound Arabco.
Installment Systems in Cattleya New Cairo Compound
Cattleya Compound introduces a flexible installment system, allowing clients to book apartments with a 0% down payment. The remaining value of the unit of Cattleya Arabco will be paid in installments over up to 8 years. Arabco Developments will deliver units of Cattleya Compound New Cairo within 3 and a half years, following an 8% maintenance fee payment.
Services and Facilities of Cattleya Fifth Settlement
Arabco Developments has been keen on elevating the level of services and amenities in its projects, aligning them closely with the standards found in Dubai. Therefore, the moment Arabco started constructing Cattleya Compound New Cairo, it focused on providing an extraordinary living experience reminiscent of that in the UAE. The following are some of the major services of Compound Cattleya:
The compound offers vast green areas and beautifully designed gardens, providing a stunning view for its residents.
There is a variety of swimming pools for adults and children in Cattleya New Cairo Compound, ensuring leisure and safety for all family members.
Cattleya Arabco is fully secured with an efficient security system to ensure the safety of its residents.
A fully secured recreational area for children is also included for extra enjoyment in Cattleya Compound New Cairo.
In Compound Cattleya New Cairo, a sports and social club is provided for residents to enjoy quality time with their families.
Catering to fitness and wellness enthusiasts, Cattleya Arabco features a gym and spa.
Cattleya Compound features an outdoor cinema for watching the latest movies in a natural, picturesque setting.
An artificial lake, providing an ideal view for the residential units, is also included in Arabco project.
Cattleya New Cairo has a designated area for cycling and jogging
A special area for hosting barbecue parties, a favorite activity among friends and families, within Cattleya Compound New Cairo.
Features of Compound Cattleya New Cairo
The strategic location of Cattleya Compound in the Golden Square enhances its prominence among New Cairo projects. Additionally, the compound offers a range of apartments of various sizes at competitive prices, with an installment system that requires no down payment. Cattleya Compound New Cairo also provides a range of luxurious services and facilities, ensuring an exceptional residential experience.
Drawbacks of Cattleya Arabco
Some may find the absence of villas in Cattleya Compound to be a drawback in terms of luxury and privacy. However, the availability of apartments with areas up to 200 m2, coupled with enchanting views of artificial lakes and green spaces, offers residents of Compound Cattleya New Cairo all the advantages of villa living but at apartment prices.
Brochure of Cattleya Compound
Please fill out the form below to show the full brochure of Cattleya Compound Arabco.
Register to view the project brochure
Arabco Developments began its journey 28 years ago and has successfully completed a range of distinguished real estate projects over these years. These achievements have earned the company respect and appreciation from clients both within and outside Egypt. Arabco relies on its exceptional engineering expertise and high-caliber talents to meet diverse client needs, cementing its position as a leading company.
Former Arabco Projects:
Several projects in Dubai

Residential projects in New Cairo in areas like Beit El Watan, El Narges and El Banafseg
FAQs about Cattleya Fifth Settlement