90 Avenue New Cairo Compound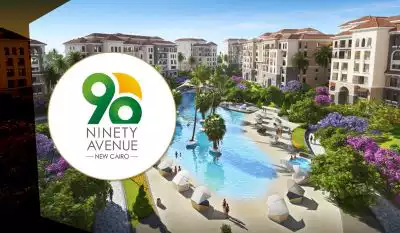 Introducing 90 Avenue Compound in New Cairo كمبوند 90 افينيو التجمع الخامس, where elegance meets diversity. This exceptional project by Tabarak Developments offers a unique blend of residential, commercial, and administrative units, meticulously designed to fulfill the dreams of customers. With flexible pricing options and a global standard of excellence, Compound 90 Avenue offers a remarkable investment opportunity.
Location of 90 Avenue TBK
Location is a key factor of the success projects, and that's what TBK Developments have considered while choosing a site for Compound 90 Avenue New Cairo. Strategically situated on the renowned South 90th Street in the heart of Fifth Settlement, the prime location of 90 Avenue Compound ensures that residents enjoy proximity to key destinations within the vibrant New Cairo.
Places Near 90 Avenue New Cairo
90 Avenue Fifth Settlement is located near the American University.
The Ring Road is a few minutes away from Compound 90 Avenue New Cairo.
90 Avenue TBK is close to Cairo Festival City.
Cairo International Airport can be reached easily from Ninety Avenue New Cairo.
A few minutes separates 90 Avenue Compound New Cairo from the New Capital.
Mostakbal City is a short distance from 90 Avenue Tabarak.
Orla Residence Compound and The Icon Gardens Compound are proximate to 90 Avenue Compound.
Design of Compound 90 Avenue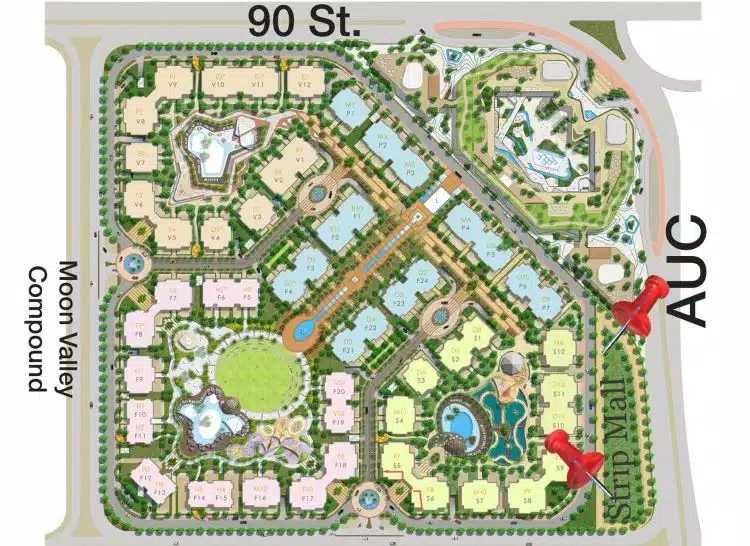 Step into a world of architectural grandeur at Ninety Avenue New Cairo. Tabarak Developments presents contemporary designs that rival international landmarks. With modern facades and balconies overlooking lush green spaces and serene artificial lakes, the spacious buildings of 90 Avenue Compound guarantee residents' utmost privacy. Here's a glimpse into TBK Developments' visionary design:
Spanning across approximately 50 acres, Compound 90 Avenue boasts a harmonious blend of structures and green landscapes.

90 Avenue TBK occupies only 18% of the total area, leaving the remaining space for lush greenery and breathtaking natural views.

The buildings at 90 Avenue Compound New Cairo consist of a ground floor and 5 upper floors.
Register your details to enjoy a 3D virtual tour inside the project units
Spaces of Units in Ninety Avenue New Cairo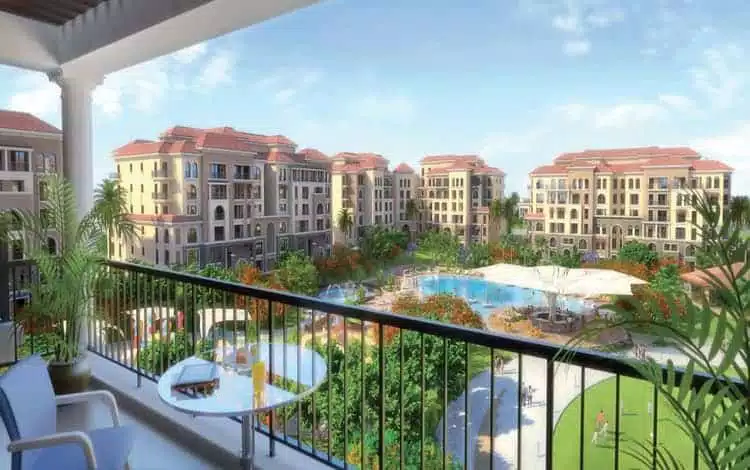 At Compound 90 Avenue New Cairo, catering to diverse preferences has been the goal. Therefore, Tabarak Developments ensures a variety of unit spaces to meet the unique needs of customers, providing them with ultimate comfort and tranquility. The unit spaces at 90 Avenue Compound New Cairo range from 95 to 265 m2, promising a space that suits every lifestyle.
For more about the divisions of the interior spaces available in 90 Avenue Compound New Cairo
Click Here
Prices of 90 Avenue Compound New Cairo 2023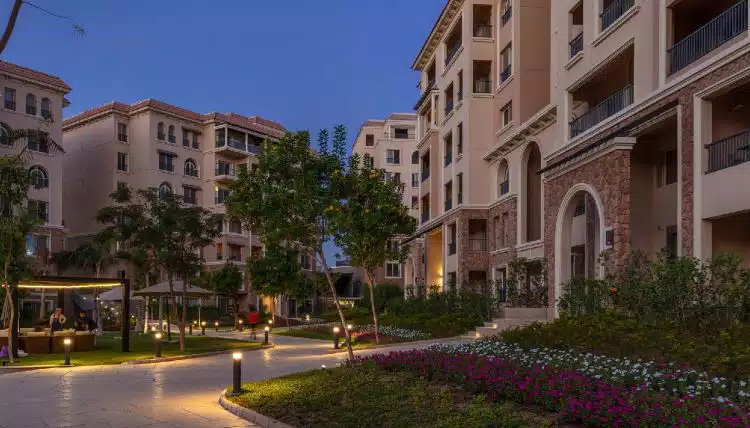 Tabarak Developments strives to provide customers with the best quality at the ideal price. That's why it has set a reasonable price per meter of units for sale, therefore, the total prices at Compound 90 Avenue TBK Developments have become in a convenient range that aligns with the features. Here are the prices of 90 Avenue Compound:
The price per meter of administrative offices at 90 Avenue Fifth Settlement start from 90,000 up to 95,000 EGP.
Commercial units are offered at prices per meter ranging from 180,000 to 250,000 EGP in Compound 90 Avenue New Cairo.
The total price of residential apartments for sale at 90 Avenue Compound ranges between 7,721,455 and 9,270,165 EGP.
Installment Plans of 90 Avenue TBK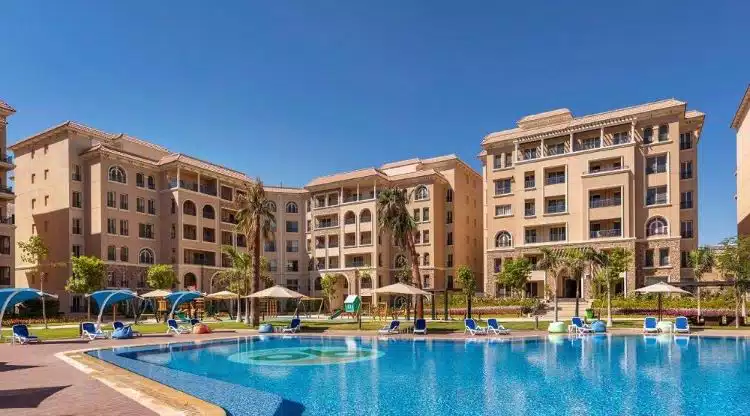 At Compound 90 Avenue New Cairo, TBK Developments offers flexible installment plans to accommodate customers' needs. Clients can book units with a simple down payment and enjoy paying the remaining amount in installments over several years without interest. This provides a great opportunity for customers to buy their desired units. The installment systems at 90 Avenue Compound are as follows:
15% down payment, followed by 10% after 1 month, another 15% after 4 months, and the remaining amount is paid in installments over 5 years with a 15% discount for immediate delivery.
Buy units at 90 Avenue Compound New Cairo in cash and enjoy a 25% discount.

Maintenance fees amount to approximately 2,000 EGP per meter at Ninety Avenue New Cairo.
Video of Compound 90 Avenue New Cairo
Services and Facilities of 90 Avenue Compound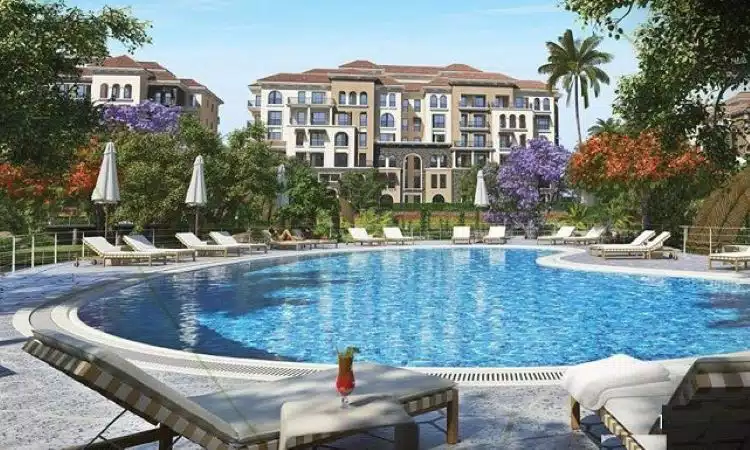 Experience unparalleled comfort at Ninety Avenue New Cairo, where Tabarak Developments has created a haven of amenities and services to enhance the residents' lifestyle and provide an atmosphere of relaxation and bliss. Discover the following highlights that make 90 Avenue Compound New Cairo truly exceptional:
Dive into the joy of leisure and relaxation with a variety of swimming pools that cater to all residents' preferences.
Immerse yourself in the beauty of lush green landscapes and picturesque artificial lakes that provide captivating views throughout Compound 90 Avenue New Cairo.
Enjoy the convenience of a bustling commercial area within 90 Avenue New Cairo, where residents can easily shop for their daily needs and desires.
Indulge in a culinary adventure at high-end cafes and restaurants, offering a wide range of international cuisines and beverages in 90 Avenue Compound New Cairo.
Stay active and maintain a healthy lifestyle with upscale gym facilities conveniently located within the compound, allowing residents to exercise at their own pace.
Whether it's a game of your choice or a sporting activity you're passionate about, the sports facilities at 90 Avenue TBK will cater to your diverse interests.
Embrace an active lifestyle by utilizing the jogging and cycling tracks, strategically placed near the residential units for easy access and enjoyment.
Fully secured and conveniently located parking garages ensure residents of 90 Avenue Compound New Cairo have hassle-free access to parking their vehicles at any time.
Rest easy knowing that a professional security team and advanced surveillance cameras are constantly monitoring the compound to ensure residents' safety and peace of mind.
Cutting-edge power generators and modern fire safety systems are in place at Compound 90 Avenue New Cairo, ensuring uninterrupted electricity supply and enhanced safety measures.
90 Avenue Compound offers comprehensive maintenance and cleaning services that operate seven days a week, ensuring a clean and well-maintained environment for residents to enjoy.
Features of Ninety Avenue New Cairo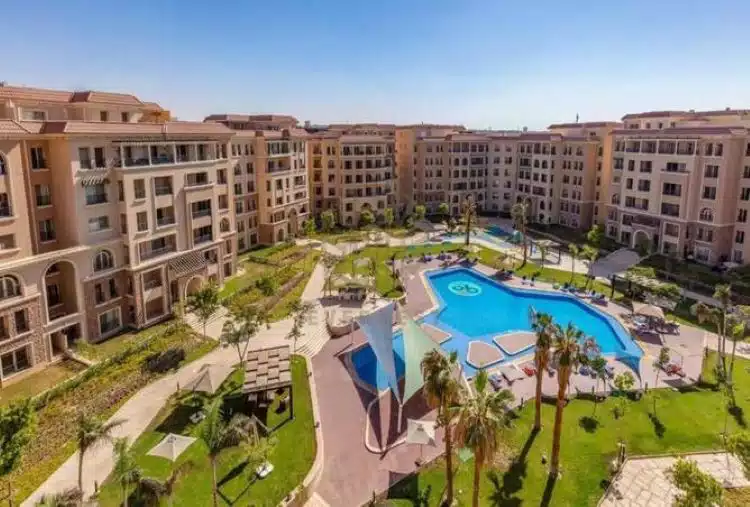 TBK Developments has brought all the features that residents dream of to 90 Avenue Compound New Cairo. Starting with its strategic location in one of the most vibrant areas of Fifth Settlement, luxurious architectural designs, diverse unit spaces, competitive prices, and convenient payment plans. Moreover, a wide range of facilities, services, and entertainment options are available.
Drawbacks of 90 Avenue Compound New Cairo
Despite the numerous advantages mentioned about Compound 90 Avenue New Cairo, some customers may have concerns about the mixture of administrative, commercial, and residential units and how it affects their privacy. However, TBK Developments have carefully designed appropriate separations between units, ensuring residents enjoy sufficient privacy.
90 Avenue New Cairo Brochure
Please fill out the form below to show the full brochure of the project of 90 Avenue Compound.
Register to view the project brochure
Tabarak Developments, a prominent company in the Egyptian real estate market, has been shaping the industry since 1979. With an impressive portfolio of projects executed both within and outside Egypt, the company strives to fulfill customers' dreams by providing them with their desired living spaces. As one of Egypt's premier real estate companies, TBK consistently delivers excellence and customer satisfaction.
Former Projects by Tabarak Developments:
Projects inside Egypt
Tabarak City Maadi

Sandri Maadi

Fantasia Ras Sudr

Capital East Residence, Nasr City

El-A'ALY Clinics in Maadi
Projects outside Egypt
El-A'ALY Clinics in Riyadh, KSA
FAQs about 90 Avenue Compound New Cairo