IRA Compound New Zayed
To align with the contemporary expectations of clients, El Gabry Developments launches IRA Compound New Zayed كمبوند ايرا زايد الجديدة. It is exclusively designed for villas, therefore, those who appreciate enhanced privacy will find IRA Sheikh Zayed ideal. Additionally, El Gabry offers a range of leisure facilities, flexible installment plans and competitive prices for villas of IRA New Zayed Compound.
Location of IRA El Gabry Project
Striving to ensure utmost comfort for its residents, El Gabry Developments has chosen a distinguished location for Compound IRA New Zayed, providing easy access to various major places. The project is situated in Basin 7, near Waslet Dahshur Road, a focal point facilitating reaching many essential landmarks for residents of IRA Compound.
Places Near IRA New Zayed
IRA Compound is located near Waslet Dahshur Road.
Alexandria Desert Road can be reached easily from IRA El Gabry project.
Compound IRA New Zayed is a few minutes away from Mall of Egypt and Mall of Arabia.
Boulevard Road is a short distance from IRA Compound 6 October.
Reaching IRA El Gabry project takes a few minutes from Arkan Plaza.
A short distance separates Juhayna Square from IRA New Zayed Compound.
IRA Sheikh Zayed is close to projects like Joulz Compound and Solana Compound.
Design of Compound IRA New Zayed
El Gabry Developments introduces luxurious architectural designs in IRA Compound New Zayed, resonating with modern client aspirations. The design brilliance manifests in the expansive green spaces and artificial lakes, enhancing the joy of residents of IRA New Zayed Compound. The designs beautifully merge classic and contemporary styles. Here are more details about the design:
The total area of IRA Compound 6 October is 20 acres.
Buildings occupy 15% of the total space, while facilities and services cover the remaining 85%.
Compound IRA offers townhouses, twin houses, and standalone villas.
Register your details to enjoy a 3D virtual tour inside the project units
Spaces of Units in IRA Sheikh Zayed
Diversity marks IRA New Zayed Compound, as El Gabry Developments various spaces of villas for sale to match the multiple types which include townhouses, twin houses, or standalone villas. This assures complete mental comfort for the residents who buy units, and here are the available spaces of villas in IRA Compound:
Townhouses are available with spaces starting from 250 m2 in IRA El Gabry project.
The space of twin houses in IRA Compound New Zayed start from 266 m2.
In IRA Sheikh Zayed, standalone villas are provided with spaces starting from 268 m2.
IRA Compound New Zayed Prices 2023
The esteemed El Gabry Developments offers villas for sale in Compound IRA at highly competitive prices. Its aim is to facilitate purchasing villas for potential buyers without imposing significant financial burdens. The reasonable price per meter of units has contributed to providing affordable total prices in IRA Compound New Zayed, and the details of prices are as follows:
The starting price for townhouses is 7,200,000 EGP in IRA EL Gabry project.
Twin Houses of IRA New Zayed are offered at prices starting from 8,950,000 EGP.
The price of standalone villas starts from 9,700,000 EGP in IRA Compound 6 October.
Booking Plans in IRA El Gabry Project
Continuing with their accommodating approach, El Gabry Developments offers favorable systems for booking and paying in installments for units in IRA Compound New Zayed. Clients can easily book villas with a minimal down payment and are given the flexibility to pay the remaining amount over several years. The installment systems in IRA New Zayed Compound are:
10% down payment with the rest paid in installments over 7 years.
15% down payment and the remaining amount will be divided into installments over 8 years.
The EOI for booking Townhouses in Compound IRA is 50,000 EGP.
Booking Twin houses requires an EOI of 70,000 EGP.
Standalone villas are booked with an EOI of 100,000 EGP in IRA El Gabry.
The maintenance fees are 7%.
Villas in IRA Compound New Zayed will be delivered within 5 years, semi-finished.
Compound IRA New Zayed Video
Services and Facilities at Compound IRA
IRA Sheikh Zayed, developed by El Gabry Developments, embodies the essence of luxury living. It incorporates a variety of facilities and services that enhance daily life, while simultaneously prioritizing leisure, ensuring complete satisfaction for the residents. Here's a breakdown of the amenities available at IRA Compound New Zayed:
There are world-class swimming pools designed for residents seeking relaxation and enjoyment.
Compound IRA New Zayed is landscaped with lush greenery, offering distinctive views for all units.
Restaurants and cafés within the project provide residents with a variety of delicious meals and beverages.
Shopaholics in IRA Compound can indulge in the commercial areas featuring renowned global brands.
Smart parking garages are included to minimize congestion in front of the units.
Sports enthusiasts have access to various sports courts to enjoy their favorite games in Compound IRA New Zayed.
For those seeking wellness, El Gabry project offers health clubs equipped with spa and jacuzzi services.
Jogging and cycling tracks are present in IRA Compound 6 October, catering to the enthusiasts of these activities.
A round-the-clock security team is provided to ensure the residents' peace and safety.
Surveillance cameras are strategically placed throughout IRA Compound New Zayed, enhancing overall security.
The latest fire extinguishing systems are installed to provide prompt responses to fires.
In case of power outages, IRA New Zayed Compound is equipped with backup generators ensuring uninterrupted power supply.
Maintenance and cleaning services operate daily, maintaining in IRA Compound's pristine.
Features of IRA New Zayed Compound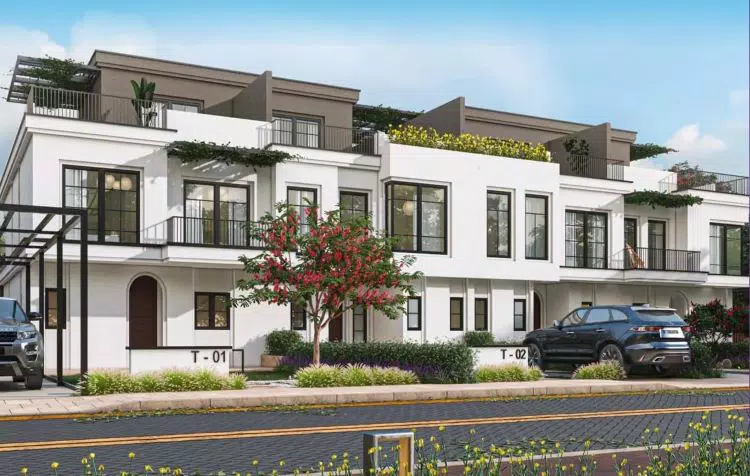 IRA Compound New Zayed offers a wide range of features ensuring a comfortable living experience for its residents. It enjoys a prime location, exquisite architectural designs and variety of unit spaces, paired with convenient prices. Moreover, the flexible installment systems of IRA Compound encourage investment in units for sale. Various entertainment and relaxation amenities are offered as well.
Drawbacks of IRA Sheikh Zayed
Despite the highlighted advantages that El Gabry Developments provides in IRA Compound New Zayed, some clients have reservations concerning the delivery dates, feeling that the wait might take a long time. However, El Gabry is committed to delivering units of Compound IRA in their best possible state. Moreover, buying units during the construction phase guarantees the best prices.
Brochure of IRA Compound New Zayed
Please fill out the form below to show the full brochure of IRA Compound New Zayed .
Register to view the project brochure
El Gabry Developments was founded approximately 15 years ago. During its journey, it has executed numerous successful projects, significantly influencing the Egyptian real estate market across Greater Cairo. In 2019, El Gabry Developments participated in the development of New Zayed with a series of major projects, catering to those in pursuit of upscale living.
Former Projects by El Gabry Developments
Lac Ville New Zayed Compound
FAQs about Compound IRA New Zayed