A1 Corners Tower New Capital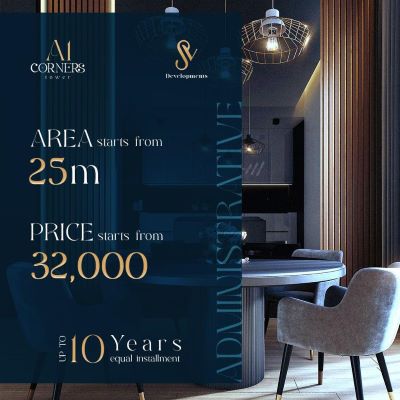 SV Developments is no stranger to offering exceptional investment opportunities, and they've done it again with their latest project, Mall A1 Corners Tower New Capital مول ايه وان كورنرز تاور العاصمة الإدارية الجديدة. It is a mixed-use mall featuring commercial, administrative, and medical units. In addition, this strategic gem in the New Capital boasts competitive prices and comfortable payment options.
Location of A1 Corners Tower SV
A suitable location is the key to success for any project. That's why SV Developments has meticulously chosen the strategic site of A1 Corners Tower to achieve optimal results for its units for sale in record time. Located on the Eastern Axis, A1 Corners Tower SV is close to essential areas, boasting high density and demand.
Places Near A1 Corners Mall
The Government District is located near Mall A1 Corners Tower.
Mall A1 Corners can be reached easily from the Iconic Tower.
Al Masa Hotel is minutes away from A1 Corners Tower SV.
A short distance separates A1 Corners Tower New Capital from the Green River.
The Diplomatic District is adjacent to A1 Corners Mall.
It is easy to reach A1 Corners Tower from Bin Zayed Axis.
Mall A1 Corners Tower is close to Mall G Stone and Double Two Tower New Capital.
Design of Mall A1 Corners Tower
SV Developments have partnered with efficient architects to ensure the latest ideas are applied to the design of Mall A1 Corners Tower to satisfy their clients. The design precision is evident in the ample plaza space, elegant landscaping, and sleek glass façade. Mall A1 Corners floors are connected by escalators and panoramic elevators, and the design is as follows:
A1 Corners Mall consists of a ground floor and 12 upper floors.
The ground to the third floor is dedicated to commercial units.
The fourth and fifth floors are for medical units.
The sixth to the twelfth floors in A1 Corners Tower SV are allocated for administrative units.
Register your details to enjoy a 3D virtual tour inside the project units
Spaces of A1 Corners Tower Units
SV Developments has skillfully achieved diversity in unit spaces at A1 Corners Mall, selecting spaces that cater to the nature of the commercial, administrative, or medical units for sale. Investors can obtain the perfect space for their activities in A1 Corners Tower New Capital, and the spaces of units for sale are as follows:
The space of commercial Units ranges from 16 to 54.5 m2.
Administrative offices are available with spaces, starting from 25 m2.
The areas of medical units for sale at A1 Corners Tower SV start from 25 m2.
For more about the divisions of the interior spaces available in A1 Corners Tower New Capital
Click Here
A1 Corners Tower New Capital Prices 2023
The unit prices in A1 Corners Tower have been set to satisfy clients, allowing them to acquire the units they desire within at an affordable price starting from 1,351,600 EGP. SV Developments offers an ideal price per meter of units, compared to New Capital malls, and here are more details about the prices of Mall A1 Corners:
The price per meter of commercial units ranges from 67,000 to 129,000 EGP.
Administrative units are offered at prices per meter, starting from 34,000 up to 42,000 EGP.
The price per meter of medical units for sale ranges from 33,000 to 39,000 EGP.
Booking Systems of A1 Corners Mall
With competitive prices and diverse spaces available, SV Developments offers flexible payment plans, featuring reasonable down payments, followed by a long period of installments. Investors will have ample time to pay for their units in Mall A1 Corners Tower. Bookings start with the lowest down payment and 9-year installments, with up to a 30% launch discount in A1 Corners Mall. Here are the installment systems:
10% down payment with installments over 7 years.
15% down payment, and the remaining amount is paid in installments over 8 years.
20% down payment with installments of the rest divided over 9 years in installments.
  A1 Corners Tower New Capital Video
Services and Facilities of Mall A1 Corners Tower SV
SV Developments presents A1 Corners Tower, a spectacular hub of facilities and services in the heart of the New Capital. Designed with unit owners and visitors in mind, SV offers a variety of conveniences at A1 Corners Tower New Capital, and here are some of them:
A stunning plaza and landscaped area perfect for all sorts of events and activities.
Electronic entrances for smooth access to and from the tower.
Smart electronic controls for a seamless, comfortable experience for unit owners and guests.
Scrumptious cafes and restaurants to satisfy every craving.
High-speed internet connectivity for effortless business transactions.
Meeting rooms for easy collaboration at the mall.
Round-the-clock security and surveillance for ultimate peace of mind.
State-of-the-art surveillance cameras for enhanced safety.
ATMs throughout A1 Corners Mall for hassle-free financial transactions.
Maintenance and cleaning services to keep the premises in tip-top shape.
Features of A1 Corners Tower Mall
A1 Corners Tower SV will be one of the best towers in the New Capital, as SV Developments has provided all the features that clients may seek to achieve their desired results quickly. These include a suitable location, diverse spaces, modern architectural designs, competitive prices, and comfortable payment systems. Invest in A1 Corners Tower Mall and secure your future!
Disadvantages of Mall A1 Corners
A1 Corners Mall does it all! While some may worry about the bustling activities compromising privacy, SV Developments has thoughtfully crafted separate floors for each activity to maintain a sense of exclusivity, preserve privacy and avoid overlapping to make sure clients, who seek to buy and invest in units, are satisfied.
Brochure of A1 Corners Tower New Capital
Please fill out the form below to show the full brochure of A1 Corners Tower New Capital.
Register to view the project brochure
With 25 years of experience in the Egyptian real estate market, SV Developments boasts a remarkable track record of accomplishments. They've created commercial and residential spaces that cater to their clients' ever-growing needs, with projects executed through collaborative and transparent processes, leading to satisfying results for their customers.
Former Projects by SV Developments
FAQs about A1 Corners New Capital