Mall Rivoli New Capital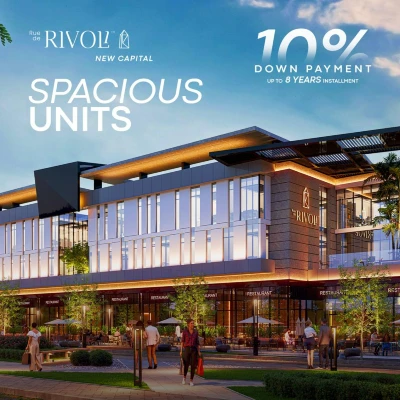 Mall Rivoli New Capital مول ريفولي العاصمة الإدارية الجديدة is a powerful kick-start for the career of Anchor Developments in the real estate field. Anchor seeks to present an exceptional opportunity for investment. Therefore, it has built Rivoli Mall in a privileged location in Compound Bleu Vert. Moreover, Rivoli New Capital project offers outstanding services and unbeatable prices.
Location of Rue De Rivoli Mall
Rivoli Mall New Capital is part of Compound Bleu Vert New Capital which is located in block E8 in the Investors District and on Southern Mohammed bin Zayed Axis. In addition, Rivoli Anchor project lies on Al Mehwar Al Markazi which links a major and prestigious area of compounds in the New Capital with a width of 94 m2.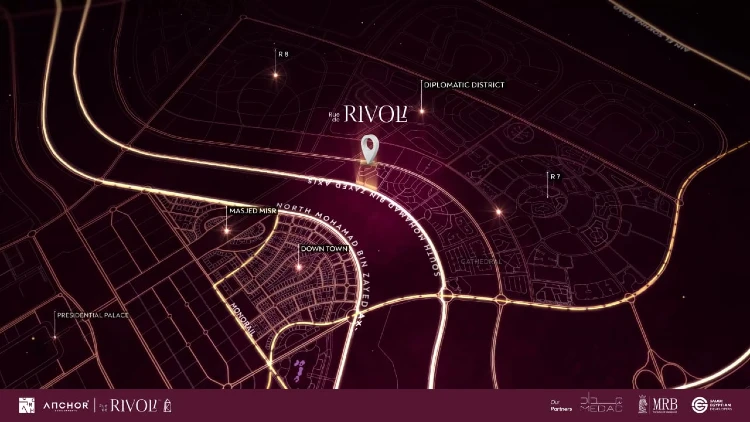 Places Close to Rivoli Mall New Capital
Rivoli Bleu Vert project is adjacent to Al Masa Hotel, the largest hotel in the New Capital.
The Green River and the cathedral are extremely close to Mall Rivoli New Capital project.
It is easy to reach Rue De Rivoli from main roads such as the Regional Ring Road, Suez Road, Ain Sokhna Road and others.
Rivoli New Capital Mall is located in front of the Government District and the new museum.
Il Bosco New Capital and Compound Stau are proximate to Mall Rivoli Anchor.
Design of Rivoli Bleu Vert Project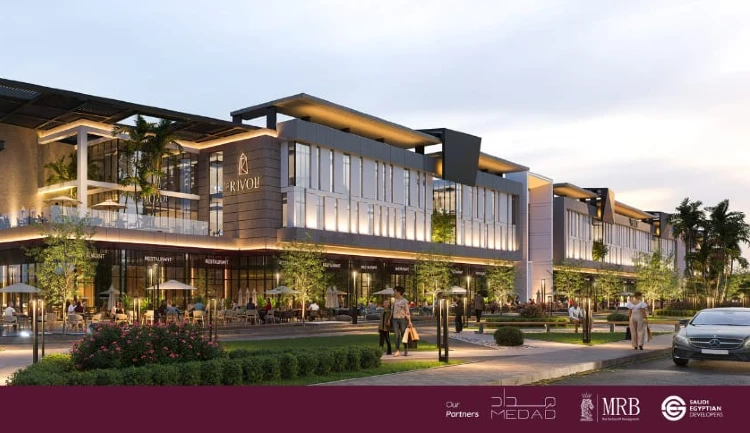 Anchor Developments has decided to apply an exceptional design to its first project, Rue De Rivoli, to become a remarkable sign and beat other projects in the New Capital. Therefore, the task of designing Mall Rivoli New Capital has been assigned to the well-known "Medad Consultant Engineers" company, which has executed distinguished projects in Egypt and the Arab world.
Medad has developed a distinctive architectural design for Rivoli Mall New Capital, and this has resulted in a simple and beautiful architectural style that blends with the surrounding. Moreover, the design of Mall Rivoli Anchor is distinguished by glass facades, surrounded by natural plants to provide a sense of comfort and classiness.
Area of Rivoli Mall New Capital
Rivoli Mall New Capital extends over an area of ​​10,815 m2, and 30% only of the total area is dedicated to constructions. Mall Rivoli Bleu Vert project contains a ground floor, which is entirely dedicated to commercial units, overlooking the main street.
In addition, there are 2 upper floors for administrative offices, which are fully finished with air conditioning, in Rivoli New Capital Mall. The space of a unit for sale in Rue De Rivoli Mall starts from 45 m2, therefore, clients will get the chance to choose a suitable space for a unit to buy.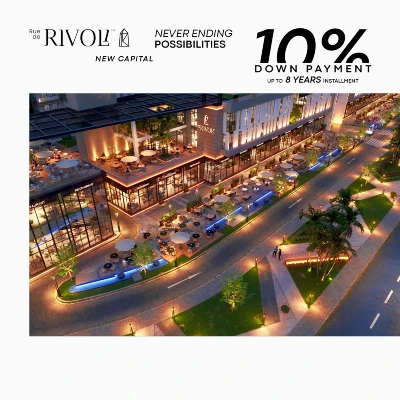 Mall Rivoli New Capital Prices 2023
Anchor Developments has been keen to provide investment seekers an ideal opportunity with a guaranteed profit, therefore, it has chosen a strategic location and has made sure Rivoli New Capital prices are affordable and convenient for investors. Clients can buy or invest in units for sale with prices per meter, starting from 45,000 EGP in Rivoli Bleu Vert project.
Installment Systems of Rivoli Mall New Capital
Rivoli New Capital installments system emphasizes that investing in Rivoli Anchor is a distinctive opportunity. Rivoli New Capital down payment starts from 10% and the installment period for units reaches up to 8 years. In addition, buying a unit for sale in Mall Rivoli requires an EOI of 30,000 EGP, and the delivery of units is in 2025.
Services and Facilities of Rivoli Strip Mall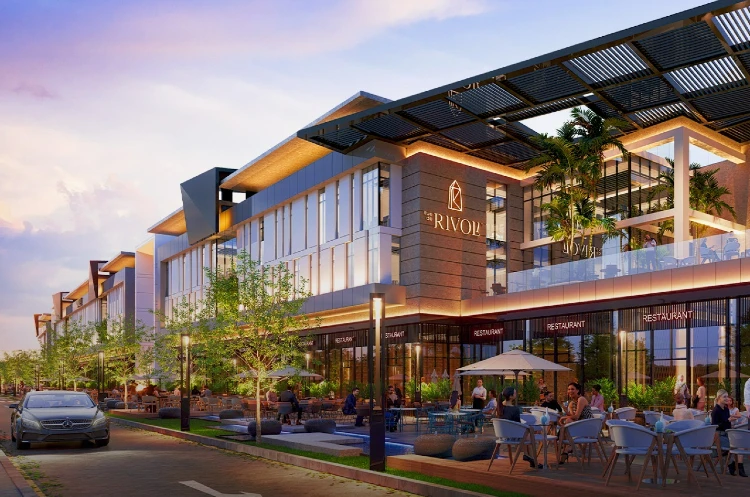 Anchor has assigned the task of managing Rivoli New Capital Mall to MRB company for project management. MRB succeeds in including 6 major brands for Mall Rivoli New Capital to enhance the marketing value of the project. Moreover, there are various amenities and services in Mall Rivoli Anchor, which are:
Rivoli Mall New Capital conforms to the engineering specifications which can serve people of determination.
A large garage with a capacity of 423 cars is included in Rivoli New Capital project to serve visitors.
For ease of movement between floors of Mall Rivoli New Capital, there are 4 elevators.
Rue De Rivoli Mall also contains cafes and restaurants, serving delicious food and drinks.
There are 4 shared meeting rooms on each floor of Rivoli New Capital Mall to serve administrative units.
Rivoli Mall is also compatible with the operating specifications of international brands.
High-speed internet is provided in Mall Rivoli Anchor.
Mall Rivoli New Capital is considered eco-friendly since it matches the characteristics of achieving sustainability in energy.
Security guards and surveillance cameras are provided in Rivoli New Capital Mall to maintain stability and security.
ATMs are also included in Rivoli Bleu Vert project.
Rivoli Mall contains a Kid's Area, where children can spend joyful times playing.
Maintenance and cleaning services are provided 24 hours a day in Mall Rivoli New Capital project.
Features of Rivoli Mall New Capital 
Rivoli Mall is a good opportunity for whoever is interested in investing in the New Capital, whether in a commercial unit which guarantees the attraction of visitors by serving a major compound in the New Capital or offices, overlooking the Green River and near main roads and axes. In addition, units of Rivoli Mall are offered at premium prices.
Disadvantages of Mall Rivoli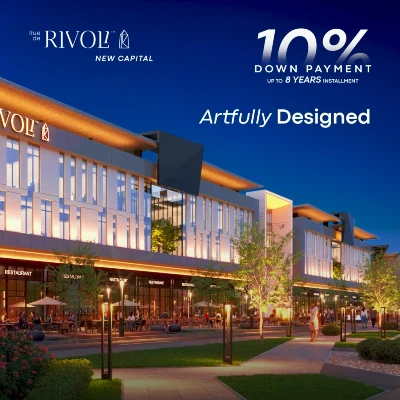 Some may consider gathering both commercial and administrative units in Rivoli Mall New Capital project as a disadvantage. However, Anchor Developments has taken this issue into account, and as a result, clients will find that each type of unit occupies a separate floor with separate elevators in Mall Rivoli.
Brochure of Rivoli Mall New Capital
Please fill out the form below to show the full brochure of Rivoli Bleu Vert Project.
Register to view the project brochure
Despite the recent establishment of Anchor Developments, it is based on an experience of 30 years from its holding company, Al Sarrh Holding. In addition, the launch of Rivoli Mall New Capital comes in cooperation with Saudi Egyptian Developments, which owns Bleu Vert Compound New Capital.
FAQ about Mall Rivoli Bleu Vert