Compound Roses New Capital
Golden House has designed Compound Roses New Capital كمبوند روزس العاصمة الإدارية الجديدة with the aim of becoming a classy residential community, situated in a prestigious area in the New Capital, in R8 particularly. In addition to providing extremely competitive prices and reserving with a 0% down payment, Roses Compound is dedicated to fulfilling residents' needs and attaining integration & comfort.
Location of Roses Compound
Roses Compound is located in the heart of the New Capital, specifically in area L6 in R8, which is distinguished by its elegance and peacefulness. Compound Roses New Capital has a strategic spot near major landmarks of the New Capital and also allows easy access to the main axes to facilitate reaching any place without taking too much time.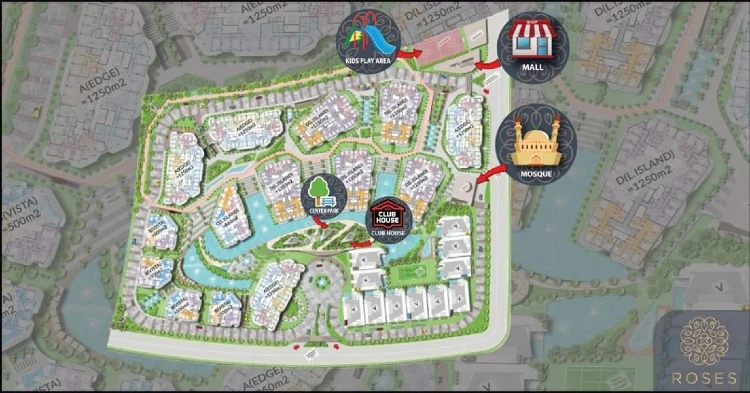 Places Near Compound Roses New Capital
Compound Roses is only 10 minutes away from the Opera House, the Presidential Palace, and Al Masa Hotel.
The Diplomatic Quarter and Embassies Quarter are considered close to Roses Compound New Capital.
New Capital Airport can be reached within 10 minutes by car from Roses Golden House.
Roses New Capital project is only 3 minutes away from the Cathedral and Al-Fattah Al-Alim Mosque.
Prestigious compounds in the New Capital, such as Golden Yard Compound and Anakaji Compound are proximate to Roses Compound.
Design of Compound Roses New Capital
Sophistication and tranquility are successfully achieved even through the design of Compound Roses. Green spaces, artificial lakes, and panoramic landscapes occupy 80% of the total area of Roses Golden House, to give residents a cozy and breathtaking view. Roses Compound is distinguished by providing different types of units, including apartments, villas, and penthouses in 20% of the area.
Design of Roses New Capital project is executed under the supervision of Al-Jouran Office as an engineering consultant. The internal division of units in Roses Compound is distinguished by extreme privacy due to the separation of buildings & villas and the availability of a private entrance for each.
Moreover, Roses Compound New Capital contains all basic and recreational services and facilities for a comfortable living experience, and that is attained through providing 3 acres of the total area to build a clubhouse and food court to enhance the pleasure of buyers or investors.
Register your details to enjoy a 3D virtual tour inside the project units
Area of Roses New Capital Project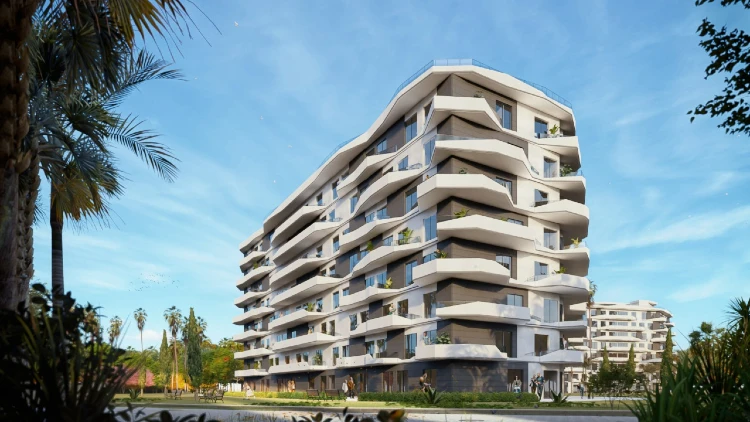 Roses Golden House is constructed on an area of ​​21.5 acres, with only 20% of the total area allocated to buildings and villas. The remaining area is dedicated to necessary services and facilities. In addition, green spaces and landscapes possess a large area to provide residents of Compound Roses with marvelous views, whether from apartments, duplexes, penthouses, or villas.
For more about the divisions of the interior spaces available in Compound Roses New Capital
Click Here
Prices and Spaces of Compound Roses New Capital 2023
In addition to the privileged location and diverse spaces of units, Roses New Capital prices are considered perfect, compared to all the features of the compound. Prices per meter for a unit for sale in Roses Compound are low, therefore, total prices start from 1,900,000 EGP. Units of Compound Roses New Capital vary in spaces from 140 to 230 m2.
Small residential units, such as apartments with up to 4 rooms, are suitable for those who are interested in investing in Roses Golden House. Furthermore, villas, duplexes, and penthouses are proper choices for whoever likes living in large areas. Units of Roses Compound are delivered semi-finished so that owners can finish them according to their tastes.
Payment and Installment Systems in Roses Compound
Roses New Capital down payment starts from 0%, and the longest payment period is provided. Besides providing appropriate prices for units, Roses New Capital installment systems are extremely convenient. Units of Roses Golden House will be delivered semi-finished after 3 years of contracting. Various installments systems are offered in Rose Compound, which are:
0% Down Payment is required to book apartments and villas, in Roses Compound New Capital, and the price of the unit will be paid in installments over 6 years.
5% Down Payment is paid for a unit in Compound Roses and the rest in installments over 7 years.
10% Down Payment and the rest is paid over 8 years in equal installments.
15% Down Payment and the remaining amount is paid over 9 years.
20% Down Payment can be paid and the rest via installments over 10 years without interest.
Compound Roses New Capital Video
Services and Facilities of Roses Residences New Capital
Building an integrated residential society is the domineering idea behind the establishment of Compound Roses. Therefore, Golden House is eager to provide a variety of services and facilities to make living in Rose Compound New Capital convenient and comfortable. Roses New Capital project offers the following services for the satisfaction of residents:
Compound Roses contains 2 commercial malls, where residents can enjoy shopping.
Roses Golden House includes a clubhouse, covering an area of 2 acres, with a height of 3 floors, which include a gym and swimming pools.
80% of the total area of Roses Compound is allocated to wonderful landscapes and artificial lakes.
In Roses New Capital project, there is a large modern mosque for performing prayers.
Residents of Compound Roses New Capital can enjoy relaxing in the spa and jacuzzi of the club house.
To provide a healthy atmosphere, Roses Residences New Capital works on solar energy which is an eco-friendly source.
Residents of Roses Compound get to safely leave their children to spend some time in the kids' area.
There is an area designated for restaurants and cafes in Roses Golden House, serving varying types of food.
Compound Roses New Capital possesses a huge garage which can handle a large number of cars.
Roses Residences New Capital is highly secured due to the availability of modern surveillance devices, highly trained security guards and smart gates.
Compound Roses also includes halls for occasions and events.
Characteristics of Compound Roses New Capital
Features of Compound Roses are uncountable, and that's why it is worth buying a unit there to enjoy reasonable prices along with appropriate installment systems. The ideal location of Roses Residences New Capital is a major privilege, in addition to the distinctive classic designs and the internal division of units, which guarantees the privacy of units.
Disadvantages of Roses Golden House Project
The availability of various types of units in Roses Compound can be considered contrary to the element of privacy, but the privacy of units is maintained through extraordinary internal divisions. Compound Roses New Capital allocates 20% of its area to construction and provides separating distances between buildings and villas along with presenting private entrances for each
Brochure of Roses Compound
Please fill out the below form to see the full brochure of Compound Roses New Capital.
Register to view the project brochure
Golden House Developments has more than 10 years of experience in the real estate market and has proven its efficiency in providing distinguished projects, applying the highest standards of modern technology. It aims to assist in the state's urban expansion plan with its unique residential, commercial and coastal projects. Golden House also manages to gain customers' trust through its credibility.
Former Works by Golden House Developments:
FAQ about Compound Roses New Capital