Village Majada Sokhna
IWAN Developments has announced the launch of a new phase of Majada Village Sokhna قرية ماجادا العين السخنة, which many people were waiting for, due to its excellent location, diverse spaces, charming designs that mimic international resorts, as well as Village Majada prices being competitive, guaranteeing a profitable investment.
Location of Majada Village Sokhna
The state's major projects, whether for education, business, or tourism, show that Sokhna is the future. Now is the best time to invest in Sokhna, before prices increase. IWAN Developments has seized the opportunity as one of the first developers to build their project, Majada IWAN Developments, which is located near the most important landmarks of Sokhna, as shown below:
Places Near Majada Village Sokhna
Majada Sokhna Village is only 46 km away from Zaafarana.
New Cairo is separated from Village Majada El Sokhna by 126 km.
The New Capital is only 118 m away from Majada project.
Porto Sokhna is 5 km away from Majada Village Sokhna.
Village Majada Sokhna is adjacent to Aroma Village and Cape Bay Village.
Design of Majada Project
Majada Village Sokhna is built with a terrace system, which gives 90% of the units panoramic views of the sea. Artificial lakes and swimming pools are an essential element in the design of Village Majada Sokhna, especially with the construction of Majada Sokhna at a height of 15 meters.
Register your details to enjoy a 3D virtual tour inside the project units
Area of Village Majada Ain Sokhna
Majada Village Sokhna extends over an area of ​​101 acres, of ​​which 85.5% is allocated for green spaces and services to provide the greatest luxury for clients of Majada IWAN Developments. Units in Majada Sokhna Village vary to suit everyone, as they include studios, chalets, townhouses, and twin houses, so you will find whatever you need in Village Majada Sokhna.
Areas & Prices of Village Majada Sokhna 2023
IWAN Developments has offered the units for sale in Majada Village Sokhna at very competitive prices per meter, making it the best among Ain Sokhna projects, especially with the advantages of Village Majada, like an excellent location, integrated services, and various spaces, and the details of Village Majada unit prices and areas are in the following points:
Studios: Spaces start from 53 to 58 m2 in Village Majada El Sokhna, at prices starting from 2,200,000 EGP.
1 Bedroom Chalets: Spaces range from 60 to 80 m2 at Majada Village Sokhna, at prices starting from 2,700,000 EGP.
2 Bedroom Chalets: Spaces start from 91 to 119 m2 in Majada Sokhna Village, at prices starting from 3,700,000 EGP.
3 Bedroom Chalets: Spaces range from 125 to 170 m2 at Majada project, with prices starting from 4,800,000 EGP.
Townhouses: Areas start from 180 to 185 m2 in Majada IWAN Developments, with prices starting from 7,800,000 EGP.
Twin Houses: The average area in Village Majada Sokhna is 200 m2, with prices starting from 8,800,000 EGP.
 Village Majada Installments & Reservation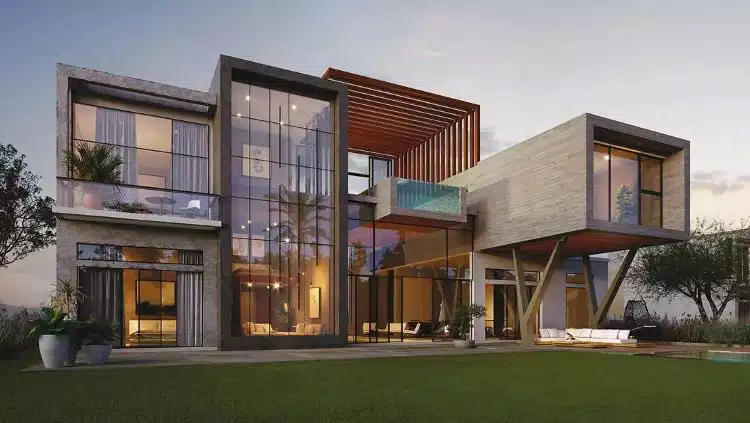 You can now buy a chalet in Ain Sokhna at the best price, lowest down payment, and longest installment period, as Village Majada down payment is only 10%, EOI is 50,000 EGP, and Majada installments extend for up to 10 years. In addition, Majada Village Sokhna units are delivered fully finished.
Village Majada Ain Sokhna Video
Facilities & Services of Majada Village Sokhna
Facilities and services play a major role in promoting coastal resorts, and Majada Sokhna Village has been able to achieve this easily, with the charming mountainous nature of Sokhna, its beaches that are decorated with coral reefs, and water sports on the beach of Majada IWAN Developments. Learn more about the services of Village Majada Sokhna through the next points:
There are multiple swimming pools in Majada Village Sokhna, in which the residents get complete rest.
There is also a boutique hotel at the highest level to serve visitors of Majada Village Sokhna.
For children to enjoy their time, there is their own kids' area in Majada IWAN Developments, in which they can find all the games they want.
Village Majada Sokhna also provides a diving center on the resort's beaches.
Majada project also provides a medical center and pharmacy at the highest level.
There is a shopping mall and a supermarket in Majada El Sokhna Village, in which there is everything the residents need, and it makes it easy for them to shop at any time of the day.
There are cafes and restaurants in Majada project, where international food and dishes are served.
Sports lovers can enjoy their time at the gym in Village Majada Sokhna, in which residents can exercise.
Majada Village Sokhna includes jogging and cycling tracks, to provide the appropriate space for sports lovers to practice them easily.
Surveillance cameras are distributed everywhere across Village Majada Sokhna, in order to raise the level of safety among the residents.
To provide calm and order in Majada Village Sokhna, security and guard personnel are working 24 hours a day.
To maintain the aesthetic appearance of Village Majada Sokhna, maintenance and cleaning work continues seven days a week.
Advantages of Majada Village Sokhna
IWAN Developments has provided a wonderful experience for living and investing in Sokhna. Those looking for financial profit will be impressed by Majada Village, with its competitive prices, comfortable installments, and dazzling future that will make Sokhna a basic residence for work, learning, and those looking to enjoy themselves during the holidays.
Disadvantages of Majada Sokhna Village
The multiple advantages of Majada Village encourage many clients to buy units for sale, but they are worried about the delivery date. However, those knowledgeable in real estate know that it is the best time to buy a real estate unit while it is under construction to ensure getting the best prices, making this an opportunity that must be seized.
Brochure of Village Majada Sokhna
Please fill out the form below to show the full brochure of Village Majada Sokhna.
Register to view the project brochure
Since its establishment in 2004, IWAN Developments has become one of the most important real estate companies, and it has succeeded in providing the best residential, commercial, and coastal projects, at competitive prices that made it the preferred choice for many clients. The company's board of directors is chaired by Eng. Walid Mokhtar and its investments exceed 13 BN EGP.
Previous IWAN Developments Projects
Compound Vida IWAN 6 October.

Compound Atrio Sheikh Zayed.

Compound Jera Sheikh Zayed.

Compound Jada New Cairo.
FAQ About Village Majada Sokhna