Mall Space October
Gates Developments establishes Mall Space October مول سبيس أكتوبر, which is a commercial, administrative and medical project, in a strategic location, ideal for investment. Space Mall presents a variety of spaces and flexible payment systems, along with integrated services. Moreover, Space October prices are highly competitive and encourage clients to buy and invest in a unit for sale.
Location of Space Commercial Complex
The major factor of a successful investment is finding the ideal location, and thus Gates Developments has picked a perfect location for Space Mall October, directly on the 26th of July Axis. As a result, Space Commercial Complex will be easy to reach and owners of Space units will guarantee a high rate of visits.
Places Near Space Mall October
Space October Mall is located near Waslet Dahshur Road.
Hypermarket is situated in front of Mall Space.
A short distance separates Space Gates Developments from Mall of Egypt.
Space Mall October is adjacent to Arkan Plaza and Capital Business Park.
Reaching Mall of Arabia will be easy from Mall Space October Project.
It takes a few minutes to reach Space Commercial Complex through Alexandria Desert Road.
Space Gates Developments is situated near Media Production City.
Juhayna Square is a few minutes from Space Mall October.
Mall Space is close to Compound Green 6 October and Mall Val.
Design of Space October Mall
With the assistance of the famous architect Raef Fahmi, Gates Developments manages to present Mall Space October with a fascinating design, satisfying the diverse tastes of customers. The design of Space October Mall is inspired by the elegance of international malls, and the total area is about 36,000 m2.
Only 30% of the total area of Space Gates Developments is occupied by buildings, while the rest of the area is allocated to the plaza and landscapes which give comfortable and lovely views. In addition, Space Mall October features 17 standalone buildings and consists of a ground floor and 3 upper floors.
Register your details to enjoy a 3D virtual tour inside the project units
Areas of Units in Space Gates Developments
Gates Developments has focused on offering diversity in spaces of Mall Space units, which include commercial, administrative, and medical units for sale, to meet the different needs of investors who are interested to buy, whether limited or large spaces. Therefore, buyers get the chance to choose the suitable size of unit in Space October Mall from the following:
The space of Administrative Units in Space October Mall starts from 50 m2.
The areas of Medical Units start from 39 m2 in Space 6 October.
Mall Space October Prices 2023
Buying Mall Space units for sale will be easy for investors because Gates Developments offers exceptional prices per meter. As a result, the total price of a unit for sale in Space Commercial Complex will be extremely reasonable and convenient, compared to the offered services, for a variety of customers. Prices of units in Space Mall October start from 3,162,000 EGP.
Installment Systems in Space Mall October
Gates Developments provides comfortable reservation and installment systems to facilitate the purchasing process for investors who are willing to buy a unit for sale in Mall Space 6 October without financial difficulties. Space October down payment is considered low, compared to other projects, and here are Space October installments systems in detail:
5% down payment, then 5% after 3 months and the rest in installments over 7 years.
The EOI of administrative units in Space Mall October is 75,000 EGP.
The EOI, required for medical units, is 100,000 EGP in Space 6 October.
The maintenance deposit in Mall Space October is 10%.
Mall Space Units for sale will be delivered within 3 and a half years.
Mall Space October Video
Services and Facilities of Space 6 October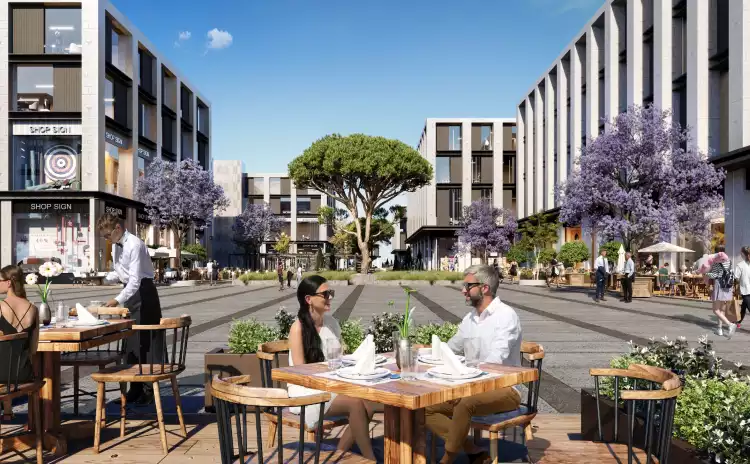 Gates Developments has worked on achieving comfort for both unit owners and visitors of Space Mall October by providing all the needed services, facilities and means of entertainment. Thus, clients of Mall Space 6 October will have a comfortable and enjoyable experience with the presence of the following services and amenities:
In Space October Mall, there are escalators and elevators, facilitating movement between floors.
Space Gates Developments is managed by a smart system which ensures a comfortable experience for unit owners and visitors.
A plaza and landscape area are included in Mall Space 6 October.
Space Mall October features a car parking garage which is located below the mall and is managed by modern technology.
Electronic entrances are added to facilitate entry and exit from Mall Space October.
Mall Space units are provided with high-speed internet networks.
There are also meeting rooms in Space Mall.
Space Commercial Complex includes ATMs to facilitate financial transactions.
A gym and health clubs are presented in Space Mall October, so that customers can maintain their physical fitness.
Space October Mall includes security guards and surveillance cameras.
Modern firefighting systems are available in Mall Space Gates Development for emergency cases.
Features of Space Mall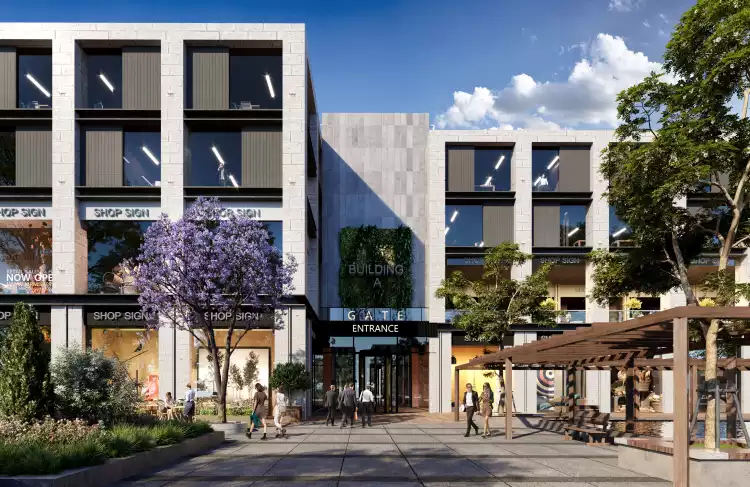 Gates Developments has provided a variety of features for Space Mall October to ensure presenting an integrated project for investors to achieve successful results. Mall Space 6 October has a superior location, marvelous architectural designs, diverse services and a variety of spaces. In addition, competitive prices and convenient payment systems are offered in Space Mall October.
Disadvantages of Mall Space October
Although Space Mall October has various features, some customers may believe that the presence of diverse types of units will lead to a lack of privacy, but Gates Developments has allocated different floors to each type of unit to separate the diverse activities, maintain privacy and provide a comfortable work environment. Moreover, security guards are available 24 hours a day.
Brochure of Space Mall October
Please fill out the form below to show the full brochure of Space Mall.
Register to view the project brochure
Gates Developments was established in 2018, as an extension of the United Arab Developers Company, founded in 1996. During those years, Gates has gained the trust of luxury lovers by implementing its projects with impressive designs and upscale services. In addition, it offers diverse price packages and multiple payment systems, and thus it is the first destination for investors.
Previous Projects by Gates Developments Real Estate Company
FAQs about Mall Space October