Solas Mall New Capital
In a fruitful investment area, Vow Developments establishes Solas Mall New Capital مشروع سولاس العاصمة الإدارية الجديدة as a paramount project, exclusively comprising administrative units. Dedicating units solely to administrative functions ensures a tranquil environment for employees away from the hustle of commercial centers. Additionally, prices of Mall Solas New Capital are highly competitive, and comfortable installment plans are offered.
Location of Mall Solas
The location of Solas New Capital is among its key highlights, since it is situated in the Financial District, the largest investment area in the New Capital, specifically at plot 2.25B. Therefore, Solas Mall's prime spot will be amidst banks, stock exchange centers, and Egypt's foremost business and investment hubs like E-Business Park Towers.
Landmarks Near Solas New Capital
Solas Mall New Capital overlooks the Presidential Palace.
The Downtown area is only 10 minutes away from Mall Solas New Capital.
Reaching Solas Vow Developments takes 5 minutes' drive from the Green River.
Mall Solas New Capital is located 30 minutes from Cairo International Airport.
It takes 25 minutes to reach New Cairo from Solas Mall.
Solas Vow Developments is also close to prime malls in the New Capital, such as Mall 5 Business Hub and Sixty Three Mall.
Design of Solas New Capital Mall
The design of Solas Mall New Capital echoes the sophistication of the Financial and Business District. Vow Developments has applied a modern and elegant design to Mall Solas New Capital, offering a remarkable view of stunning natural landscapes, including vast gardens and green spaces. These views genuinely enhance the working environment for the employees.
Register your details to enjoy a 3D virtual tour inside the project units
Area of Solas Vow Developments
Solas New Capital Mall extends over an area of 8,000 m2, with only 30% of the total area allocated for construction. The mall offers 298 administrative units for sale and 248 parking spaces in the garage. Solas Mall consists of 2 basements, a ground floor, 7 upper floors and a rooftop
Moreover, Vow Developments presents diverse spaces of administrative units in Mall Solas New Capital ranging from 42 to 546 m², and the price per meter of units is extremely affordable. Therefore, clients seeking to buy administrative units for sale can choose the suitable size, depending on their needs and budget.
Solas New Capital Prices 2023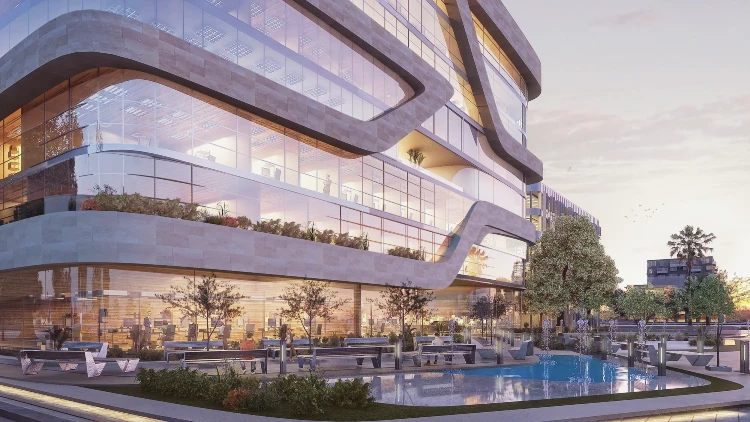 Despite the prime location of Solas New Capital Mall and variety of features, Vow Developments has offered administrative units for sale with convenient prices, starting from 1,449,000 EGP and varying depending on the unit's location and view. The price per meter of units in Solas Mall ranges from 34,500 to 43,500 EGP, and up to 15% discount is offered.
Booking Systems for Solas Mall New Capital
Vow Developments has been eager to facilitate the purchasing process for interested investors in Solas New Capital Mall, and thus it presents flexible installment plan, featuring a long repayment period of 8 years. Clients can avoid facing financial constraints and book units comfortably in Solas Mall with the following booking systems:
10% down payment, followed 10% upon receipt, and the remaining amount will be paid in installments over 84 months.
A 30% discount is available for cash payments.
Delivery Date and Finishing System of Units in Solas New Capital
Vow Developments has announced that units of Solas Mall New Capital will be delivered in April 2023. Regarding the finishing system, administrative units for sale in Solas Mall will be delivered with super luxury finishes and will include the following features:
Electrical installations

Air conditioning systems

Paintwork

Gypsum board ceilings

Floors include porcelain, Oriental Weavers carpet, and German HDF
Video of Mall Solas New Capital
Services and Facilities of Solas New Capital Mall
The administrative offices in Solas Vow Developments are distinguished by a multitude of services and facilities, ensuring a comfortable work environment. For those considering acquiring a unit in this prestigious project of Solas Mall New Capital, you will be impressed by the extensive range of available amenities:
Units of Solas Mall feature a unique view of the verdant landscapes and green spaces, offering a serene and inspiring work environment.
Dedicated recreational areas for children are available, providing a suitable entertainment space for families visiting or working in the mall.
There are advanced elevators, ensuring smooth and efficient movement throughout Solas Mall New Capital.
Surveillance cameras are installed on each floor of the building, providing a secure environment.
Solas New Capital is equipped with central air conditioning to maintain comfortable temperatures during the warmer months.

An array of cafes and restaurants are available, offering comprehensive services and a variety of dining options in Solas Mall.

Round-the-clock security and guarding services are in place to enhance the safety and security of the mall.
Units in Solas Mall New Capital include a comprehensive cleaning system operational throughout the day, ensuring a clean and well-maintained environment.
There are also ATMs, facilitating financial transactions for businesses and visitors alike in Solas Mall.
Solas Vow Developments includes 10 large, fully-equipped meeting rooms, catering to various business and conference needs.
Each floor of the building has designated waiting areas, adding to the convenience of visitors and employees.
Relaxation spaces are strategically placed away from the administrative units, offering a tranquil area for breaks in Solas Mall.
Mall Solas New Capital is equipped with a health club, promoting wellness and relaxation for workers within the project.
The units include an intelligent BMS (Building Management System) for efficient project management.
Designated prayer areas are available in Solas Mall, providing a convenient and peaceful space for spiritual practices.
A rooftop café is reserved for employees, enhancing elements of comfort and luxury within the work environment.
Solas Mall New Capital houses sports game rooms, offering recreational activities and promoting a balanced lifestyle.
The mall features coworking spaces, fostering collaboration and networking among professionals.
There is a garage, accommodating 248 vehicles and ensuring ample parking for employees and visitors of Solas Mall New Capital.
Solas New Capital Mall, supported by solar energy, is equipped with electric generators and an emergency water tank, ensuring uninterrupted services.
Features of Solas Mall
Vow Developments has ensured the provision of Solas Mall New Capital with numerous features and benefits to encourage investment seekers to buy units for sale. These features include a strategic location in the Financial and Business District, close to critical investment centers. Additionally, it offers a diverse facilities and services, along with units in various sizes and convenient prices.
Drawbacks of Solas New Capital
It is not easy to find drawbacks in such a fascinating project like Solas Mall. However, some may have concerns about the provision of administrative units for sale only in the mall and the absence of commercial activities. Actually, this could be advantageous for business owners seeking to provide a distraction-free, productive work environment for their employees.
Brochure of Mall Solas New Capital
Please fill out the form below to show the full brochure of Solas Mall New Capital.
Register to view the project brochure
Solas Mall New Capital is a significant administrative project by Vow Developments, a company comprising three entities active in the real estate market since 1989. These entities are First Sport, Comp-U-Brand, and Idea Sport, renowned names in sports construction. Solas Mall stands as one of their prime projects in the New Capital, highlighting their expertise and experience.
Previous corporate real estate projects
First Sport Projects:
Al Ahly Club Nasr City, Al-Jazira Youth Center, Ministry of Military Production stadiums.
Comp-U-Brand Projects:
Saqr Factory for Advanced Industries, National Defense Council, Nile Valley Contracting.
Idea Sport Projects:
Police Academy stadiums, Al Zohour Club, Al Rehab Club.
FAQs about Solas New Capital Mall