Compound Rhodes New Capital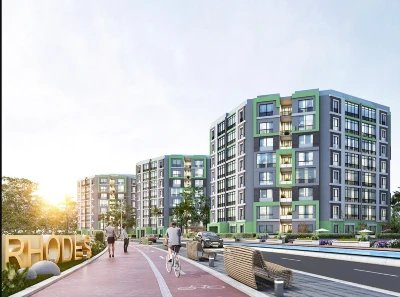 Compound Rhodes New Capital كمبوند رودس العاصمة الإدارية الجديدة is considered one of the prime residential projects in the New Capital. Rhodes Plaza Gardens is characterized by its supreme location in District R7, the most prestigious residential neighborhood in the New Capital. Plaza Gardens Developments offers luxurious units for sale with the lowest prices per meter in Rhodes Project.
Plaza Gardens plans to provide all services and facilities at affordable prices for residents' satisfaction in Rhodes New Capital Compound. In addition, Rhodes compound presents an aesthetic view, composed of landscapes and artificial lakes, covering a large area for the comfort of residents.
Location of Rhodes Compound New Capital
One of the major characteristics of Compound Rhodes New Capital, attracting residents to buy, is its superior location in the Seventh District, R7, which is considered a sophisticated residential neighborhood in the New Capital. The location of Plaza Gardens Project is proximate to all distinctive landmarks, and main axes which ensure easy access to the compound, amusement areas, and government service areas.
Landmarks Near Rhodes New Capital
Compound Rhodes New Capital is only 3 minutes away from the Ministries District.
Plaza Gardens project also has a direct view of the Diplomatic Quarter, the largest entertainment city in the world similar to Disneyland, and the Olympic City.
Opera House and Al Masa Hotel are also very close to Plaza Gardens Compound Rhodes.
Reaching the Green River and the Presidential Palace from Rhodes New Capital compound takes a few minutes.
Rhodes Compound is adjacent to major projects such as Oro Compound and The City Compound.
Design of Compound Rhodes New Capital
Rhodes Compound is privileged with a contemporary design with a classy touch, distinguishing it from other residential projects. Green spaces and artificial lakes, possessing large portions, add a sense of tranquility and comfort to residents of Rhodes Plaza Gardens. Units in Rhodes project vary between apartments and villas, and buildings consist of 7 floors, with a private elevator for each floor.
Register your details to enjoy a 3D virtual tour inside the project units
Area of Rhodes Plaza Gardens
The total area of Compound Rhodes, reaching 100 acres, establishes it as a huge residential project in the New Capital. Buildings of Plaza Gardens Project only cover 22.5%, while the remaining space is allocated to landscapes, giving an enchanting view to all units. In addition, Rhodes New Capital includes apartments, duplexes, twin houses, and villas, having the following areas:
Area of Rhodes Compound Apartments:
Spaces of Apartments in Rhodes Compound New Capital start from 146 up to 250 m2.
Areas of Apartments with a garden in Plaza Gardens Compound Rhodes, range from 162 to 173 m2.
Duplexes' spaces start from 290 up to 395 m2.
Spaces of Villas in Rhodes Compound:
Spaces Twin houses in Rhodes Plaza Gardens start from 430 m2.
Areas of Villas in Plaza Gardens Project range from 470 to 695 m2.
For more about the divisions of the interior spaces available in Compound Rhodes New Capital
Click Here
Prices of Compound Rhodes New Capital 2023
Rhodes New Capital prices are considered competitive, giving clients a possible opportunity to buy a residential unit in the New Capital and enjoy integrated services, elegant design, and strategic location. Investing with a reliable company such as Plaza Gardens Developments is a strong privilege for Rhodes project. Prices of units in Rhodes Compound New Capital are as mentioned below:
Prices of apartments in Plaza Gardens Compound Rhodes start from 1,875,000 up to 1,950,000 EGP.
Prices of apartments with gardens in Compound Rhodes range from 1,215,000 up to 1,730,000 EGP.
Duplex's price in Rhodes New Capital starts from 2,900,000 up to 3,950,000 EGP.
Prices of twin houses in Plaza Gardens project, start from 9,030,000 EGP.
Villas prices in Rhodes project start from 12,220,000 up to 18,070,000 EGP.
Installment Systems in Rhodes Compound
Plaza Gardens is keen to provide convenient installment systems for purchasing in Rhodes Compound. Clients' satisfaction with Rhodes New Capital installment systems is taken into account. Therefore, Plaza Gardens provides the lowest down payment for booking. Rhodes New Capital down payment is 10%, and the installment period of the rest is up to 7 years.
Video of Rhodes Compound New Capital
Amenities and Services of Compound Rhodes New Capital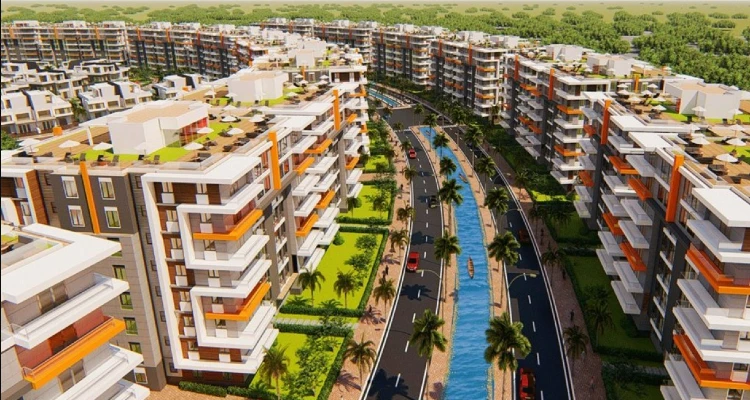 The realization of Plaza Gardens Developments to provide full services to residents of Compound Rhodes should be appreciated. Services of Rhodes Plaza Gardens vary between medical, educational, entertainment and security services, qualifying it to be an integrated urban community. Some of the prominent services offered in Rhodes Compound are:
Green spaces, landscapes, and artificial lakes cover a huge area and give a wonderful view for residents of Rhodes New Capital Compound to enjoy.
Compound Rhodes New Capital also contains high-standard nurseries and international schools for the comfort of parents and children.
Kids' area is also available for children to have some fun in Rhodes Plaza Gardens.
Rhodes compound provides a medical center with the latest medical equipment to serve the residents.
Compound Rhodes also has garages below each unit to prevent overcrowding.
Sports lovers in Plaza Gardens project will find special walkways for walking, running, and cycling.
Also, Compound Rhodes New Capital offers areas designated for making various parties such as barbecues, weddings, and birthdays.
A social club is available for residents in Rhodes Plaza Garden, including playgrounds for practicing diverse sports.
Rhodes New Capital compound has a gym and a health club to enjoy a sauna and jacuzzi, in addition to beauty centers.
Rhodes Compound contains restaurants and cafes, serving delicious plates, in addition to a cinema.
A commercial area and a large mall are also included in Rhodes Project.
Compound Rhodes has a large mosque with fascinating Islamic architectural design.
Features of Rhodes New Capital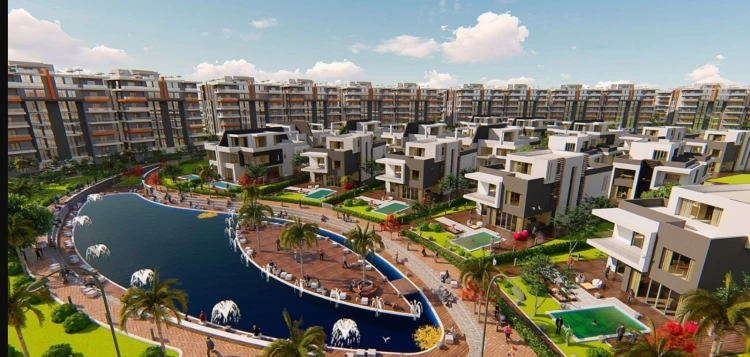 Features of Compound Rhodes are unlimited, starting from its distinguishable location in a vital area in the heart of the New Capital. Providing integrated services and facilities, which guarantee residents' comfort and well-being, is also a privilege in Rhodes Plaza Gardens.
Moreover, residents of Compound Rhodes enjoy a variety of spaces to choose from which unit suits their needs along with vast green spaces and landscapes, stimulating comfort and calmness. Compared to all services provided, the prices of Rhodes project are reasonable. Rhodes Compound New Capital also presents flexible installment systems.
Disadvantages of Rhodes New Capital Project
Rhodes Compound may be considered far from the center of Cairo since it is located in the New Capital, but the presence of the monorail and new axes, in the center of Cairo, has solved this issue. Therefore, it has become easy to reach the New Capital and comfortably live in Rhodes Compound.
Brochure of Compound Rhodes New Capital
Please fill out the below form to see the full brochure of Compound Rhodes New Capital.
Register to view the project brochure
Plaza Gardens Development Company was founded in 2013, and during these years it was able to obtain a position among other real estate companies. Projects of Plaza Development are distinguished by having major sites, modern designs, and high-quality construction. In addition, commitment to delivery dates and providing various features to projects, have helped in gaining the trust of customers.
Former Projects for Plaza Gardens Developments
FAQ about Rhodes Compound