Plaza Gardens Developments
Established in 2013 by engineer Nafeh Abdel Hadi, Plaza Gardens Development شركة حدائق بلازا للتطوير العقاري has quickly become one of the best real estate development companies in Egypt. Under the leadership of its CEO, the company has amassed investments exceeding 7 bn EGP, a remarkable achievement credited to its management.
Plaza Gardens Developments is committed to providing the best real estate services to its clients. The various Plaza Gardens projects give customers, seeking to buy or invest, more opportunities to find units that suit their budgets and cater to their desire for a luxurious lifestyle. Moreover, Plaza Gardens actively participates in the country's plans to build advanced and sustainable cities.
Plaza Gardens Projects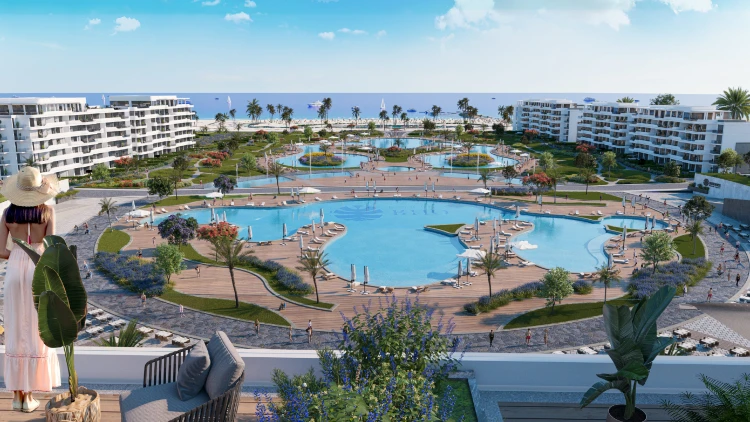 Rhodes North Coast is the latest project by Plaza Gardens Real Estate, complementing the successful Rhodes series, particularly following the success of Rhodes New Capital. The village is situated in Al-Garawla Bay, a marvelous area on the North Coast and occupies an area of 127 acres.
In addition, Plaza Gardens Developments offers a diverse range of units including chalets for sale and hotel apartments, offered at an ideal price per meter in Rhodes North Coast. The spaces of units in Plaza Gardens Developments project start from 53 m2, with prices starting from 1,325,000 EGP.
Among the grandest and most important Plaza Gardens projects is Rhodes Compound New Capital. Located in the prestigious R7 district of the New Capital, it is one of the most famous residential projects in the area, extending over a massive 100 acres. Plaza Gardens Developments project features various apartments for sale and villas, with buildings comprising up to 7 floors.
The spaces of units range from 146 to 695 m2, and the prices start from 1,215,000 EGP in Plaza Gardens Developments' project. It is easy to book apartments and villas of Rhodes compound with the provision of flexible installment plans featuring a 10% down payment and a period of installments extending up to 7 years.
East Park October Compound
Another exceptional project by Plaza Gardens Real Estate is East Park October Compound, situated near various landmarks in 6th of October City, such as Zewail University, Dreamland, and Mall of Egypt. The compound consists of 26 residential buildings, occupying an area of 10 acres. Apartment spaces range from 120 to 265 m2, and ideal prices & installment plans are offered.
Plaza Gardens Developments Partnerships
Plaza Gardens Developments understands the importance of collaboration in the real estate industry; specialized companies in each field enhance the chances of success, while the reputation of each participating company elevates the project's market value and attracts investors. To ensure the success of Rhodes North Coast, Plaza Gardens Developments has partnered with Marriott, a global leader in hotel management.