Pavo Tower New Capital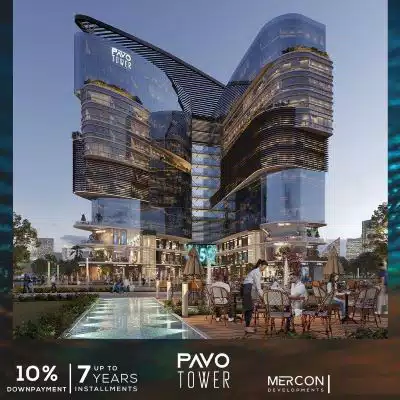 Introducing the grand project of Mercon Developments, Mall Pavo Tower New Capital مول بافو تاور العاصمة الإدارية الجديدة, located at the heart of Downtown, specifically in the Central Business District (CBD). Pavo Mall offers exquisite units for sale with prices that cater to diverse investment opportunities. Mercon Developments has meticulously provided limitless upscale services and facilities as well.
Location of Pavo Mall
Pavo Tower's prime location within the New Capital is characterized by its mesmerizing views. Situated in the CBD, precisely at plot CN26, it directly overlooks the iconic tallest tower in Africa and the Middle East. Mall Pavo project is also in close proximity to prominent landmarks within the New Capital, making it an unparalleled opportunity for Arab and international investors.
Places Close to Mall Pavo Project
Pavo Mall New Capital directly overlooks the Green River.
The northern axis of Sheikh Zayed is a few minutes away from Pavo Tower New Capital.
A short distance separates Pavo Mercon from Masjid Misr, which is the second largest mosque after Al-Fattah Al-Aleem Mosque.
Reaching Al Masa Hotel takes a few minutes from Mall Pavo Tower New Capital.
Pavo Tower is extremely close to the Ministries District and the Government District.
It takes 30 minutes by car to reach the Capital International Airport from Pavo Mall.
Mall Pavo project is a few minutes away from the City of Arts & Culture and the Exhibition Center.
Projects such as Owagik Tower and Clock Tower are located near Pavo Tower New Capital.
Design of Mall Pavo Tower New Capital
The design of Pavo Tower New Capital is exceptional, with a strong focus on lush green spaces to create a comfortable ambiance for customers seeking to buy units. Additionally, the design follows the latest global standards, and Mall Pavo project consists of a ground floor, 13 upper floors, and floors for parking. The distribution of floors is as follows:
The ground, 1st, and 2nd floors are allocated for commercial units in Pavo Mall New Capital.
Starting from the 3rd floor up to the top floor of Pavo Tower Mercon, all units are designated for administrative offices.
Register your details to enjoy a 3D virtual tour inside the project units
Area of Pavo Tower Mercon
Mercon Developments has allocated a 4,000 m2 space for Mall Pavo Tower New Capital. This area is sufficient to accommodate all facilities, services, and provides a remarkable view. Additionally, it has facilitated offering diverse unit spaces in Pavo Mall New Capital, and here are the available spaces:
The spaces of administrative units in Mall Pavo Project start from 30 m2.
Commercial units for sale are available in spaces starting from 25 m2 in Pavo Tower.
Pavo Tower New Capital Prices 2023
Mercon Developments has ensured the best payment methods and the most competitive price per meter of units, considering the services and features that customers will benefit from when they book units in Pavo Tower New Capital, whether for administrative or commercial purposes. The prices are as follows in Pavo Mall:
The price per meter of administrative units and offices starts from 28,500 EGP.
Commercial units are offered at prices starting from 62,500 EGP.
The starting total price of units in Mall Pavo Tower New Capital is 712,500 EGP.
Customers can enjoy a discount of up to 20% during the launch period.
A discount of up to 50% is applied on cash payment.
Flexible Installment System for Pavo Mall New Capital
Mercon Developments has introduced multiple booking and installment systems in Pavo Tower New Capital with the lowest down payment and extended period of installments of up to 15 years to facilitate buying units. The booking and installment systems of Pavo Mall New Capital are as follows:
30% down payment, followed by an additional 10% after 1 year, and another 10% after another year. The remaining amount is then divided into equal installments over 15 years.
20% down payment, and then 5% is required to be paid after 1 year. The remaining amount can be paid in equal installments over 10 years.
10% down payment and 5% after 1 year, with equal installments over 8 years.
10% down payment and equal installments over 7 years.
30% down payment, and the remaining amount can be paid in equal installments over 3 years.
Mercon has opened the booking and contracting process for all units. In case of cancellation, the paid amount will be refunded. The EOI for commercial units is set at 50,000 EGP, while for administrative units, the EOI is 25,000 EGP.
Video of Mall Pavo Project
Services and Facilities of Pavo Tower Mercon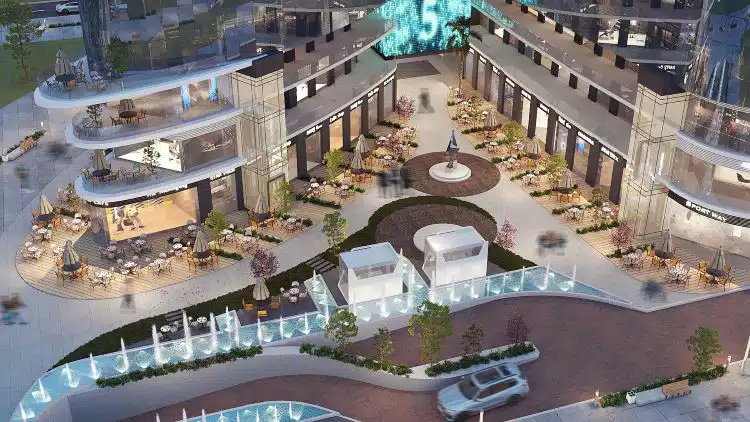 Mall Pavo Tower New Capital, developed by Mercon Developments, offers a diverse range of services that provide customers with ample luxury and business opportunities, ensuring their investment success. Here are some of the outstanding facilities and services available at Pavo Mall New Capital:
A specialized fitness center, equipped with high-end equipment and sports facilities, is provided.
The entire building operates with a centralized air conditioning system.
High-speed internet connectivity is presented throughout Pavo Mall New Capital.
The project features a large parking space with organized parking management to prevent congestion.
Sufficient power generators are added in Mall Pavo Tower New Capital to ensure uninterrupted operations during power outages.
Advanced electronic gates are available for easy entry and exit.
Regular maintenance services are provided for all units within Pavo Mercon.
There is a children's area with various entertainment and safety amenities in the tower.
Pavo Mall New Capital contains sufficient escalators and advanced panoramic elevators for easy movement within the mall, ensuring convenience for owners and visitors.
Luxurious rooftop services are offered in Mall Pavo project.
Adequate facilities for people of determination are available.
Pavo Tower offers an international area featuring renowned restaurants and cafes.
ATMs from various banks are included to meet the needs of owners and visitors.
There are scenic landscapes and green spaces within Mall Pavo Tower New Capital, providing customers and employees with comfort, tranquility, and distinction.
Surveillance cameras with precise display screens operate 24/7 in the mall.
Modern and separate restrooms for both ladies and gentlemen are provided.
There are security personnel from leading security companies, highly trained to provide maximum safety and security.
Display screens and maps are available in Pavo Tower for easy navigation.
Pavo Mall New Capital contains an advanced fire extinguishing system and designated safe areas in case of emergencies.
High-level meeting rooms are provided within Pavo Mercon project.
There are reception halls for welcoming VIPs in the tower.
Highlights of Pavo Tower
One of the key highlights of Mall Pavo Tower New Capital is its remarkable location, ensuring exclusivity for both customers and investors. In addition to its prime location, the mall offers comprehensive services that cover the entire New Capital. Furthermore, the 15-year installment system provides a unique opportunity for investors, making it the longest repayment period in the New Capital.
Drawbacks of Mall Pavo Project
While some may perceive the units of Pavo Tower New Capital to be in small size, this presents an opportunity for aspiring entrepreneurs and ambitious investors to start on the right path, launching their businesses at the heart of the New Capital. Additionally, the comprehensive range of services offered compensates for any space limitations.
Brochure of Pavo Mall New Capital
Please fill out the form below to show the full brochure of Pavo Tower New Capital.
Register to view the project brochure
Mercon Developments is one of the leading companies in the field of real estate, and it has established numerous projects within the New Capital. Committed to its mission of creating distinguished projects for economic growth, Mercon has amassed over 15 years of experience.
Throughout this period, the company has successfully constructed and developed numerous monumental projects, meeting the aspirations of clients and gaining their trust. To further enhance its expertise, Mercon has enlisted the services of Salama Structural Engineers as the engineering consultant for Pavo Tower project.
Former Mercon Development Projects
Several giant projects in Egypt as well as the Arab world

G Mall in the Fifth Settlement

Luxurious Towers in the Arab World

Business Bay Towers in Dubai

Savoy Hotel in Sharm El Sheikh, Egypt
FAQs about Pavo Tower New Capital