Compound Kardia New Capital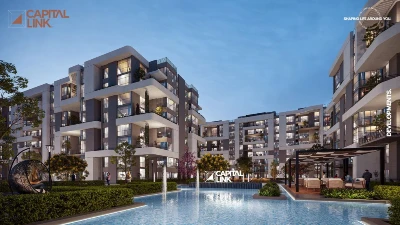 Capital Link Developments launches its latest project, Compound Kardia New Capital كمبوند كارديا العاصمة الإدارية الجديدة, for those who are looking for luxury housing units. Many people are looking forward to reserving their units in the New Capital, so if you're looking for simplicity and beauty, Compound Kardia is the best choice.
Capital Link offers a unique model for housing units, which meets the aspirations of its customers and the prices of Kardia project are reasonable, to the point that made many people prefer it over any other compound in the New Administrative Capital.
Kardia Compound New Capital Location
Capital Link has always been striving to meet up the expectations of its customers, by giving them the chance to choose their units in prestigious areas that are in line with their aspirations, so it has chosen Compound Kardia New Capital location with great care.
Kardia Compound New Capital is located in R8, next to Al Safarat District, which is one of the finest districts in the New Capital, overlooking two main axes, and is close to vital places, like the Opera House, Capital Airport, Green River, and the Banks Area.
Places Near the Compound
• Kardia Compound New Capital, is 10 minutes away from the Governmental and Al-Safarat Neighborhoods.
• Compound Kardia New Capital is a few minutes away from Opera House and Banks Area.
• It is easy to reach the Kardia project through Capital International Airport within 20 minutes.
• The compound is a slight distance away from Green River and Massa Hotel.
• Through Mohamed Bin Zayed Southern Axis, you can reach Kardia Compound New Capital in a few minutes.
• Kardia project is close to Compound Sky Capital View and Compound The Curve New Capital.
Compound Kardia New Capital Design
Kardia project satisfies discerning customers because it uses the European model with its elegant and unique philosophy. It combines green spaces and constructivist buildings in dazzling harmony. Capital Link has assigned this mission to the most famous engineering consultancy firms, Hafez Consultants and Master Link for Construction. The design of Kardia Compound New Capital is as follows:
The total area of ​​ Kardia project is about 23 acres.
The building ratio in Compound Kardia is about 20% & 80% is allocated to green spaces and landscaping.
90% of the units in Kardia project are overlooking green spaces.
Register your details to enjoy a 3D virtual tour inside the project units
The Total Area of ​​the Compound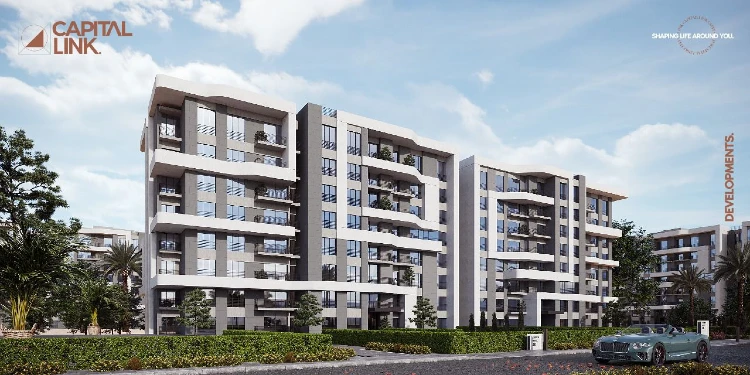 It is not easy to satisfy all the customers' needs, but Capital Link, as a leading real estate company,  has made customer satisfaction its motto. So, it has created a wide range of unit spaces to provide comfort for its customers and meet their aspirations. The apartments areas in the New Capital, are as follows:
Kardia Apartments Areas, New Capital
2 Room Apartments: The apartment space in Kardia project starts from 130 m2.
3 Room Apartments: The apartments in Compound Kardia start from 147 m2.
4 Room Apartments: Kardia project apartments' spaces start from 223 m2.
Duplex Apartments: Duplex spaces in Compound Kardia start from 267 up to 283 m2.
For more about the divisions of the interior spaces available in Compound Kardia New Capital
Click Here
Compound Kardia Prices 2023
The distinctive spaces in Compound Kardia New Capital haven't prevented Capital Link from offering special prices, as the first phase of units for sale is offered at the lowest prices per meter, and on the other hand, the company wants to allow a large number of customers to buy its units. So, Kardia Compound prices start from 2,300,000 EGP.
Reservation and Installment Systems of Kardia Compound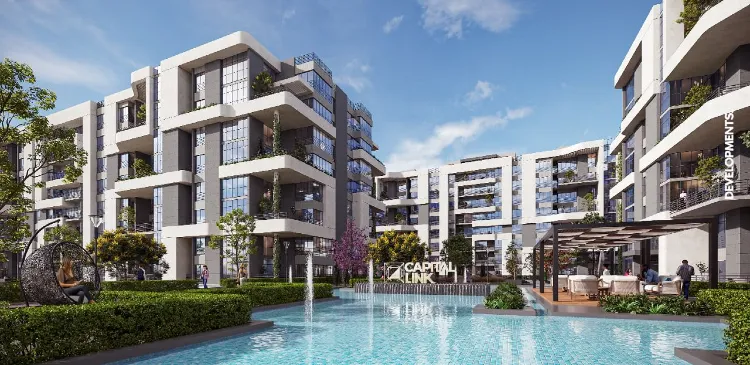 Capital Link provides a convenient system for reservation and installments, as the reservation starts with the lowest installment payment, the payment period is up to 10 years, and the value of Kardia down payment is 25,000 EGP, with 10% maintenance fees paid beforehand, as Capital Link will hand over the units in 2026.
Kardia's Compound Video
Compound Facilities and Services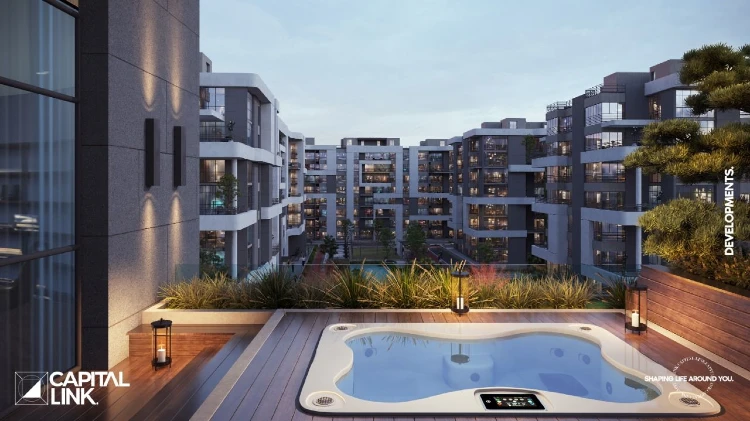 If you are looking for a prestigious residential community with all the services and facilities, Compound Kardia New Capital is the best choice for you, because Capital Link has given great attention to everything that the residents of the compound could need, taking into account the smallest details. The facilities and services of Kardia project are as follows:
Kardia Compound New Capital, contains a Commercial Mall, to provide an exciting shopping experience for the residents of the compound.
In the buildings of Compound Kardia New Capital, there are Underground Garages, to facilitate parking the residents' cars safely.
There are Swimming Pools equipped at the highest level, including a covered pool to provide privacy for the residents.
Kardia project includes Tennis and Squash Courts so that residents can practice their favorite sports easily.
In Kardia Compound, there is a Gym, Spa, and Jacuzzi, to provide a suitable space for luxury and enjoyment lovers.
Compound Kardia has Cycling and Walking Lanes so that residents can easily practice cycling and jogging.
The compound includes the most famous International Restaurants and Brands so that the residents can get all that they need without leaving the compound.
For Celebrations, Kardia project includes suitable areas to make it easy for its residents to have an entertaining experience.
There are spaces for studying and working in Compound Kardia New Capital to provide a Co-working Space for those wishing to work or study in a suitable atmosphere.
Kardia Compound provides Security and Guarding Services throughout the day, to establish safety and stability among the residents.
Compound Kardia New Capital uses Surveillance Cameras at the highest level to secure the compound.
Kardia Capital project contains the latest Systems for Extinguishing Fires, to deal with fires.
Kardia Compound provides Maintenance and Cleaning Services throughout the week and throughout the day.(24/7)
Features of the Compound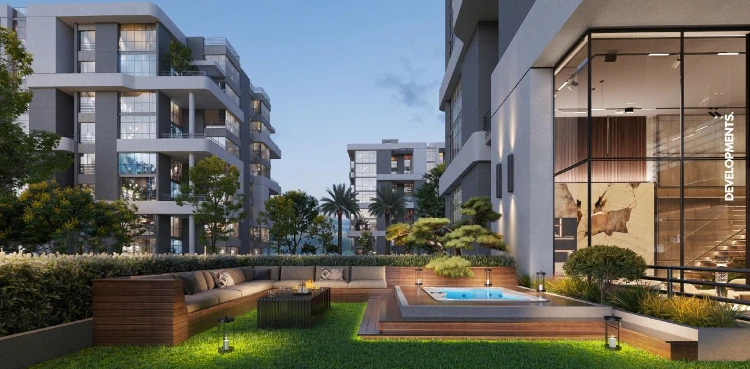 Kardia Compound has many advantages, which make it an excellent option for those who look forward to living in the New Capital. It is located in the most decent area in the New Capital and nearby the most famous sights. There is a wide range of apartment spaces, with reasonable prices and appropriate installment systems.
Disadvantages of Kardia Compound
Despite all these advantages that Compound Kardia New Capital have, some may see that the compound contains only apartments, while others want to buy villas, but Capital Link has provided apartments with large areas which are close enough to the area of villas, to satisfy its customers and meet all their needs.
The Brochure of Compound Kardia
Please fill out the below form to see the full brochure of Compound Kardia New Capital!  
Register to view the project brochure
Capital Link Developments was established in 2020, by a group of real estate experts, led by Ashraf Badea. Capital Link has a vision of establishing standards for real estate development in Egypt, to provide a distinguished group of important projects, through which it aims to develop customers' lives and provide many investment opportunities.
Capital Link Developments Projects
Verona Mall New Capital.

Spot 5 New Capital.
Important Questions About Compound Kardia New Capital