Compound Zizinia Mostakbal City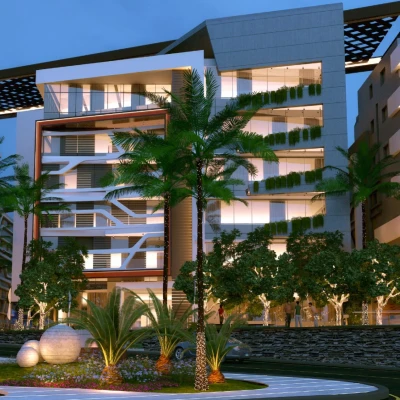 Ardic Developments has recently launched Compound Zizinia Mostakbal City كمبوند زيزينيا المستقبل سيتي, which is planned to be an integrated residential and commercial community. Zizinia El Mostakbal is positioned in an ideal spot near the New Capital. Surprisingly, prices are unbeatable despite offering various services and amenities, also Zizinia Mostakbal City installments systems offer the longest repayment period.
Location of Zizinia Mostakbal City
Fortunately, Zizinia Compound is privileged with a superior location in Mostakbal City, New Cairo. The site of Zizinia Ardic on the Middle Ring Road, before Madinaty, has made it close to several vital areas as well as the New Capital. Moreover, Zizinia Compound Mostakbal City is considered near Cairo-Suez Road and various other popular landmarks.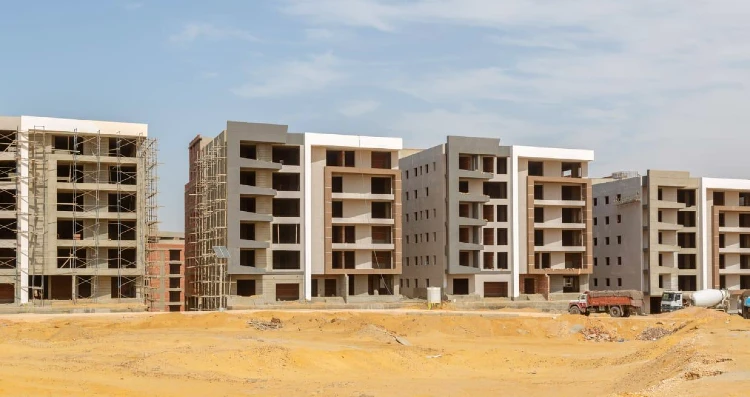 Well-known Places Close to Zizinia El Mostakbal
Compound Zizinia is 15 minutes away from the Middle Ring Road.
Madinaty is a short distance from Zizinia El Mostakbal.
Reaching the New Capital takes 45 minutes from Zizinia Mostakbal City project.
Ain Sokhna Road is extremely close to Compound Zizinia Mostakbal City.
Bloomfields Compound and Montenapoleone Compound are located near Zizinia Compound.
Design of Zizinia Compound Mostakbal City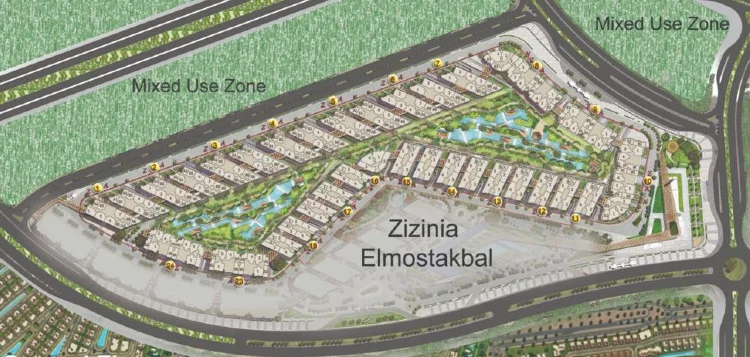 Ardic Developments is certain that a residential compound is based primarily on providing comfort, and thus it has been eager to reflect such sense of tranquility through the design of Compound Zizinia. The total area of Zizinia Mostakbal City project is around 70 acres with length of 1 km.
In order to present Zizinia Compound with a design on the global scale, taking into account the small details that give a sense of comfort and stability, Ardic has assigned international designers, such as Dr. Ahmed Mito and Dr. Akram Farouk. Designers have succeeded to create a fascinating design, resulting in the division of Zizinia El Mostakbal as follows:
20% of the total area of Compound Zizinia is allocated to buildings and the rest is covered with greenery and lakes.
Zizinia Ardic contains 39 villas.
 83 residential buildings are included in Zizinia Compound.
Buildings in Zizinia El Mostakbal consist of a ground floor + 5 upper floors.
Zizinia Compound Mostakbal City has 29 townhouses.
11 commercial units are available in Zizinia Mostakbal City project.
Area of Compound Zizinia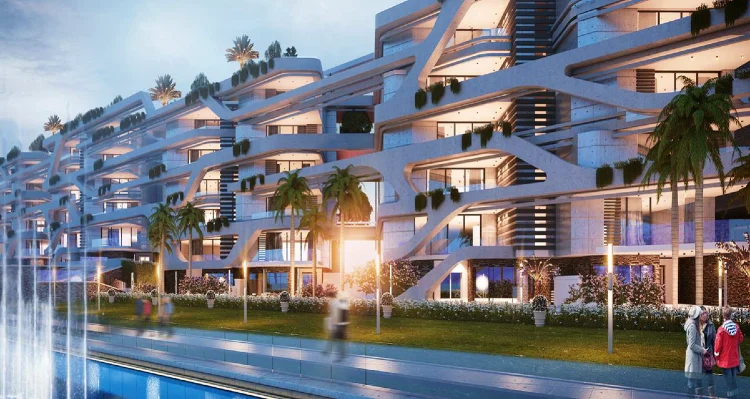 Units of Compound Zizinia are characterized by their diversity in spaces to fulfil all tastes. Zizinia Ardic offers a unit for sale with suitable and sufficient spaces for those wishing to live comfortably or even try investment. Various types of apartments are provided in Zizinia El Mostakbal with the following spaces:
Apartments: Spaces start from 160 m2 up to 300 m2.
Apartments with a Garden: Spaces start from 263 m2.
Penthouses: Spaces range from 325 m2 to 331 m2.
Duplexes: Spaces start from 304 m2 up to 368 m2.
For more about the divisions of the interior spaces available in Compound Zizinia El Mostakbal
Click Here
Prices of Zizinia Mostakbal City 2023
Ardic Developments has managed to offer diverse units in Zizinia Compound, varying in spaces, in addition to several services and facilities, with reasonable and highly competitive prices. Prices per meter for a unit for sale range from 11,875 EGP to 12,500 EGP, and Zizinia Mostakbal City prices in total are distributed as mentioned below:
Prices of apartments in Zizina Ardic start from 1,900,000 EGP up to 3,600,000 EGP.
Apartments with a Garden in Compound Zizinia are offered with prices, starting from 3,500,000 EGP.
Penthouses' prices range from 3,750,000 EGP to 3,900,000 EGP in Zizinia Mostakbal City.
Prices of duplexes in Zizinia Compound start from 3,000,000 EGP up to 3,985,000 EGP.
How to Pay in Installments for Units of Compound Zizinia?
Providing convenient installment systems for units in Compound Zizinia has been Ardic's aim, so that owners feel comfortable about the purchasing process. Therefore, Ardic offers the longest period of installments. Also, Zizinia Mostakbal City down payment percentage is considered the lowest among other neighboring projects in New Cairo. Installment system and delivery dates set for units of Zizinia Ardic are:
5% down payment and the rest is paid in installments of up to 12 years.
Delivering units will be either in December 2022 with the first phase or December 2023 with the second phase, and unfinished units will be received.
Video of Zizinia El Mostakbal
Services Available in Compound Zizinia Mostakbal City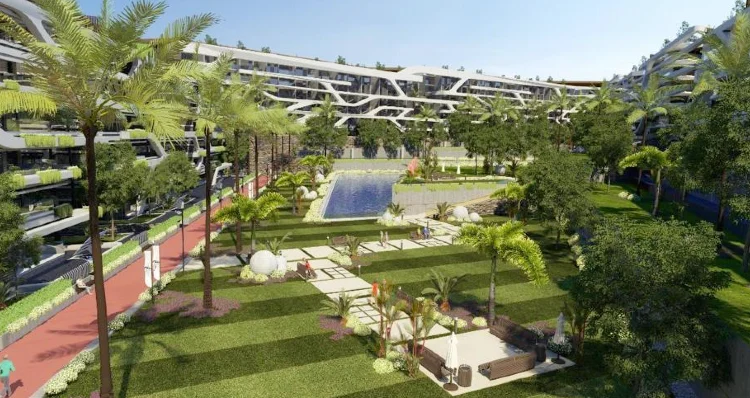 Creating an integrated community through Zizinia Compound is the main goal of Ardic Developments. Therefore, residents of Compound Zizinia Mostakbal City will find all necessary services and amenities needed to facilitate their accommodation and make them live comfortably. The offered services and facilities in Ziznia Ardic are:
To do shopping effortlessly, Zizinia Compound provides a mall with integrated services.
Zizinia Compound Mostakbal City has a well-equipped medical center, which includes clinics, pharmacies and laboratories, for health assistance.
A large mosque for religious rituals is included in Zizinia Ardic.
Compound Zizinia presents entertainment areas for families to spend fun times.
Tracks for walking are far from cars' path in Zizinia El Mostakbal.
Zizinia Compound includes large spaces of landscapes and lakes, so that residents can enjoy an aesthetic view.
A nursery in Zizinia Mostakbal City is also available for children to join, so that it is easy for children to join it without going out to other places.
Compound Zizinia offers an area of restaurants and cafes, where residents can enjoy eating delicious plates.
Heaters powered by solar energy are provided, to rely on clean energy in Zizinia Ardic project.
Sports courts and gyms are presented for residents of Compound Zizinia Mostakbal City to practice various sports.
Zizinia Compound maintains safety and stability by providing security and guarding services.
Surveillance cameras are also added in Zizinia El Mostakbal to increase safety of residents.
Compound Zizinia offers cleaning and maintenance services throughout the day to serve customers.
Features of Zizinia Compound
Features of Compound Zizinia are extremely tempting, and missing the opportunity to buy a unit is a loss. Residents of Zizinia El Mostakbal get to enjoy its vital location and various services & facilities, in addition to distinctive spaces of units, offered in appropriate prices with installments system, requiring 5% down payment and installments up to 12 years.
Disadvantages of the Zizinia El Mostakbal
Despite all the features that have been offered in Zizinia Compound, including spacious units, some may assume that prices of those units will be high. Therefore, Ardic Developments has presented comfortable installments system with only 5% down payment and a period of installments up to 12 years.
Brochure of Zizinia Mostakbal City Project
Please fill out the below form to see the full brochure of Zizinia Mostakbal City.
Register to view the project brochure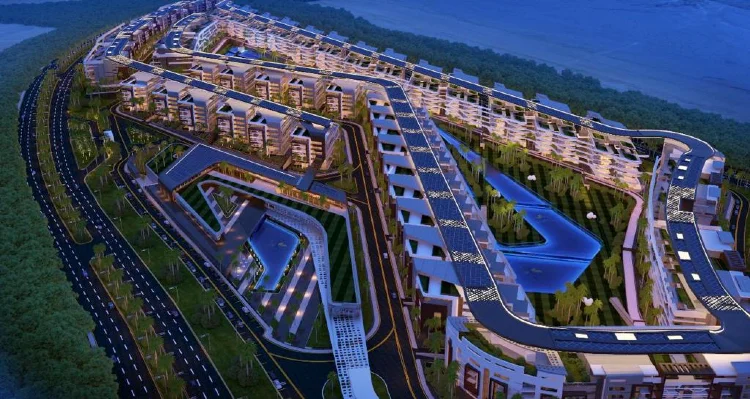 Ardic Developments is considered a prime company in the field of real estate in Egypt. It was founded in year 1998, and has managed to achieve massive success throughout its journey by bringing the volume of its investments so far to 5 billion EGP. Ardic always seeks to provide luxury and pleasure through its projects.
Previous Projects of Ardic Developments:
Compound Zizinia Rose New Cairo

Compound Zizinia Gardens New Cairo

Compound Zizinia Flowers El Shorouk

Mazar Mall in Al Haram.
Questions about Zizinia Mostakbal City