Mall Glare New Cairo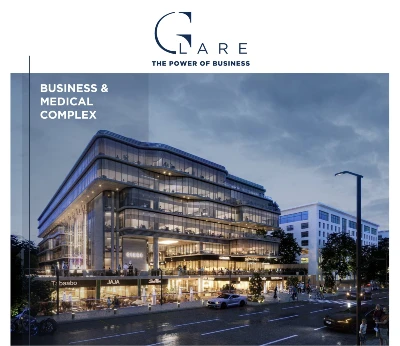 Mall Glare New Cairo مول جلير التجمع الخامس is the latest Areva Developments project. The 38 years of experience of Areva Developments has allowed it to add all the elements that make it one of the most significant malls in New Cairo, like the strategic location, various spaces, and flexible payment plans. In addition, Mall Glare prices are highly competitive.
Location of Mall Glare Areva Developments
The location of Glare Mall New Cairo is enough to ensure its success, as it is in the most prestigious area in Egypt, giving it enormous purchasing power. Mall Glare Areva Developments is located in the heart of the Fifth Settlement, on North 90 St., specifically in plot No. 158 in the first sector.
Places Near Glare Business Hub
Cairo Festival City is located minutes away from Glare Mall New Cairo.
Glare 5th Settlement is easily accessible from the Air Force Specialized Hospital.
Mall Glare project is 5 minutes away from the Medical Area and Nasaaem Hospital.
The Banking Area and the Monorail Garage are a few minutes away from Glare Mall New Cairo.
Glare Mall is adjacent to projects such as  Mall Noir New Cairo and East Lane New Cairo.
Design of Glare Mall New Cairo
The design of Glare Business Hub has been developed by MEED for engineering designs, as it has implemented important administrative buildings in England, South Korea, and several European countries. Glare Health and Wellness Hub consist of 2 underground garages + a ground floor + 5 upper floors, and it is multi-activity, as it includes shops, offices, and clinics.
Area of​​ Mall Glare New Cairo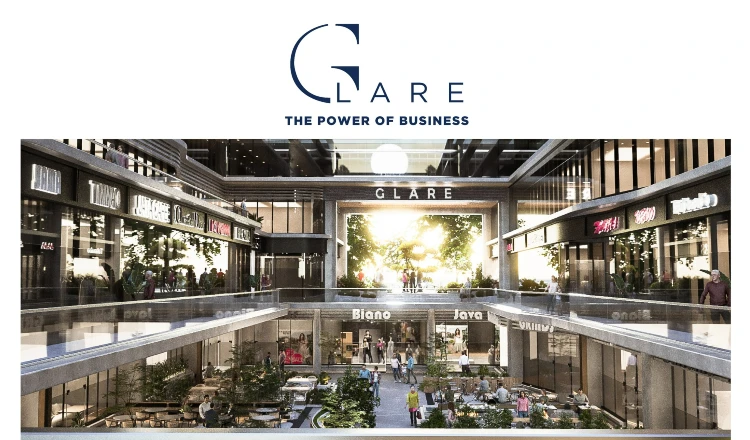 Mall Glare project extends over an area of ​​6880 m2, which is a huge private area with 70% allocated to the landscape and plaza area of ​​the project to give all units in Glare Mall New Cairo wonderful views in addition to a direct view of North 90 St.
The interior spaces in Glare Mall New Cairo are diverse and will meet all the needs of clients, with the availability of special proficiencies for investors, and the unit areas of Glare Mall vary according to their purpose, and they come as follows:
Administrative Offices in Glare Mall New Cairo have spaces starting from 60 m2.
Medical Clinics in Mall Glare New Cairo have spaces starting from 69 m2.
Glare Mall New Cairo Prices 2023
It's rare to buy a unit for sale in an excellent location such as North 90 St. at a good price, but Mall Glare Areva Developments offers prices per meter that are suitable for the mall's location, spaces, services, and facilities.
Mall Glare unit prices for administrative offices start from 3,487,200 EGP, while Glare unit prices for clinic units start from 5,144,400 EGP, which are competitive prices considering that when you buy units in cash you can get a discount of up to 20% at Glare Business Hub.
Mall Glare Installments & Reservation Systems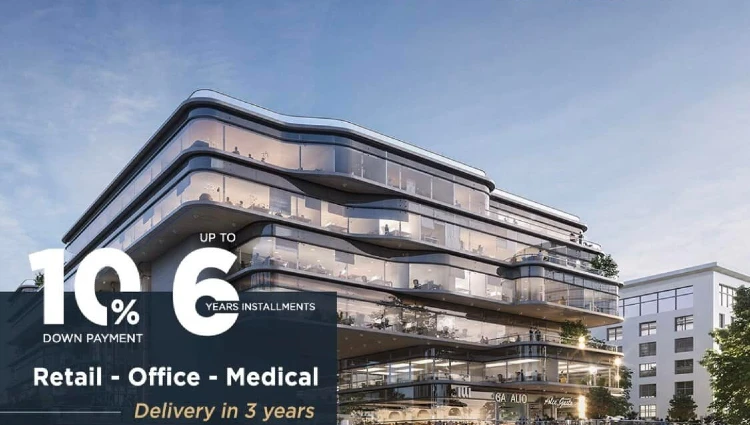 Mall Glare project has launched one of the best reservation and installment plans in New Cairo, where Mall Glare down payment starts from 10% only, with comfortable installment periods extending up to 7 years. The units for sale at Glare Mall New Cairo will be delivered fully finished with air conditioning, and Mall Glare installments and down payment systems are:
10% Down Payment and the rest is paid in installments over 5 years.
15% Down Payment and the rest is paid in installments over 6 years.
20% Down Payment and the rest is paid in installments over 7 years.
Services & Facilities in Glare 5th Settlement
Services are what make a project different, and the most famous malls in Egypt are characterized by services such as 4D cinemas, ice skating rinks, or different famous brands and hypermarkets. These services attracted investors to buy the projects' units for sale, and Mall Glare Areva Developments also provides facilities that distinguish it from other Fifth Settlement malls, such as:
Within Glare Mall, you will find the most famous restaurants and cafes that serve the most delicious international dishes.
To achieve the highest degree of safety among the visitors and clients of Glare Business Hub, you will find security and guard services as well as surveillance cameras throughout the mall.
To prevent congestion in front of the mall, there is a 3-storey garage within Mall Glare project.
To complete the work of companies and offices with ease, you will find high-speed internet in Glare Mall New Cairo.
Of course, Glare N90 St provides central air conditioning for all units.
All units of Glare Mall New Cairo will have a wonderful view of the gardens and landscapes surrounding the mall.
Glare Business Hub also operates according to the smart facility systems due to the availability of modern technologies such as alarm systems and lighting.
In case there is a power outage or emergency, there are generators at Glare 5th Settlement.
For effortless shopping, ATMs are located throughout Glare Health and Wellness Hub.
Glare Mall New Cairo did not forget the fun for your children, as it provided them with a Kids' Area.
There are also private halls for conferences and major meetings within Glare Health and Wellness Hub.
For ease of movement between the floors of Glare Business Hub, you will find 4 escalators and 3 elevators inside the mall.
There are also regular maintenance and 24-hour cleaning services at Glare Health and Wellness Hub.
Glare Mall includes 3 entrances, 2 of which are for administrative units, and 1 for medical clinics.
Advantages of Glare Mall New Cairo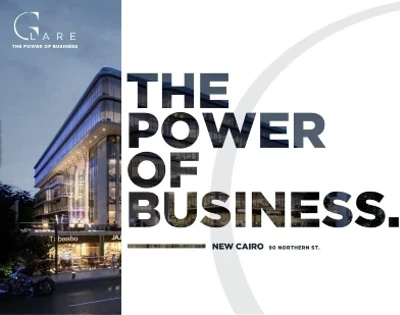 Glare Mall New Cairo has presented a wonderful combination of advantages at excellent prices that make it at the top of any investor's list, as the units for sale are in a strategic location, with modern designs, diverse spaces, and flexible installment systems, in addition to the huge experience of Areva Developments in real estate.
Disadvantages of Mall Glare New Cairo
Some may criticize the multiplicity of activities within Mall Glare New Cairo, which may lead to crowding inside the mall, but there is a complete separation between the various activities, as well as separate elevators, making each activity independent within the mall. Also, the multiplicity of activities increases the purchasing power of the shops and restaurants, making Glare N90 St. faultless.
Mall Glare Project Brochure
Please fill out the form below to show the full brochure of Mall Glare Project Fifth Settlement.
Register to view the project brochure
About Areva Developments
Areva Developments is one of the subsidiaries of the Investment Holding Group, which has 38 years of experience in the fields of education, hotel, and agricultural reclamation. The company's investments amount to about 7.2 billion EGP, and the company's board of directors is currently chaired by Eng. Amr Yassin.
FAQ About Glare Mall New Cairo