Z4 Mall Janna Zayed
West Way Developments proudly presents Z4 Mall Janna Zayed ذا فور مول جنة زايد which is an unrivaled investment opportunity boasting commercial units and medical clinics. Strategically chosen, Mall Z4 is a haven of convenience and comfort, offering a wide range of services and diverse spaces, along with attractive prices and flexible payment plans.
Location of Z4 West Way Project
The key to a thriving project lies in its location, and West Way Developments hits the jackpot with Z4 Mall's location in Janna Zayed. Just moments away from vital hubs and renowned landmarks, this area is densely populated, guaranteeing a constant flow of traffic to Z4 Mall Sheikh Zayed, providing a profitable investment opportunity.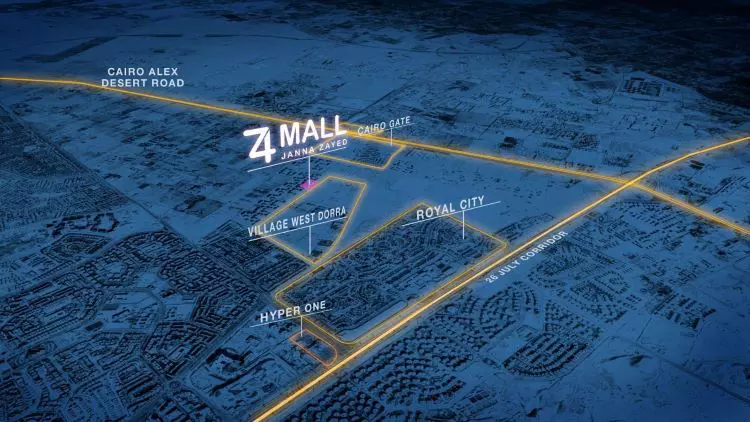 Landmarks Near Z4 Janna Zayed Mall
Alexandria Desert Road is proximate to Mall Z4.
Z4 Mall Jannat Zayed can be reached easily from the 26th of July Corridor.
Reaching Hyper One takes a few minutes from Z4 West Way project.
Mall Z4 Janna Zayed is close to Mall of Arabia and Mall of Egypt.
The Media Production City is a short distance from Z4 Mall Janna Zayed.
Z4 Janna Zayed Mall is located minutes away from Waslet Dahshur Road.
Through El Remaya Square and Juhayna Square, it is easy to reach Z4 Mall Sheikh Zayed.
Z4 West Way project is close to the Grand Egyptian Museum.
The Wave Mall and Zayard Elite Compound are situated near Z4 Mall Janna Zayed.
Design of Mall Z4 Janna Zayed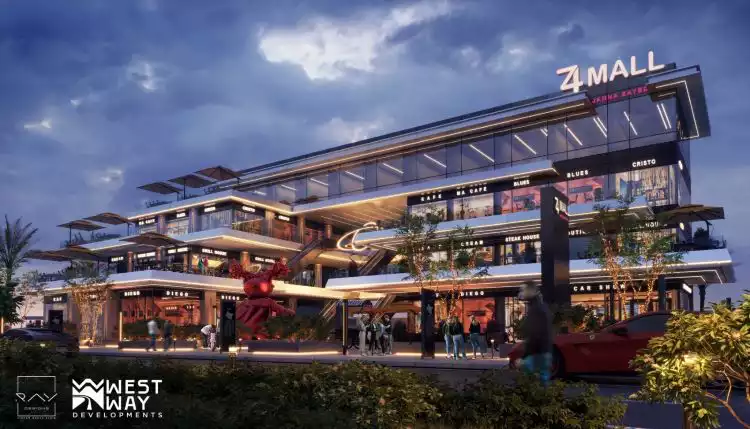 Experience European-inspired architectural brilliance at Z4 Mall. Meticulously designed by top-notch architects, Z4 West Way project will captivate the heart of clients seeking to buy units as well as visitors with its lavish glass facades, breathtaking landscaping, and a spacious plaza. The masterpiece of Mall Z4 Janna Zayed is divided as follows:
The total area of the mall is 2,243 m2.
The plaza and landscaping occupy the largest space of Z4 Mall Jannah Zayed, making it an enchanting space.
Mall Z4 consists of 2 basements, a ground floor, and 3 upper floors.
Register your details to enjoy a 3D virtual tour inside the project units
Spaces of Units in Z4 Mall Sheikh Zayed
West Way Developments has thoughtfully allocated a large area to Z4 Janna Zayed Mall, allowing for a diverse range of unit spaces. Each unit caters to the unique needs of investors, providing the perfect opportunity to reach their dreams. Unit spaces in Z4 Mall Sheikh Zayed start from 26 m2.
Z4 Mall Prices 2023
West Way Developments has mastered the art of offering exceptional value at the perfect price, making Z4 Mall Janna Zayed an irresistible investment opportunity. Additionally, the price per meter of units is tailored to suit the unique features of Z4 West Way project, and here are more details about the reasonable prices in Mall Z4 Janna Zayed:
The price of commercial units in the hyper market starts from 2,225,000 EGP.
Commercial shops on the first floor start from 3,870,000 EGP, while shops on the ground floor of Z4 Mall start from 5,460,000 EGP.
Units of the second floor are offered at prices starting from 3,655,000 EGP at Z4 Janna Zayed Mall, while units on the third floor start from 5,220,000 EGP.
Flexible Booking Systems at Z4 West Way Project
West Way ensures easing the financial burden for investors by presenting comfortable booking and installment plans at Z4 Mall, featuring down payment starting from 15% and a period of installments of up to 5 years. In addition, the EOI, required to book units for sale in Z4 Janna Zayed Mall is 50,000 EGP, and here are installment plans in detail:
15% down payment, 30% discount, and installments over 4 years.
40% down payment, with the1st installment paid after delivery, and installments of the rest over 5 years.
Delivery of units at Z4 Mall will be in 2026.
Facilities and Services of Mall Z4 Janna Zayed
Customers are always drawn to places that offer them a comfortable experience during work or shopping, a fact well considered by West Way Developments when creating Mall Z4. All the necessary facilities to ensure a comfortable working space and entertaining experience are provided at Z4 Mall Janna Zayed, and here are the facilities:
Electronic entrances to facilitate entry and exit, preventing congestion.
The mall operates on modern technological systems, ensuring a pleasant experience for unit owners and visitors.
Smart parking garages are available to avoid crowding outside Z4 Mall Sheikh Zayed's gates.
Panoramic elevators and escalators are included for easy movement between the floors of the mall.
High-speed internet is provided to all units of Z4 Mall Janna Zayed to ensure swift completion of tasks.
The available meeting rooms offer great flexibility for unit owners to hold meetings within the project.
The central air conditioning at Z4 West Way project maintains an ideal temperature throughout.
Numerous ATMs are available for hassle-free financial transactions.
24/7 security personnel ensure safety and peace of mind for unit owners and visitors of the mall.
Z4 Mall features advanced surveillance cameras for extra security.
Modern fire extinguishing systems are added to deal immediately in emergency cases.
Power generators operate during power outages at Mall Z4 Janna Zayed.
Maintenance and cleaning services at the mall are provided seven days a week to ensure top-notch service at all times.
Features of Z4 Mall Janna Zayed
West Way Developments has gone above and beyond in offering features that guarantee success for all investors at Z4 Janna Zayed Mall. From a prime location and luxurious architectural designs to diverse unit spaces and exceptional prices, not to mention flexible payment systems, Z4 Mall boasts various amenities and services.
Drawbacks of Z4 West Way Project
Despite the numerous advantages of Z4 Mall Janna Zayed, some customers may worry about having multiple activities in one place. However, West Way Developments has meticulously separated activities within Mall Z4, ensuring independent floors for each function. Moreover, 24/7 security and surveillance services will maintain ease at the mall.
Brochure of Z4 Mall Janna Zayed
Please fill out the form below to show the full brochure of Mall Z4.
Register to view the project brochure
Z4 Mall Janna Zayed is one of the outstanding projects by West Way Developments. Within a short period, the company has proven its worth and derives its excellence from collaboration with leading real estate entities in Egypt. This is reflected in the quality of West Way projects, whether residential or commercial.
Other Projects by West Way Developments
FAQs about Mall Z4