Pyramids Mall New Capital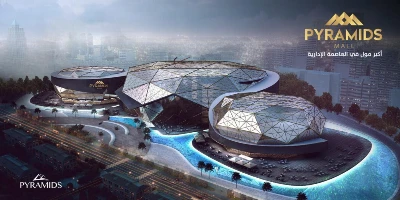 Pyramids Mall New Capital بيراميدز مول العاصمة الإدارية الجديدة is the first and largest commercial entity in Downtown New Capital by Pyramids Developments. It stands as a European simulation on Egyptian soil, containing one of the largest commercial complexes. Units of Mall Pyramids are offered with highly competitive prices, ensuring an ideal investment opportunity with the highest return.
Location of Mall Pyramids
Pyramids New Capital Mall is located in Downtown New Capital, overlooking Al Masa Hotel and Green River. Pyramids Development has smartly implemented the project in the central area to serve residents of R7 and R8 districts, guaranteeing high traffic for investors. Pyramids Mall is also situated on main streets, and its facade overlooks a main axis of 130 m width.
Landmarks Near Pyramids New Capital
Mall Pyramids New Capital is located near the Government district and Diplomatic district.
The Financial & Business District and Exhibition Center are a short distance from Pyramids Mall.
Pyramids New Capital Mall is approximately 5 minutes away from Souq Al Dahab and Misr Mosque.
Reaching the monorail station takes 10 minutes from Pyramids Developments project.
Pyramids Mall New Capital is 10 minutes away from companies of petrol, aviation and tourism.
Design of Pyramids Developments Project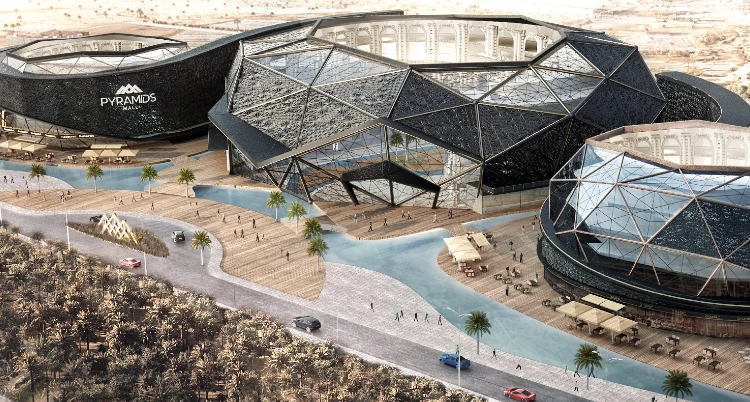 The design of Pyramids Mall is unparalleled, comprising 3 crystal buildings constructed on a water island in a unique and distinct style. It consists of a ground floor and 5 upper floors, with all units of Pyramids New Capital designated for commercial activities only. This makes it an attraction source for hundreds of investors worldwide.
Area of Pyramids New Capital Mall
Mall Pyramids New Capital extends over a vast area of 45,000 m2, making it the biggest and most extensive commercial mall in Downtown. It includes a vast array of facilities, services, and commercial units for sale with spaces starting from 15 m2, allowing clients to freely buy the suitable size of unit on the appropriate floor.
For more about the divisions of the interior spaces available in Pyramids Mall New Capital
Click Here
Pyramids Mall New Capital Prices 2023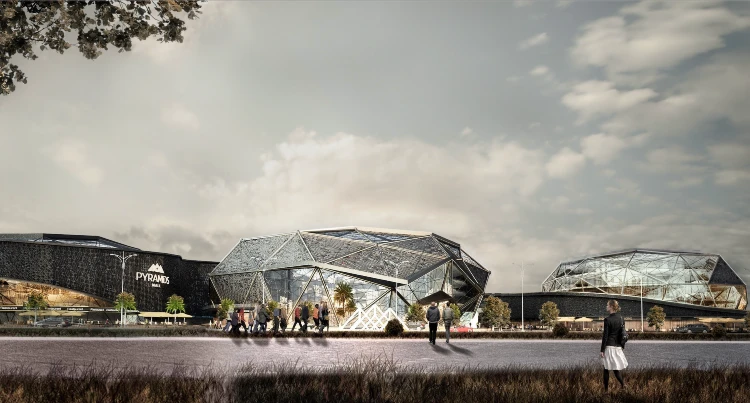 Pyramids Developments offers competitive prices for commercial units with substantial discounts. The price per meter of units in Mall Pyramids is considered ideal for such a massive project. Additionally, the total prices of shops for sale in Pyramids Mall New Capital start from 3,640,000 EGP, with a lease authorization agreement, meaning installment payments are only due after leasing.
Installment Systems for Mall Pyramids
Booking units at Mall Pyramids New Capital is available through multiple installment systems, conforming to the delivery specifications announced by Pyramids Developments. Investment seekers get to book units for sale with minimal down payment and divide installments over a long period. Here are the installment plans of Pyramids Mall New Capital:
5% down payment, followed by another 5% after 3 months, with the remaining balance paid over 8 years in unequal installments.
10% down payment, and unequal installments over 10 years.
25% down payment, with the first installment due post-delivery, and the option to pay the down payment in installments.
A 10% maintenance deposit is also required, payable in installments.
Annual return systems in Pyramids Mall
30% down payment with a 12% annual return until delivery.
35% down payment with a 14% annual return until delivery.
40% down payment with a 16% annual return until delivery.
Delivery Schedule for Mall Pyramids New Capital Units
There is no doubt that the finishing specifications at Pyramids Mall differ from other malls in the New Capital. Units are delivered semi-finished, allowing customers to complete the finishing and decoration according to their tastes. Besides, the delivery of units in Pyramids New Capital Mall is scheduled for 2023.
Video of Mall Pyramids New Capital
Services and Facilities of Pyramids New Capital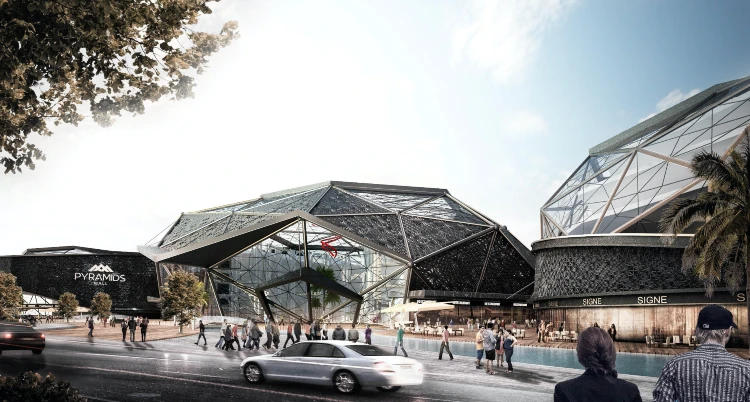 Pyramids Mall New Capital, developed by Pyramids Developments, stands out as a meticulously designed project, offering a blend of luxury, convenience and entertainment. It's not just a commercial project but a holistic experience provider. The units of Pyramids Mall are laden with various unparalleled services and amenities, each floor offering unique primary services, including:
Mall Pyramids New Capital contains the largest food court that hosts a sophisticated array of international restaurants and cafes, presenting a diverse culinary experience to its visitors.
An IMAX Cinema Complex equipped with the latest technologies, offering an immersive experience to movie enthusiasts, is included in Pyramids Mall.
For added entertainment, Pyramids New Capital Mall features the largest water skiing area, enhancing the recreational offerings within the development.
The mall also houses a massive aquarium and features exclusive entertainment shows, including dolphin performances, adding to its appeal.
Pyramids Mall New Capital includes a beautiful dancing fountain and a hologram display, contributing to its innovative entertainment solutions.
A designated Kids' area for children's games and entertainment, ensuring a safe and enjoyable experience for younger visitors, is available in the mall.
To facilitate investors' operations, the mall provides meeting rooms and celebration halls, accommodating various events and business needs.
Pyramids New Capital features a private garage, adequately accommodating all vehicles and addressing parking needs efficiently.
Electric escalators for easy mobility between the floors, ensuring smooth navigation within the establishment, are provided in Pyramids Mall.
For enhanced safety, Pyramids Developments project is equipped with surveillance cameras operating round the clock, alongside a robust security system.
Multiple generators are installed within the mall to ensure the continuity of operations without any disruptions.
Pyramids Mall New Capital operates on solar energy, reflecting its commitment to environmental conservation and sustainable development.
Features of Pyramids Mall
Pyramids Mall New Capital offers a true investment opportunity as the largest commercial mall in Downtown, built in a unique style across three crystalline buildings. It houses diverse high-end services not found in other malls, including the largest food court, water ski area, an IMAX cinema complex and more. Pyramids Mall also offers competitive prices and comfortable installment plans.
Drawbacks of Pyramids New Capital Mall
Some might see the exclusivity of commercial units in Pyramids Mall as a limitation, with no administrative or medical units available. However, this project is principally designed for commercial entertainment, hosting a variety of shops, eateries, and entertainment areas. This design inherently contrasts with the serene and private environment typically needed for administrative and medical units.
Brochure of Mall Pyramids
Please fill out the form below to show the full brochure of Pyramids Mall.
Register to view the project brochure
Pyramids Mall New Capital is the latest project of Pyramids Developments, a company with over 20 years of experience in real estate development and construction in Egypt and France. The owners of Pyramids Developments, Engineer Hisham El Kholy, and Engineer Alaa El Kholy, also own Pyramids for Import and Export, one of the largest Egyptian companies exporting to Europe.
Previous Projects by Pyramids Developments
1- Pyramids Developments projects in France:
Recent structural modifications to the Louvre Museum

Recent structural amendments to the French Parliament

Holiday Inn Hotel in France
2- Pyramids Developments projects in Egypt:
infrastructure of the New Capital

Air Force Hospital, Galala Road

El-Mosheer Tantawy Mosque

Tulip Hotels chain

La Capitale New El Alamein

La Capitale El Sokhna
3- Pyramids Developments commercial and residential projects in the New Capital:
Champs Elysees Mall New Capital

Grand Square Mall New Capital

Paris Mall New Capital

Paris East Mall New Capital

La Capitale Mall New Capital

Lake Studios New Capital
FAQs about Pyramids Mall New Capital