Pagoda Mall New Capital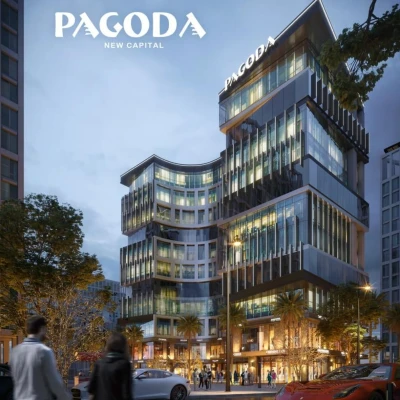 Pagoda Mall New Capital باجودا مول العاصمة الإدارية الجديدة, stands as the 1st commercial building in Downtown, operated and managed by an European company under Akadia Developments. It hosts premier global brands, offering for the 1st time fully-finished units and shops in various sizes, at reasonable prices, and with multiple installment plans, radiating elegance and modernity in every detail.
Location of Mall Pagoda New Capital
Pagoda Mall enjoys a strategic and unique location in Downtown, the most vibrant area of New Capital, situated on plot number 87, spanning 3 main axes. It faces Souq Al-Dahab on a street 200m wide and boasts open views from 4th floor towards Mosque of Egypt and Cultural Center, while the rear view overlooks the landscape, exuding exclusivity and charm.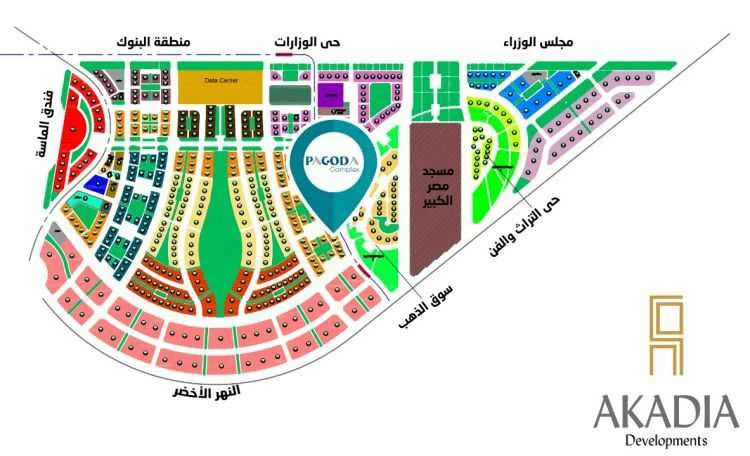 Nearby Places to Pagoda New Capital Mall
Pagoda Mall New Capital is a mere 5 minutes away from Green River.

It is just a few minutes from monorail station.

Governmental district is approximately 10 minutes by car from Mall Pagoda New Capital.
Exhibition land and opera house is about 10 minutes from Pagoda Mall.
Pagoda Mall New Capital is situated alongside some of the most renowned malls and towers in New Capital, such as Mall Pro Mark New Capital and Mall Menassat Tower New Capital.
Design of Pagoda Mall Akadia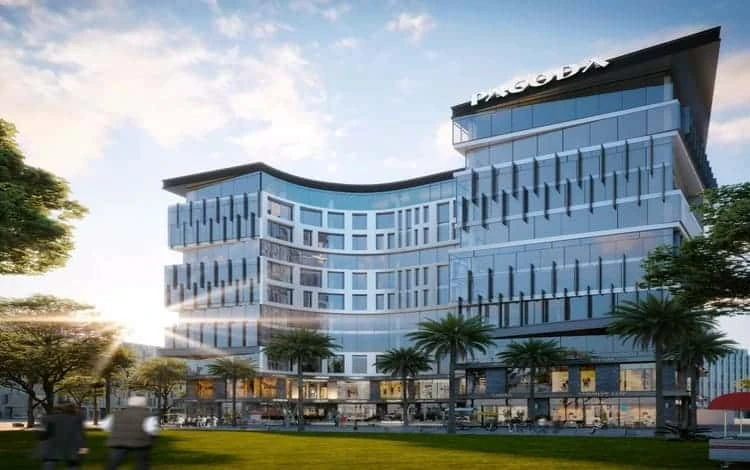 Pagoda Mall, a modern architectural marvel, harmonizing with neighboring buildings in Downtown, spreading across 2144 m², it allocates 750 m² to diverse commercial, medical, and administrative units sprawled over a ground and 10 upper floors, leaving ample space for amenities and services, making it an attraction source for hundreds of investors, and radiates a unique charm.
Area of Pagoda Mall New Capital
Pagoda Mall New Capital offers units in diverse sizes, a feature the company has meticulously achieved to cater to all preferences seeking investment in New Capital projects. The units in Mall Pagoda New Capital come in varying dimensions, appealing to a spectrum of tastes and investment interests, reflecting a harmonious blend of versatility and innovation.
From the ground to 2nd floor: Pagoda Mall hosts premium shops in New Capital, starting at 25 m², fully finished and furnished for franchises with valid contracts and brand names, promising a substantial rental return %. Akadia Developments has contracted with major global brands for trademark usage in exchange for a profit percentage, allowing the shop owner to earn 75% of the profits and the brand 25%, for usage rights lasting 9 years.
From 3rd to 10th floor: it encompasses medical units, clinics, and administrative offices starting at 20 m², fully finished with air conditioning and with leasing authorization, catering to diverse professional needs and ensuring a blend of functionality and elegance.
Prices of Mall Pagoda New Capital 2023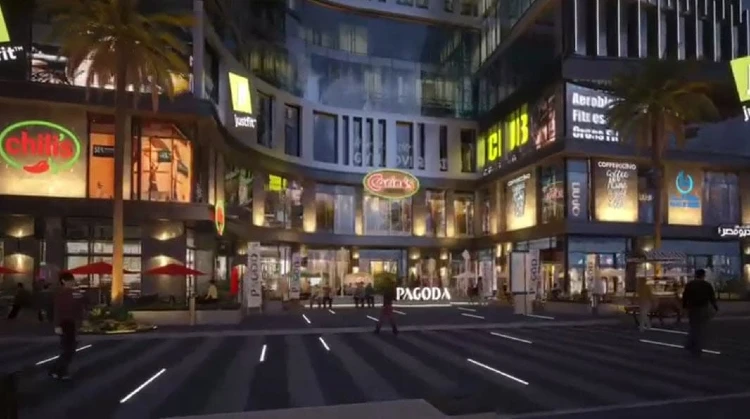 Pagoda Mall offers competitive pricing especially for commercial units with substantial discounts on the opening price. The company has ensured that prices in Pagoda Mall New Capital are competitive and ideal, to allow the maximum number of investors the opportunity to enter New Capital's projects and purchase the available units for sale, aligning affordability with premium value.
Price per meter for commercial units on the ground and 1st floors, fully finished, furnished, and including operational and management franchise contracts, starts from 90,000 EGP.
Price per meter for commercial units starts from 32,000 EGP for units without finishing, with leasing authorization.
Price per meter for medical units begins at 22,000 EGP.
Price per meter for administrative units begins at 16,000 EGP.
As for the total price of a unit in Akadia project, it starts from 320,000 EGP, presenting an elegant blend of value and affordability.
Payment Methods and Installment Systems of Pagoda New Capital Mall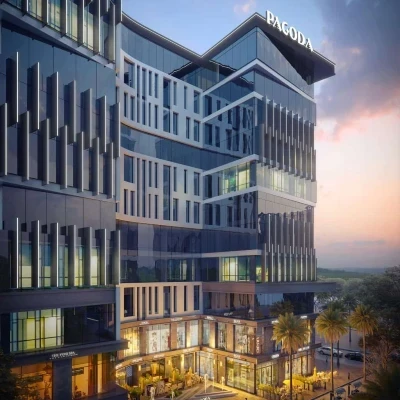 Akadia Developments offers distinctive payment facilitation systems and extended payment methods at Pagoda Mall New Capital to satisfy its customers and ease the booking process. This is initiated with a down payment starting from 10%, and the remaining amount is to be paid in equal installments over 9 years, interest-free, intertwining convenience with customer satisfaction.
The Scheduled Date for Handing Over Pagoda Mall New Capital Units
For the 1st time in New Capital, Akadia is delivering commercial units under franchise operation and management contracts fully finished and furnished. The remaining shops are delivered in a Core & Shell state. As for the administrative and medical units, they are handed over fully finished, with air conditioning, reflecting unparalleled elegance and readiness.
Video of Pagoda Mall Akadia
Services and Facilities of Pagoda Mall New Capital
Units in Pagoda Mall enjoy a range of services and facilities, including:
A food court area is featured in Pagoda Mall Akadia hosting a diverse range of international restaurants and cafes.
Mall Pagoda New Capital is equipped with a facility management system including fire alarm systems, solar power, air conditioning, and lighting systems.
A dedicated area for children's games and entertainment is offered in Pagoda Mall Akadia.
Mall Pagoda New Capital features escalators for easy movement between floors.
A private garage is featured in Pagoda Mall to provide ample parking space.
Mall Pagoda New Capital is secured with 24-hour surveillance cameras, alongside a security and guarding system, ensuring safety within the mall.
Visitor reception areas and large display screens are available for greater customer comfort within Pagoda Mall.
The entire mall is Wi-Fi enabled, providing a suitable working environment.
Mall Pagoda New Capital is equipped with meeting rooms available for convenient meeting setups.
Generators are on standby to address power outages immediately.
Pagoda Mall Akadia includes maintenance and cleaning services available throughout the day and week, illustrating a commitment to a seamless and refined experience for all visitors.
Privileges of Mall Pagoda New Capital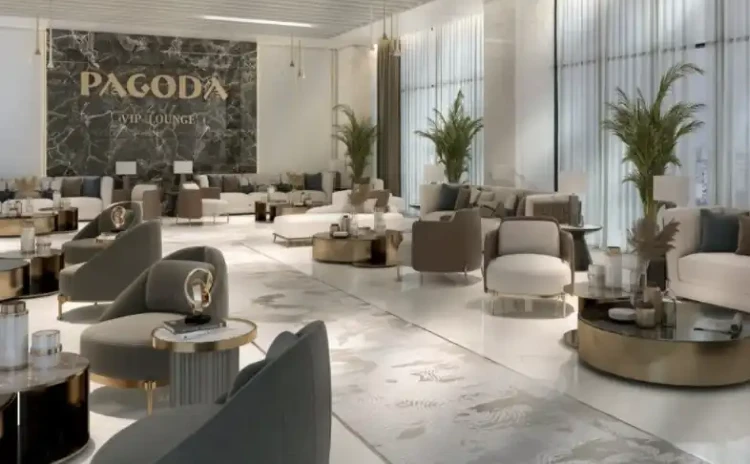 Pagoda Mall, the pioneering commercial edifice in New Capital, operated and managed under contracts with top global brands and European supervision. Situated opposite Souq Al-Dahab in vibrant Downtown, it offers fully finished commercial, administrative, and medical units designed to international standards, ensuring investors' success. Also, it boasts competitive prices in Downtown area and installment plans extending up to 9 years.
Drawbacks of Pagoda New Capital Mall
Pagoda Mall is one of the latest endeavors by Akadia Developments, where varied services are meticulously provided. Although some may find the project in New Capital a bit distant from central Cairo, the construction of new roads has facilitated quicker and smoother connectivity between New Capital and central Cairo, blending accessibility with modern living.
Brochure of Pagoda Mall New Capital
Please fill out the form below to view the complete brochure for Pagoda Mall Project.
Register to view the project brochure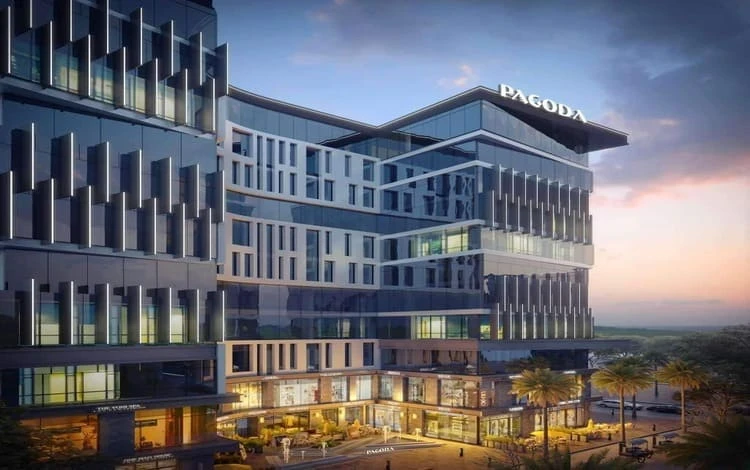 Pagoda Mall New Capital is a signature project by Akadia Developments, a company established years ago and renowned for its reputable standing in real estate investment. Akadia is recognized for its precision, meticulous planning, practical and on-field study for all its projects, and its commitment to timely delivery without delay, embodying a legacy of trust and excellence in every endeavor.
Previous Endeavors by Akadia Developments:
Akadia Developments has relied on leading companies for engineering and architectural consultations, employing Concept as an engineering consultant under the management of Dr. Hisham. Among the prominent projects overseen is Arkan Plaza, a symbol of meticulous planning and architectural excellence in their portfolio of innovations.
Executed numerous residential works and projects in the Fifth Settlement.

Constructed properties and apartments in areas like Andalus, Lotus, El Shorouk, and more.

Developed Pagoda Business Tower New Capital, showcasing innovation and architectural brilliance in every design.
FAQ about Mall Pagoda New Capital