Blue Mall New Capital
Blue Mall New Capital بلو مول العاصمة الإدارية الجديدة stands as one of the foremost projects by Four Season Group, transcending the typical conception of a commercial mall. With its strategically located shops, competitive prices and flexible installment systems, Mall Blue New Capital promises assured success for any investment endeavor.
Location of Mall Blue Four Season Group
The location of Blue Mall is a key factor of its success, since it is ideally situated in District R7, specifically in Com 6 service area. This spot is central to numerous residential compounds and universities, ensuring a high population density around Blue New Capital Mall. This, undoubtedly, guarantees the success of the commercial units within the project.
Places Close to Blue New Capital Mall
Blue Mall is bordered by the Central Axis and Bin Zayed Axis from the North; it is only 5 minutes by car.
Reaching the Government District, Financial District, and Expo City takes 10 minutes from Mall Blue New Capital.
The mall is approximately 15 minutes away from the Green River.
It takes 7 minutes to arrive to Blue New Capital Mall from the Cathedral.
Blue Mall Four Season Group is bordered from the south by Katameya-Ain Sokhna Road.
The Embassy District is only 15 minutes away from Blue New Capital Mall.
The project is a short distance from prime malls in the New Capital, such as Medicon Mall New Capital and Mall Sky Business Park.
Design of Blue New Capital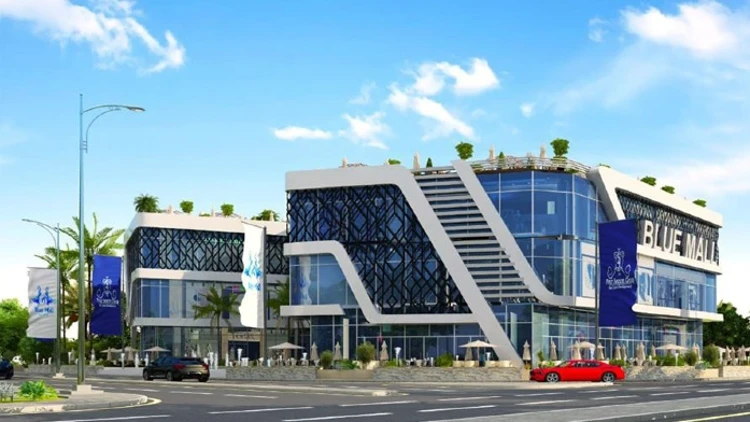 Moreover, the design of Blue Mall is exceptionally modern and contemporary, making it an attractive destination for those who appreciate stylish and elegant design. Mall Blue New Capital is exclusively for commercial and service categories. Additionally, it comprises a ground floor, 2 upper floors, a rooftop designated for cafés and 2 basement levels dedicated to parking.
Register your details to enjoy a 3D virtual tour inside the project units
Area of Mall Blue
The total area of Blue New Capital Mall is 3,320 m2, with the built-up area constituting 30% of the project's space. This leads to the availability of various spaces of units for sale. The spaces of commercials units in Blue Mall New Capital ranging from 15 to 400 m2, depending on the requirements of each commercial activity.
Blue Mall New Capital Prices 2023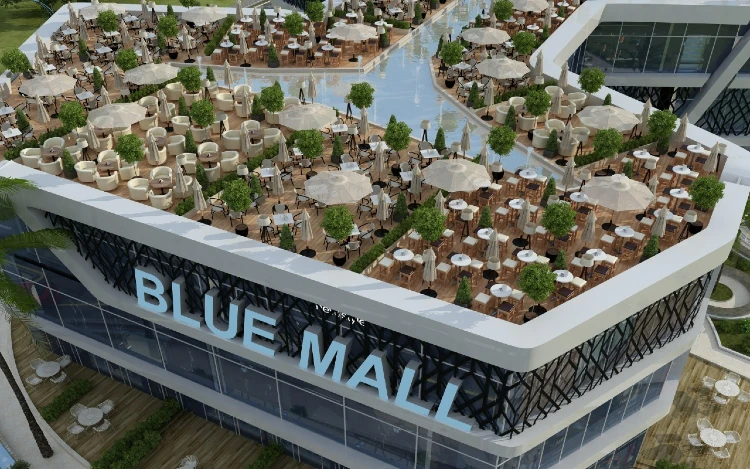 To succeed in attractive a large number of investment seekers to buy units in Blue New Capital Mall, Four Season Group has ensured the provision of highly competitive prices. It has started with offering a reasonable price per meter of units starting 42,000 EGP after discount. As a result, total prices in Blue Mall start conveniently from 630,000 EGP.
Installment Systems for Blue New Capital Mall
Four Season Group has provided several systems for purchasing units at Mall Blue either through installments or cash. The flexibility of the installment plans provided will reduce the possibility of facing financial constraints during the booking process. Interested investors can book units in Blue Mall New Capital using the following installment systems:
5% down payment, followed 5% after 1 year, with the remainder to be paid in equal installments over 6 years.
10% down payment, an additional 10% after 1 year, and the rest will be paid in installments over 7 years.
15% down payment, 5% after 1 year, followed by installments of the remaining amount over 8 years.
Annual Return Rates for Blue Mall are as follows:
30% down payment with an annual return of 10%.
35% down payment with an annual return of 12%.
40% down payment with an annual return of 14%.
50% down payment with an annual return of 16%.
Note: The annual return is available for 2 years, with installments over 6 years and the first installment due after 6
Finishing System and Delivery Date of Units
The finishing specifications of the mall are also a key attractive feature. Units of Mall Blue New Capital will be delivered on red bricks. As for the delivery date of the units for sale, it is set for 2023, which is within two years from the date of contract signing.
Video of Blue Mall
Services and Facilities of Mall Blue Four Season Group
Blue Mall exemplifies a modern commercial hub offering a multitude of facilities and services for those interested in securing an investment in the burgeoning commercial space. The amenities provided at Blue Mall New Capital are comprehensive and cater to the convenience and advanced needs of businesses and customers alike, and here are some of the prominent services:
Mall Blue is notable for its provision of expansive dedicated parking area designed to accommodate an exceedingly large number of vehicles.
Investing in a business within Blue New Mall Capital grants the privilege of being situated amidst sprawling green landscapes and picturesque artificial lakes.
The facility is equipped with electric elevators and panoramic lifts that offer a fascinating view of the plaza, elevating the shopping experience at Blue Mall Four Season Group.
Multiple electronic gateways are strategically placed to facilitate convenient access for customers into the mall.
The mall features a designated food court area where a variety of restaurants and cafes serve delicious food and beverages.
Round-the-clock security and surveillance systems, complemented by high-definition cameras, ensure a safe and secure environment within Blue Mall Four Season Group.
The mall utilizes solar energy to power its lighting system, reflecting a commitment to sustainability.
Central air conditioning systems are installed to maintain a pleasant climate throughout the units for sale within Blue Mall New Capital.
Units are equipped with an automatic fire extinguishing system, ensuring safety and peace of mind.
Designated seating areas are interspersed within Mall Blue, complete with large display screens for entertainment and promotional viewing.
Blue Mall New Capital is prepared for power outages with dedicated emergency power generators, guaranteeing uninterrupted operations.
Free internet access is provided throughout the mall, offering connectivity to all units within the mall.
Features of Blue Mall New Capital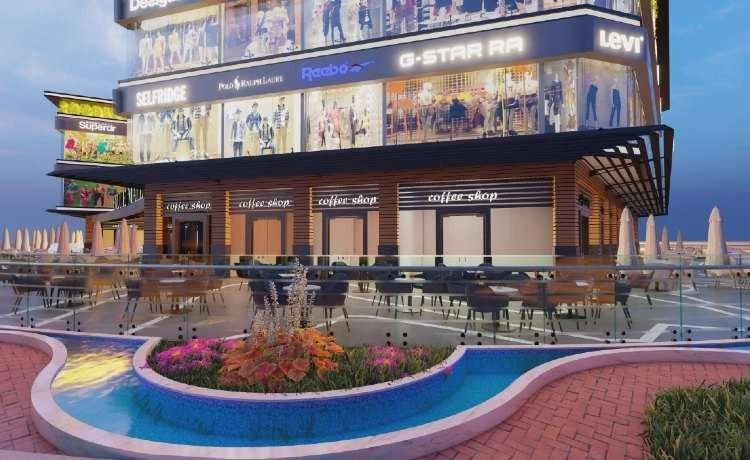 The units within Blue New Capital Mall offer an array of benefits, enhanced by a wealth of facilities and services. The features of the mall include its strategic location in District R7, guaranteeing the success of investment endeavors, the ideally-designed units and distinctive prices. Additionally, Four Season Group offer flexibly installment plans for booking units in Blue Mall.
Drawbacks of Blue New Capital
The exclusivity of Blue Mall New Capital to commercial units, rather than including medical and administrative spaces, might seem like a limitation. Nonetheless, it presents a favorable scenario for investors focused on commercial ventures. The promised delivery of units within 2 years after the contract is signed positions Mall Blue New Capital favorably against other New Capital projects.
Brochure of Mall Blue
Please fill out the form below to show the full brochure of Blue Mall New Capital.
Register to view the project brochure
Four Season Group, a renowned entity in real estate investment, has established several other projects within the New Capital alongside Blue Mall New Capital. It has also achieved numerous other successes in Egypt. Check the following points to know more about the former projects of Four Season Group.
Previous Projects of Four Seasons Group
More than 50 buildings in various areas such as Hadayek Al Ahram, Fifth Settlement, Obour and 6th of October

Seventy Mall New Capital

Avira Mall New Capital

Rixos Mall New Capital

Compound Floria New Capital
FAQs about Blue Mall