Village Lazuli Hurghada
Rekaz Developments has launched Lazuli Hurghada Village قرية لازولي الغردقة, a project that will add to the charm of Hurghada. Lazuli Village has provided the most beautiful designs, diverse spaces to suit the tastes of many clients, along with competitive prices and convenient installment plans. Lazuli Village is an excellent choice for lovers of entertainment and luxury.
 Lazuli Village Location
Rekaz Developments recognizes the significance of a project's location, so it has placed Lazuli Hurghada project in a unique location that is characterized by its proximity to Hurghada's most famous landmarks and beaches. The details of Village Lazuli Hurghada's nearby landmarks can be viewed in the next section:
Places Near Lazuli Red Sea
Village Lazuli Hurghada Rekaz is 12 minutes away from Hurghada.
Lazuli Hurghada Rekaz Village is 15 minutes from Makadi Bay.
Lazuli Rekaz is only 8 minutes away from Sahl Hasheesh.
The distance between Village Lazuli Hurghada and Senzo Mall and Club is two minutes.
Lazuli Hurghada project is only 15 minutes from Hurghada Airport.
Lazuli Hurghada Village is adjacent to the villages of Majara and Makadi Heights.
Lazuli Rekaz Project Design
The design of Lazuli Village aims to achieve the greatest degree of privacy for all the units for sale, as green spaces and lagoons occupy 80% of the total area of Village Lazuli Rekaz, which fulfills the promise of a comfortable lifestyle within the village and provides a luxurious resort for clients to enjoy.
Register your details to enjoy a 3D virtual tour inside the project units
Village Lazuli Hurghada Areas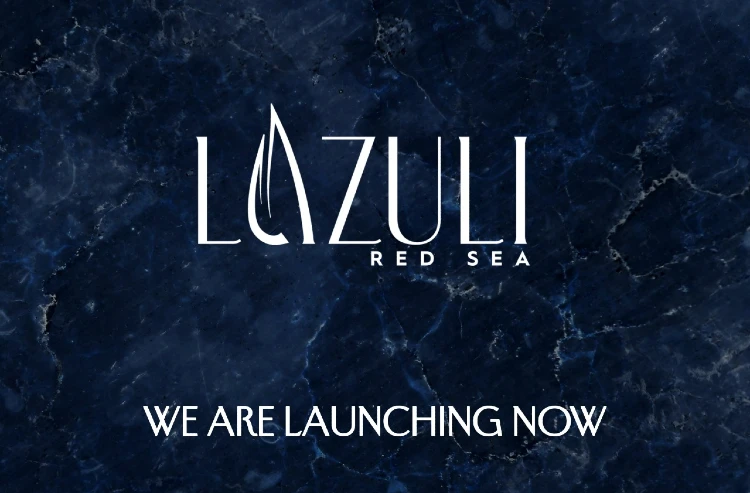 Lazuli Hurghada Village extends over an area of 10 acres, and includes residential units of different sizes to match all tastes and suit small or large families who would like to spend the most unforgettable family vacation in the charming city of Hurghada. Areas of the units for sale at Lazuli Hurghada Village range between 36 m2 and 135 m2.
Village Lazuli Prices by Area 2023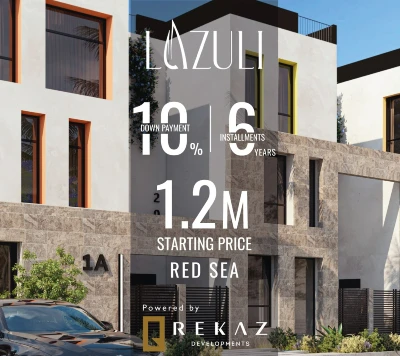 The prices per meter in Lazuli Hurghada Project are considered the best in the real estate market, with convenient installment plans and a reliable company that make buying a unit in Village Lazuli Hurghada Rekaz an irreplaceable investment opportunity that does not exceed 3 million EGP. The following points are showing some details for Lazuli unit prices and areas:
Studio spaces in Lazuli Village start from 36 m2 at a price of 674,520 EGP.
One bedroom chalets in Village Lazuli Hurghada start from 5 m² + a 28 m2 garden at the price of 1,164,286 EGP.
There are also One bedroom chalets starting from 5 m² + a 30 m² garden at the price of 1,687,950 EGP.
Two bedroom chalets in Lazuli Hurghada project starting from 5 m2 + a 53 m2 garden at the price of 2,903,014 EGP.
There are also Two bedroom chalets starting from 5 m² + a 30 m² garden at the price of 2,363,130 EGP.
Lazuli Village has also provided penthouses with areas starting from 71 m2 + a 71 m2 roof.
There is another penthouse model with an area of 5 m2 + a 101.5 m2 roof.
Lazuli Installments and Down Payment
In addition to the excellent and highly competitive Lazuli unit prices, Rekaz Developments wants to facilitate the payment process for its clients, so they have provided convenient reservation and installment plans in order to attract more clients to Lazuli Hurghada project. Lazuli down payment and installment plans are as follows:
10% down payment with the rest in installments over 5 years.
20% down payment with the rest in installments over 6 years.
Lazuli Hurghada Resort Video
Facilities in Lazuli Hurghada Resort
Rekaz Developments' project Village Lazuli Hurghada has provided services and facilities at the highest quality in order to achieve a luxurious lifestyle within the village, ensuring a stable and happy stay for all its clients. The most significant services and facilities offered at Lazuli Hurghada Village are highlighted in the points below:
Lazuli Hurghada Village provided the Drive Thru ordering service for the first time in Hurghada.
Lazuli Hurghada Rekaz includes an international hotel to serve visitors.
The charming landscape is one of the most prominent features of Lazuli Hurghada project.
Village Lazuli Hurghada has made swimming pools at the highest standard available in the village.
Contributing to the happiness of your children, a Kids' Area is located in Lazuli Hurghada Village.
Lazuli Hurghada project also features a 350-meter-long commercial walkway (Lazuli Boardwalk) to buy all your needs.
For lovers of sports activities, there are gyms located in Lazuli Hurghada project.
For added luxury and relaxation, there is a health club with a spa and jacuzzi within Lazuli Hurghada Village.
To achieve maximum security at the Village Lazuli Rekaz, security and guarding services operate 24 hours a day.
Lazuli Hurghada project also provides maintenance and cleaning services, in order to preserve the aesthetic appearance of the units all the time.
Advantages of Lazuli Hurghada project
Lazuli Hurghada Village contains features that make it one of the best villages in Hurghada in terms of a distinguished location and excellent services, along with competitive prices that make buying a unit in Lazuli Hurghada Rekaz a brilliant deal. Besides these features, Village Lazuli Hurghada is managed by Rekaz Developments, a highly reliable company that ensures a comfortable lifestyle.
Disadvantages of Lazuli Village
It is difficult to find defects in Lazuli Village, but some may find the lack of villas in the village a disadvantage. However, Rekaz Developments has solved this issue by providing penthouses with large spaces, a private garden, and swimming pool that are comparable to the size and features of a villa at an affordable price.
Village Lazuli Hurghada Brochure
Please fill out the form below to show the full brochure of Lazuli Hurghada Village.
Register to view the project brochure
Rekaz Developments was launched in 2016 as an extension of Dara Engineering Consultants, and has gained fame by starting out in the New Capital, where their sales have exceeded billions. They have won the trust of many clients, and have decided to launch Lazuli Village as their first project in Hurghada to achieve success in the tourist resorts sector.
Rekaz Developments' Previous Projects
A number of hotel projects in the most important areas of Egypt.

Supervision and implementation of some important buildings in Egypt.

Several successful residential projects in Egypt.
FAQ about Lazuli Village