Naia Developments
Naia Developments شركة نايا للتطوير العقاري is a new start for the former Jumeirah Development Company, which has significant successes in the real estate market. With the real estate revolution that Egypt is currently witnessing, the idea of establishing Naia Developments keeps pace with the real estate market, with the latest technologies and the largest investments.
Naia Developments is a major player in the real estate market, with a capital of 100 Million EGP, a land portfolio that reaches 250 acres, and investments exceeding 19 Billion EGP. The company owns its own equipment, meaning that the prices of Naia projects are stable in light of the high real estate prices, along with adherence to delivery dates.
Naia Developments Projects
Naia West New Zayed Compound is the company's first Sheikh Zayed project, where it provides many attractions that make it the first choice for clients looking to buy apartments for sale in New Zayed. It is located in the heart of New Zayed, minutes away from 26th of July Corridor, Dabaa Road, Waslet Dahshur, Mall of Egypt and Smart Village.
The latest of Naia projects includes residential apartments, twin houses, townhouses, and standalone villas for sale, on an area of 170 acres. Areas of villas start from 195 m2, with competitive unit prices starting from 5,000,000 EGP, along with a down payment of 5% and installments for up to 9 years, and units will be delivered in mid-2023.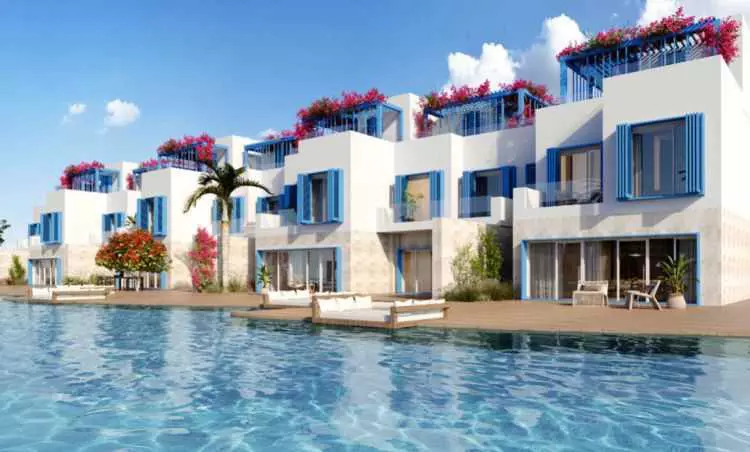 On one of the most beautiful Egyptian beaches, you will find one of the most unique Naia Developments projects, Village Naia Bay North Coast Ras El Hekma. It has a great location, at kilometer 212 Alexandria Matrouh Road, next to Fouka Bay, and 50 minutes from El Alamein Airport.
Naia Bay occupies ​​112 acres, 91% allocated for twin and townhouses, and 9% for chalets. Naia Bay unit areas start from 65 up to 971 m2, at affordable prices per meter, where unit prices start from 2,500,000 EGP. You can book a unit with a down payment starting from 10%, and installments of up to 8 years.
Naia Developments Partners
Naia Developments seeks to become one of the largest real estate companies in Egypt, so it is always keen to cooperate with major companies in the design and management fields, such as Al-Ghonaimi Office for Architecture and Design, one of the most famous international offices.
In addition, the fact that Naia Developments owns its own its equipment has allowed it to become one of the best real estate investment companies in terms of high quality and accurate delivery times, without being bound by contracting companies. All of these factors make your choice to invest in Naia's projects a smart decision.