Arabia Holding
Arabia Holding شركة عربية القابضة للتنمية والتطوير العقاري is one of the most esteemed real estate companies in Egypt, having been established 28 years ago. Over this period, it has earned the trust of its clients, whether investors or residents of Arabia Holding projects.
Additionally, Arabia Development is renowned for its strategic site selection for projects, unwavering commitment to delivery timelines as set in contracts, and its contemporary and unique designs. All of these attributes have positioned among the top real estate investment companies.
The board of Arabia Holding is chaired by Engineer Tarek Shoukry. Under his leadership, the company has forged a significant partnership with the Ministry of Housing during the Youth Conference in 2015. This partnership has resulted in the construction of Sun Capital Compound October, marking the first collaboration between the public and private sectors.
In its real estate journey, Arabia Holding has successfully completed over 500 projects. Not limited to Egypt, it has ventured internationally, implementing major projects in Dubai, Austria, and England. Being a public shareholding company in Egypt further bolsters confidence in the significant Arabia Holding projects.
Arabia Holding Projects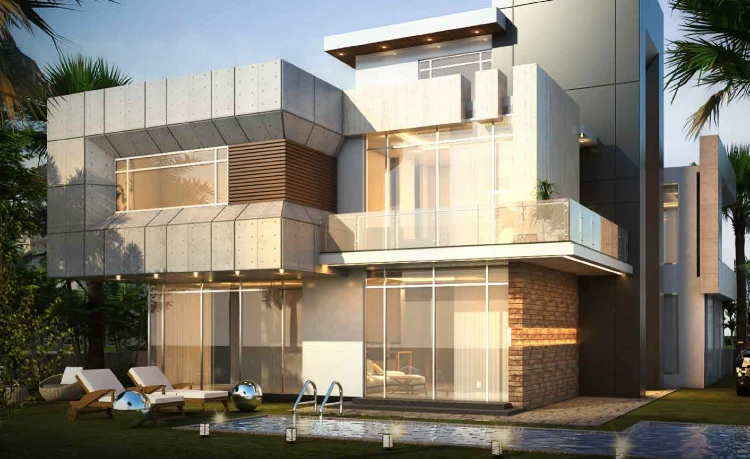 The Ministry of Housing has selected Arabia Holding to collaborate in developing Sun Capital Compound October, envisioned to be Egypt's tourism capital. Its unique location is right in the heart of 6 October City, specifically in the clubs' area, situated at the main tourist entrance for the Pyramids.
Furthermore, it's located at the end of Oasis Road and the beginning of Fayoum Road, minutes away from the Grand Museum, Sphinx and Mall of Egypt. Arabia Holding has also been keen to provide international designs for Sun Capital Compound which covers 557 acres and includes 12,000 diverse units, ranging from studios to apartments and villas for sale.
Spaces of units in Sun Capital range from 31 to 400 m2, offered at a reasonable price per meter. Therefore, the total prices of units in Arabia Holding project start from 1,700,000 EGP, and booking requires a 10% down payment, with installments of the remaining amount over 7 years.
Situated in the Golden Square on 90th street, Arabia Holding has launched Galleria Residence Compound. It is conveniently located near the Suez Road, Middle Ring Road, New Capital, and American University. The compound spans across 71 acres, with 82% of it dedicated to green spaces. It comprises 74 buildings, each consisting of a ground floor and 3 upper floors.
Arabia Holding has been meticulous in its space planning for Galleria Residence Compound, ensuring variety to cater to all needs. The unit spaces range from 132 to 239 m2, and the prices for apartments in Galleria Residence New Cairo start from 4,250,000 EGP. Potential buyers can book units with a 10% down payment and installments over 6 years.
Bungalows North Coast Village
Arabia Holding has marked its prominent presence in North Coast with its significant projects such as Bungalows North Coast Village, located at kilometer 73 on Alexandria-Matrouh Road. This premium coastal location is in close proximity to the renowned Marseilia Beach 2 Village and Marina.
Emphasizing luxury and sophistication, Arabia Holding has ensured that all units for sale offer splendid views and come equipped with numerous amenities. The chalets' spaces range from 80 to 275 m2, and clients can buy units of Bungalows North Coast wit prices starting from 1,100,000 EGP. Additionally, chalets are booked with a 10% down payment and installments over 6 years.
Partnerships of Arabia Development
The long-standing success of Arabia Development has been supported by three main contributors: Benayat Development, Residence Development, and Almuhaid. These partnerships have enabled Arabia Holding to carve out a significant name for itself in the Egyptian real estate market over many years. Today, it boasts several skilled developers who have successfully implemented various commercial, residential, and coastal projects.