Sense Mall New Capital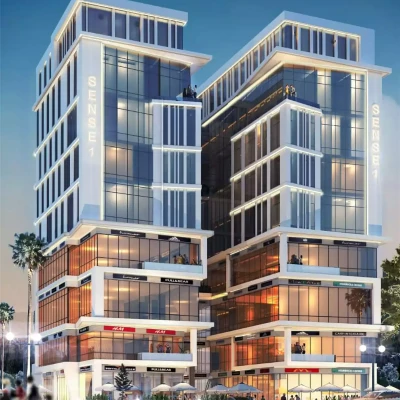 Sense Mall New Capital سينس مول العاصمة الإدارية الجديدة is among the paramount projects crafted by Sense Developments, a distinguished company with an honorable history in real estate development. It boasts a strategic location amidst vital insurance and computer companies, and serves a vast assortment of businesses. More importantly, the prices of Mall Sense are ideal for investment seekers.
Location of Mall Sense
Sense Mall enjoys a prime location near the banking area and government district. Its vital spot provides the perfect investment opportunity to clients seeking to buy units and start their success journey in the New Capital, where the future lies. Mall Sense New Capital is also close to the monorail station and L.E.R.D.
Landmarks Proximate to Sense New Capital
Sense Mall New Capital is located near Al Masa Hotel.
The banks area and government district are extremely close to Sense New Capital.
Only 2 minutes separate Sense project from the monorail station.
The shopping district can be easily reached in a short time from Sense Developments project.
Mall Sense New Capital is only 30 minutes' drive from Capital International Airport.
Major New Capital malls and projects like Quan Tower and Down Town Mall are proximate to Sense Mall New Capital.
Design and Area of Sense Developments Project
Sense New Capital covers an area of 1,700 m2 and includes a variety of unit spaces to fit investors' needs. Sense Developments offers administrative and commercial units for sale with spaces, starting from 20 m2. Additionally, Sense Mall New Capital consists of a ground floor and 8 upper floors, encompassing 75 units.
Mall Sense New Capital is built with innovative concepts to stand out from other buildings and marks the first phase of Sense Developments' plan in the New Capital. Negotiations are underway to acquire two land plots for the implementation of Sense Mall 2 and Sense Mall 3, with an expected investment approximating 500 MN EGP.
Register your details to enjoy a 3D virtual tour inside the project units
Sense Mall New Capital Prices 2023
Sense Developments introduces highly competitive prices in Mall Sense through providing a reasonable price per meter of units for sale. Commercial units are offered with a price per meter ranging from 30,000 to 130,000 EGP, while administrative units vary between 18,000 and 27,000 EGP. As a result, the starting total price in Sense Mall New Capital is 360,000 EGP.
Installment Systems in Sense New Capital
To cater to the financial capabilities of every investor, Sense Developments offers diverse installment systems in Mall Sense New Capital. Clients can book units with a low down payment starting from 10% and pay installments over a long period extending up to 8 years. Here's a detailed breakdown of the various installment plans in Sense Mall:
10% down payment, with installments spread over 6 years.
20% down payment, and installments of the rest are distributed over 7 years.
30% down payment, with the first installment paid after 1 and a half year. The remaining amount will be paid in installments over 5 years, and a 5% discount is applied.
40% down payment, with the first installment after 2 years, and the rest is paid in installments over 7 years. Clients will also enjoy a 10% discount.
50% down payment, the first installment paid upon receipt, and the remaining will be paid in installments over 8 years after handover. A 15% discount is also offered.
For cash payments, buyers will get 30% discount.
Additionally, 10% is paid as a maintenance deposit before receiving the units of Sense New Capital. For the first time, a special launch price is offered for the first 150 investors, where the price per meter for commercial shops starts from 26,000 EGP instead of 30,000 EGP.
Video of Mall Sense
Services and Facilities of Sense Developments Project
Mall Sense New Capital is a signature project, offering unparalleled services and amenities for its investors. These aspects not only underline the exclusivity of the mall but also emphasize the meticulous efforts, exerted by Sense Developments, to allow investors to book a spot among the top-notch malls in the region. Here are the exceptional facilities of Sense Mall in detail:
Every floor of the mall is connected to a central internet network, ensuring seamless online accessibility.
The units of Sense Mall New Capital offer breathtaking views of the New Capital's iconic landmarks.
The mall boasts elevators equipped with the latest technological advancements. Additionally, there are escalators strategically placed to facilitate movement between the floors of Mall Sense.
Expansive garages, capable of accommodating vehicles of both store owners and visitors, are provided in the project.
Sense Mall New Capital prioritizes environmental conservation by utilizing clean energy sources as an alternative to those harmful to the environment.
A centralized fire suppression system is implemented to ensure the highest safety levels for units of Sense Developments project.
The mall contains open areas at the entrances to guarantee comfort and unrestricted movement of visitors.
For the safety and security of clients, Sense Mall New Capital is equipped with highly security and surveillance systems.
Sense Developments has ensured the mall's cleanliness by collaborating with a specialized company, offering 24-hour cleaning services.
Features of Sense Mall
Sense Mall New Capital stands out with its captivating design, blending modern architectural art with cutting-edge technology. This fusion is vividly apparent in its commercial and administrative units, accompanied by services that employ the latest technology an investor could desire, all under meticulous organization. Moreover, Sense Mall offers exceptional prices, along with comfortable installment systems.
Drawbacks of Mall Sense New Capital
Although Sense Mall is among the premier malls of the New Capital, one of its few downsides is the lack of unit diversity, as it houses commercial and administrative units. However, Sense Developments has clarified that Sense Mall New Capital marks the onset of a series under Sense Mall umbrella, which will later diversify to include medical units and more.
Brochure of Sense Mall New Capital
Please fill out the form below to show the full brochure of Sense Mall.
Register to view the project brochure
Sense Developments is a leading entity in construction and contracting sector. Since its inception 25 years ago, it has focused on implementing monumental projects across North Africa and the Middle East. Additionally, it is involved in planning, executing, and managing several large residential, administrative, entertainment, commercial, and sports projects. Its latest project in the New Capital is Sense Mall.
Previous Sense Developments Projects
El Sewedy Cement

Water desalination plant in Galala, Ain Sokhna

Beni Suef power station

A sewage station in Al Gabal Al Asfar

Library of Alexandria

Al-Ahly Club, Nasr City

Dream Land

EL Patio Casa Shorouk City

Prime El Shorouk

La Vista City Compound

Zad Compound New Cairo

Premiere Sheikh Zayed
Questions about Sense New Capital