Aurora Mall New Capital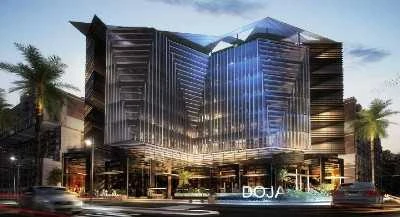 Aurora Mall New Capital مول اورورا العاصمة الإدارية الجديدة, the 1st integrated project on Axis of Hope, boasts a strategic location in the heart of New Capital's largest entertainment area, promising unprecedented success for its commercial and medical units, fulfilling every investor's aspiration. Discover Aurora Mall's specifications, location, and prices in the following article.
Location of Mall Aurora New Capital
Aurora Mall's location is a pivotal attraction for investors. Situated in plot C5, MU23—New Capital's largest entertainment area—it nestles between R2 and R3, including over 50,000 residential units, signifying a densely populated locale. Explore where exactly Aurora Mall stands amongst New Capital's landmarks.
Nearby Places to Aurora New Capital Mall
Directly located on Central Hope Axis, Aurora Mall New Capital is the main entrance to New Capital.

Mall Aurora New Capital is a mere 500 m from Central Business District.
It's only 500 m away from Sports City and Iconic Tower.
Aurora New Capital Mall is 10 minutes' drive from Regional Ring Road and Fifth Settlement.
Embassy district is proximate to just 10 minutes away from Aurora New Capital Doja.
Near famous malls like Soul Plaza Mall New Capital, and Pixel Mall New Capital.
Design of Aurora Mall New Capital
Aurora Mall New Capital's design, crafted by Engineer Raef Fahmi, emerges as a pinnacle of attraction. Embodying a distinct modern style, Aurora Mall offers an unparalleled opportunity for aficionados of refined taste. Its mesmerizing interior and exterior designs, featuring glass facades and panoramic sky views, position it as a significant tourist magnet in MU23 area.
Aurora New Capital Doja comprises 3 basements, ground floor, 9 levels, and a large roof:
Garages span 3 basements, covering 18,900 m².
Ground to 2nd floors: Food court, restaurants, bank, pharmacy, retail store.
4th to 6th floors: Fully finished clinics with air conditioning.
7th to 9th floors: Fully furnished administrative offices with AC.
Roof features: Sky lounge, infinity pool, gym, and spa.
Register your details to enjoy a 3D virtual tour inside the project units
Areas of Mall Aurora New Capital
Mall Aurora New Capital spans a total of 6,000 m², with only 30% constructed, accommodating numerous units. Shop, administrative, and medical unit areas range from 40 m² to 275 m², with each floor covering 1,800 m². Doja Developments offers diverse spaces to meet investor needs. Here are Aurora Mall's unit booking details based on size.
Retail spaces start from 35 m².
Office and administrative units begin at 50 m².
Clinic and medical unit areas commence at 45 m², with available duplex options.
Prices of Aurora New Capital Mall 2023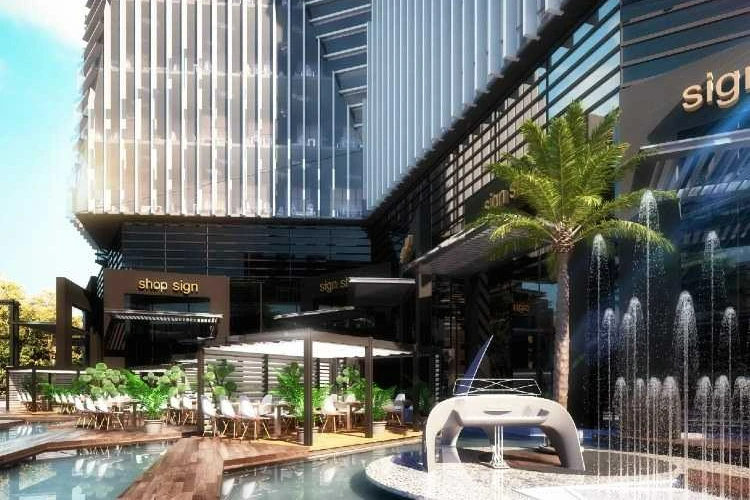 Explore the diverse unit prices in Aurora Mall New Capital. Prices vary based on the type (commercial, administrative, medical), desired space, services, and finishes. Unit prices in Aurora Mall start at 1,507,500 EGP, tailored to meet various needs, as we will elucidate.
Price per meter of units in Aurora Mall New Capital:
Medical units start at 33,000 EGP per meter.
Administrative units are priced from 35,000 EGP per meter.
Commercial units on the 2nd floor begin at 65,000 EGP, reaching up to 109,000 EGP on the ground floor.
Payment Methods and Installment Plan of Aurora Mall New Capital
Doja Developments has provided various booking systems for units and shops in Mall Aurora New Capital, enabling customers to own a unit through installment plans, with distinctive payment facilities, ensuring a seamless purchase process. Here are the details of the booking and installment systems:
5% down payment, with the remainder in equal installments over 3 years.
10% initial payment, with the balance in equal installments over 4 years.
Aurora Mall's units can be purchased in installments over 5 years, with a 15% down payment.
The maintenance deposit is 10%.
Delivery Date of Aurora Mall's Units
Units will be delivered in 2023 
Finishings in Aurora Mall are super-luxury for medical and administrative units, offices, and clinics.

Commercial units and shops will be delivered semi-finished with air conditioning installed.
Video of Mall Aurora New Capital
Facilities and Services of Aurora New Capital Mall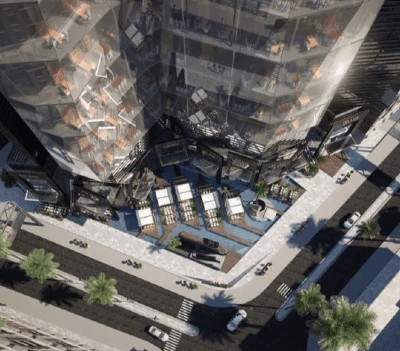 An enchanting array of units and shops nestled within Mall Aurora New Capital. Each space is thoughtfully curated, boasting unique facilities and exceptional services, ensuring a delightful and unparalleled shopping experience. Let's delve into the distinctive services that the mall meticulously offers:
Aurora Mall New Capital features a zone of global restaurants and cafés, setting a vibrant dining ambiance.
Purchasing a unit at Mall Aurora New Capital ensures utmost safety, with a top-tier civil defense and fire alarm system in place.
Aurora New Capital Mall houses well-equipped business centers and meeting rooms, facilitating a productive work environment.
The rooftop is adorned with exquisite amenities like a Sky Lounge, Infinity Pool, gym, and spa.
Ensuring security, Aurora Mall Doja operates 24/7 security and surveillance systems, promising a secure environment.
Experience high-speed internet connectivity at Aurora Mall, optimizing your work and browsing experiences.
Mall Aurora New Capital integrates smart units, accessible via a Mobile App, ensuring technological sophistication.
Navigate effortlessly through Aurora mall with 4 high-speed elevators ensuring accessibility.
Aurora New Capital Mall features 3 distinctive main entrances, promising convenience and easy accessibility.
Units for sale at Aurora New Capital Doja are fitted with central air conditioning, ensuring comfort for both workers and visitors.
Privileges of Aurora Mall New Capital
Aurora Mall Doja's shops and units boast a prime location in the heart of New Capital, nestled among essential services and near densely populated areas. With diverse unit sizes tailored to each investor's needs and a variety of medical, administrative, and commercial units available, you're bound to find the perfect fit. Investing in Aurora Mall is an unparalleled opportunity.
Drawbacks of Mall Aurora New Capital
Some might perceive having only 3 installment plans for Aurora units as a drawback, especially for smaller projects. However, this isn't significantly impactful. The company offers flexible plans, starting from a 5% down payment spread over 3 years, providing a reasonable period for completion, aligning with various investment needs and capacities.
Brochure of Aurora New Capital Mall
Please fill out the form below to view the complete brochure of Mall Aurora New Capital, unfolding a detailed presentation of what the esteemed project has to offer.
Register to view the project brochure
Aurora Mall New Capital, is a prestigious project by Doja Developments, a pioneering company since 2011, founded by Engineer Mohamed Adel, who collaborated with a powerful, dynamic consortium of successful leading companies, illustrating a fusion of unparalleled expertise and visionary achievements.
Managed by JLL, a global leader specializing in the management and operation of commercial malls, responsible for iconic global projects including Burj Khalifa, Dubai Trade Center, and Mall of Egypt, ensuring world-class administrative expertise.

Architectural consultancy led by Engineer Raef Fahmy, the designer behind Waterway project, alongside a team of highly specialized engineers and architects, driving innovation and excellence.
Previous Projects of DOJA Developments:
6 Towers in Mansoura and Delta

Apartments and villas in Andalus, Jasmine, Beit Al-Watan, and Lotus

X-Business Complex Project
FAQ About Aurora Mall New Capital