Compound Stei8ht New Cairo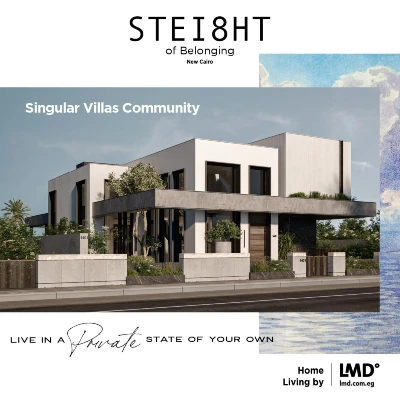 Landmark Sabbour Developments announces the launch of its new project, Compound Stei8ht New Cairo كمبوند ستيت التجمع الخامس, where residents can find luxury and sophistication. A vital location, on the Suez Road, is provided. In addition, Stei8ht Compound is limited to villas at competitive prices suitable for the features offered and with convenient installment systems.
 Site of Stei8ht Compound New Cairo
In the meantime, New Cairo is considered one of the most prestigious neighborhoods in Cairo, since it includes various luxurious projects such as Stei8ht Landmark Sabbour. Compound Stei8ht has a strategic location on the Suez Road in front of El Rehab City, providing easy access to main axes, roads, and popular landmarks in New Cairo.
Landmarks Near Stei8ht Compound New Cairo
Stei8ht 5th Settlement is easily accessible from the Ring Road.
Residents can reach Al-Rehab City in minutes since Stei8ht Compound New Cairo is in front of it.
Mohamed Naguib and Youssef El Sebaei axes facilitate reaching Stei8ht Landmark Sabbour.
Stei8ht Compound is proximate to Compound Palm Hills and Compound The Water MarQ.
Design of Stei8ht 5th Settlement
Landmark Sabbour Developments has fascinated clients with the elegant designs of Compound Stei8ht New Cairo. Simplicity and sophistication are successfully highlighted through the façade of units, which are limited to townhouses, twin houses, and standalone villas, in Stei8ht New Cairo, giving a sense of comfort and tranquility upon entering. Designs of Stei8ht Compound simulate prestigious European designs.
Area of Compound Stei8ht New Cairo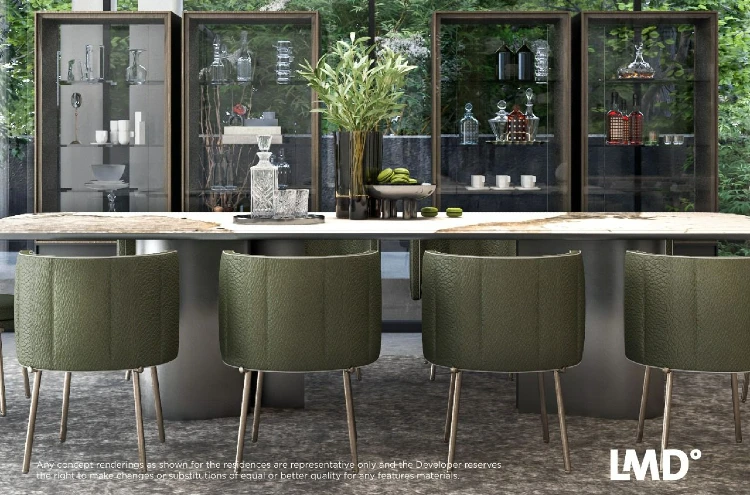 Compound Stei8ht New Cairo is one of the large compounds in terms of area, as it extends over an area of ​​550 acres. Landmark Development allocates most of the area of Stei8ht 5th Settlement to green spaces, artificial lakes, and landscapes. To satisfy all tastes and needs of clients, interior spaces of units vary in Stei8ht Landmark Sabbour:
The area of Townhouses in Stei8ht Compound starts from 220 m2 + a terrace of 40 m2.
Twin Houses' spaces start from 260 m2 + a terrace of 60 m2 in Landmark Sabbour project.
Spaces of Standalone Villas in Stei8ht Compound New Cairo start from 280 m2 + a terrace of 60 m2.
For more about the divisions of the interior spaces available in Compound Stei8ht New Cairo
Click Here
 Prices of Units in Stei8ht New Cairo 2023
Buy a luxurious villa now in Compound Stei8ht and enjoy unbeatable prices. Stei8ht New Cairo prices for units for sale differ according to the type and space of the villa, privileged with charming design and luxurious facilities. Landmark is keen to provide affordable prices per meter to attract various customers. Prices of units in Stei8ht Landmark Sabbour are distributed as shown:
Prices of Townhouses in Stei8ht Compound start from 9 MN EGP.
Twin Houses' prices start from 13 million EGP in Stei8ht project.
The price of Standalone Villas in Stei8ht Landmark Sabbour starts from 15 MN EGP.
Installments and Booking in Stei8ht 5th Settlement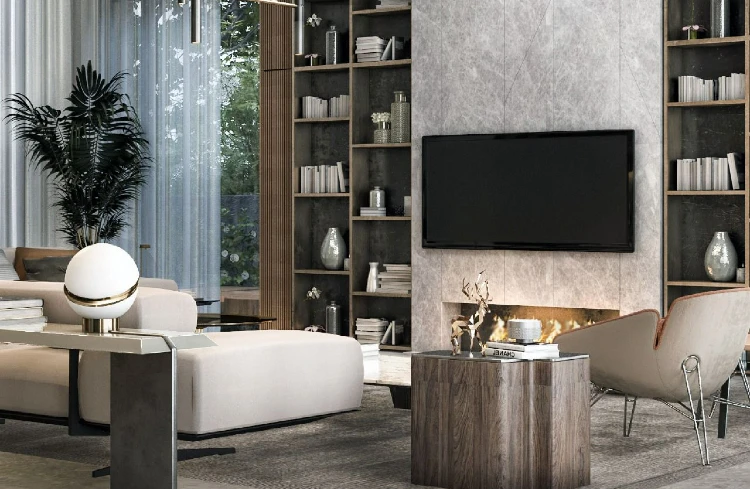 Stei8ht New Cairo installments system is a prominent privilege because Landmark Development has taken into account the diverse needs of buyers or investors. Compound Stei8ht offers the lowest down payment, starting from 5% with installment periods extending up to 8 years. Stei8ht New Cairo down payment is intentionally low to encourage the largest number of clients to buy a villa.
Video of Compound Stei8ht New Cairo
Facilities and Services of Stei8ht Compound New Cairo
Landmark Sabbour always provides excellent services to its projects, and thus services and facilities, offered in Compound Stei8ht, are expected to be integrated. The main purpose for presenting services, in Landmark Sabbour project, is the comfort of residents so that they can enjoy living in a luxurious and integrated community.
Stei8ht project gives the opportunity of living in an ideal location in New Cairo among vibrant areas. Furthermore, residents of Stei8ht Compound are allowed to enjoy the life of elites through the availability of luxurious amenities and services such as:
Stei8ht 5th Settlement includes 5 clubhouses to spend amusing evenings.
Green spaces and artificial lakes cover a large space in Compound Stei8ht New Cairo.
Stei8ht project also provides special tracks for walking and cycling.
For lovers of meditation and yoga, Compound Stei8ht offers Meditation Park.
Security and guarding services are available in Landmark Sabbour project to secure residents.
Surveillance cameras are added to keep residents safe in Compound Stei8ht.
Stei8ht Compound also contains garages to avoid congestion.
A social club, with a gym, sauna, and jacuzzi, is available within Stei8ht 5th Settlement.
Stei8ht project includes a kids' area ​​for children to enjoy their time.
Swimming pools are provided in Compound Stei8ht to achieve complete entertainment and luxury.
Compound Stei8ht New Cairo has a commercial complex with an area of ​​170 acres, where residents can buy all their needs.
Features of Stei8ht Compound 5th Settlement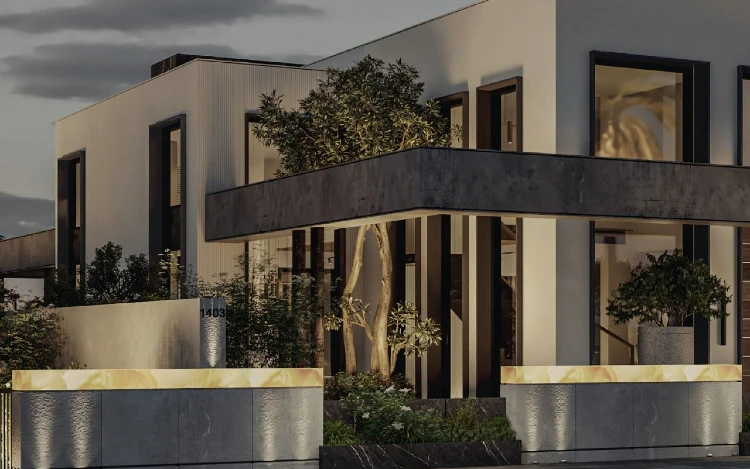 For the satisfaction of residents, Compound Stei8ht New Cairo is characterized by various features, including the perfect choice of location on Suez Road, giving easy access to El Rehab City. Captivating designs of units in Stei8ht Compound cannot be missed. Moreover, Compound Stei8ht offers units limited to villas to maintain residents' privacy.
Stei8ht Landmark Sabbour also contains units with diverse spaces and offers competitive prices, in addition to comfortable installment systems, presenting low down payment percentages and a long period of installments. Landmark Sabbour Developments guarantees to receive high-quality units in Stei8ht Compound with proper services and facilities.
Disadvantages of Compound Stei8ht
Prices of units in Compound Stei8ht are assumed to be relatively high, but the availability of such features in one project makes the prices seem reasonable. Furthermore, Landmark Sabbour has provided appropriate installment systems with a reservation down payment, starting from 5% and up to 8 years installment period, making investment a real opportunity in Stei8ht Compound.
Brochure of Stei8ht Compound New Cairo
Please fill out the below form to see the full brochure of Stei8ht Compound New Cairo.
Register to view the project brochure
Land Mark Sabbour Developments is considered one of the most successful and popular real estate development companies in Egypt. It was founded in 2007, by Eng. Ahmed Sabbour. It has proven successful through the execution of several projects by which it has gained the trust of customers. It owns a branch in UAE and several projects in Spain.
Former Projects by Landmark Sabbour Development
Compound Layan New Cairo.

Compound Aria New Cairo.

Dubai Continental Tower.

Historic building in Spain.
FAQ About Compound Stei8ht New Cairo