NCB Developments
NCB Developments للتطوير العقاري NCB شركة, also known as New Capital Builders, is a leading real estate company formed as a result of a strategic alliance between several Egyptian and Kuwaiti development and contracting companies. With a combined experience of almost 50 years, NCB projects span across residential, educational, commercial, and administrative sectors.
The company's success is not limited to Egypt, as NCB projects extend throughout the Arab world. Additionally, NCB Developments' management board comprises prominent figures in the real estate industry, led by Dr. Gerges El Lawendy, a renowned expert in urban development, founder of Karma Hospitals Group, and a professor of general and laparoscopic surgery.
NCB Projects
Valencia Valley Compound is the latest project by NCB Developments, offering a modern lifestyle through unique apartments and villas. Located near the South 90th Street, Valencia Valley Compound spans across 12 acres. The apartment space start from 98 m2, with prices starting from 2,300,000 EGP. Booking a unit is without a down payment and with installments over 10 years.
Inno View Mall New Capital is second project by NCB Group in the New Capital. Strategically located in front of pharmaceutical companies and boasting spectacular views of the Iconic Tower, Inno View is just 10 minutes away from New Cairo, 15 minutes from the Suez Road, and less than half an hour from Cairo Airport and Heliopolis.
Featuring a stunning modern design, Inno View New Capital Mall offers captivating views for all units for sale, whether overlooking the Iconic Tower or the lush green spaces. As a commercial and administrative mall, NCB Developments project's spaces start from 21 m2, offered at a convenient price per meter.
Moreover, the total prices of units for sale in Inno View Mall New Capital start from 1,306,800 EGP, and NCB Developments (New Capital Builders) offers a comfortable installment plan requiring a 5% down payment to book units, and the remaining amount is paid in installments over up to 7 years.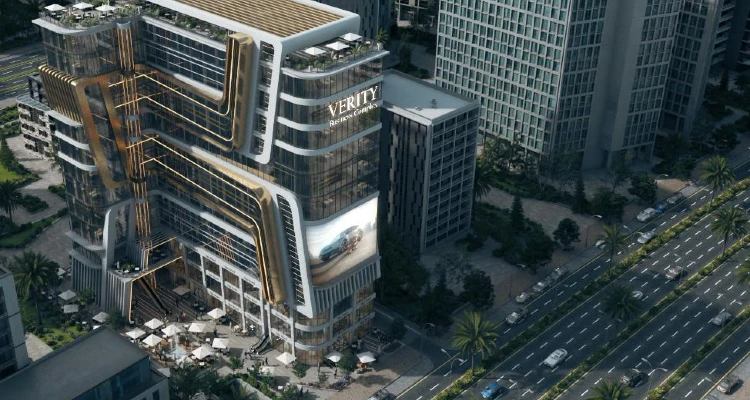 Introducing Verity Business Tower, the inaugural project by NCB Developments in the New Capital. The collaboration of major companies involved in its construction ensures the highest quality in all aspects. The mall is located in an excellent spot within the Downtown area, specifically at plot MU4-65.
Verity Business Tower boasts direct views of the West Axis, as the front façade overlooks one of the most important axes of the New Capital. NCB Group project is located across the pharmaceutical companies' street and overlooks a 32-meter-wide pedestrian promenade.
In addition, Verity Business Tower New Capital consists of a ground floor and 12 upper floors, divided into 4 floors for garages and storage (underground), 3 commercial floors, 2 medical floors, and 8 administrative floors. NCB Developments project covers an area of 2,632 m2, offering smart interior spaces tailored to suit all requirements.
NCB Developments offers exceptional prices for units for sale in the mall, starting from 1,025,000 EGP. To buy units easily in Verity Business Tower, the company has established a diverse range of installment plans, starting with 0% down payment and extending to a 10-year installments period. NCB Group is committed to delivering all units by 2026.
Other Projects by NCB Group
NCB Developments Partnerships
NCB Developments (New Capital Builders) is the result of various strategic partnerships, including El-Lawendy for Contracting, INTEGRATION CONSTRUCTION SOLUTIONS, a company specializing in modern engineering systems, and Guide Development, a major real estate company with nearly 50 years of experience.
Other shareholders in NCB Developments include Concrete Development, responsible for executing about 25 projects in New Cairo, specifically in the Fifth Settlement, and Dar Al Bena, a major contracting and real estate company that has executed around 50 projects with investments amounting to 150 mil EGP.