Medicon
Medicon شركة ميدايكون للتطوير العقاري has emerged from a collaboration between healthcare experts and multinational real estate developers. Its mission is to create a sophisticated and comfortable space for patients and to assist doctors and healthcare teams in delivering world-class therapeutic services.
The owners aim to attract investors globally to invest in their well-being by taking part in projects, specifically the one located in the New Capital. The board of Medicon Developments boasts various distinguished members, and among them is Mr. Hussam El Sergani, founder of Evergo for agricultural fertilizer manufacturing, and one of the founders of Greenland schools.
Additionally, Mr. Ahmed Lashin brings his expertise as a consultant known for his design contributions to notable commercial projects, such as Cairo Festival City Mall. Another key figure is Mr. Hany El Sergani, who has a pivotal role in overseeing the construction of the renowned Dar Al-Fouad hospitals.
The board's excellence is further amplified by the inclusion of Dr. Sahar Lashin, a pioneer in integrative medicine within Egypt, and Dr. Alaa Hussein, an efficient consultant in hospital design with an impressive portfolio of 21 hospitals, both internationally and domestically, including the esteemed Maadi Military Hospital.
Furthermore, the commitment to ensuring the comfort of clients seeking to buy units in Medicon projects, offering various services to minimize the burden on patients, and providing treatment based on the latest standards in a safe and hygienic environment is unparalleled. For healthcare professionals, the company endeavors to provide the best possible work environment, ensuring that they offer healthcare services.
Projects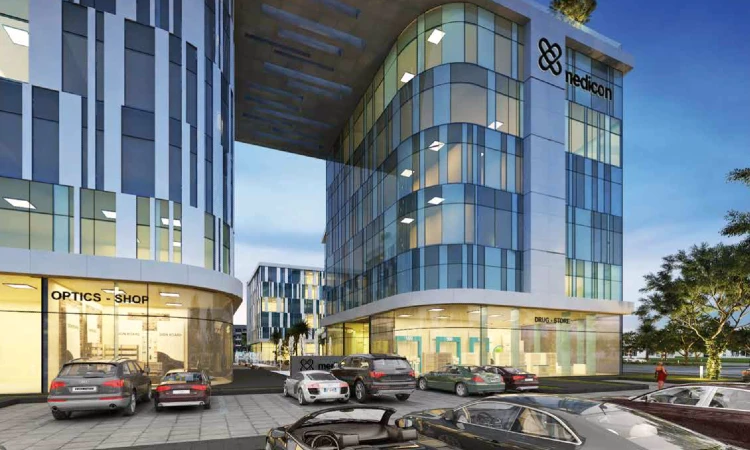 Medicon Developments has strategically designed Medicon New Capital Mall, positioning it as the ideal aspiration for every ambitious doctor. Its location holds strategic significance as it's the sole medical mall in district R7, directly overlooking a primary axis and just a 5-minute distance from the monorail station.
The mall encompasses 4 buildings, two of which are general and specialized hospitals. Each building comprises 2 basements, a ground-floor garage, and 5 upper floors. In total, there are 110 fully air-conditioned medical clinics and 18 medical centers. Moreover, Medicon Mall incorporates 15 commercial shops, making the mall a comprehensive medical edifice.
Units vary in size, ranging from 50 to 188 m2, catering to diverse needs. Similar to other Medicon projects, the mall offers a reasonable price per meter, and the overall prices of units for sale start from 2,000,000 EGP. Additionally, clients can book units with a 10% down payment and installments over 5 years. Units will be delivered by 2025.
Partnerships
Combining insights from both property development and healthcare sectors, the company boasts a unique blend of expertise. Although these two fields have distinct characteristics, their unified focus on intricate details guarantees that the emergence of integrated Medicon projects. Reinforcing this commitment, the company has chosen El Sergani, specialized in hospital construction, to handle the development of Medicon New Capital.